Cordless impact driver PIDS 10-20V
Pro tool for all screwing tasks in wood or metal
Resistance is futile
The powerful cordless impact driver PIDS 10-20V with its 20 V Flexpower multi-device battery featuring a capacity of 2.0 Ah, with a high stroke rate of up to 3,600 spm and a maximum torque of 180 Nm only just gets started when conventional cordless screwdrivers already reach their limits. The ¼" hexagon socket tool holder with 6.35 mm (and enclosed external ¼" square adapter) permits the flexible application of commercially available hexagon screwdriver bits and sockets. It makes the impact driver PIDS 10-20V a cordless all-rounder for numerous application scenarios. Owing to the locking mechanism it is perfectly simple to exchange the attachments – it can be accomplished quickly and without tools.
For all applications requiring a little extra power
Used by DIY enthusiasts or professional craftsmen – the compact impact driver PIDS 10-20V can impress with a fast work progress during impact screwing and rotary percussion applications in wood and metal constructions using screws with a diameter of up to 8 mm. Due to the changeover switch integrated in the handle you can switch between clockwise and counter-clockwise rotation or tightening and loosening of screws and nuts without the slightest effort. Even seized or rusted screw connections often causing 'normal' cordless screwdrivers to start spinning or to just conk out can reliably be loosened by the impact effect of the PIDS 10-20V.
Speaking of torque ...: The torque of an impact driver is of particular importance for a proper power development. A consequence of an insufficient torque is that not enough power is transmitted to the tool. But with a maximum torque of 180 Nm the PIDS 10-20V outperforms even branded devices of a higher price range!
In control of power
Balanced to perfection, the impact driver made of robust plastic weighs only 1,600 g and lies comfortably in the hand. Longer working periods at poorly accessible locations – even overhead work – can be accomplished without tiring. The soft grip inlays incorporated in the handle permit a firm and secure grip whilst simultaneously enabling you to actuate the infinitely variable speed control via the on/off switch with quick stop function. A smooth start-up and precise working presents no problem at all. A start lock prevents the unintended start-up of the screwdriver.
Fatigue-free working with maximum comfort
Even long screws are driven in effortlessly since the special impact mechanism of the PIDS 10-20V protects your wrist against the torsional forces. The time- and labour-saving equipment of the cordless impact driver is completed by a bit locking mechanism for the secure fastening of the screwdriver bits, an integrated LED work light for the best possible illumination of the working area and a practical belt clip which ensures that the impact driver is always at hand. An indispensable tool when carrying out work on a ladder. Should you not need the clip, it can easily be disassembled or else mounted to the other side of the device. To ensure the safe transportation and dust-proof storage as well as a perfect order the cordless impact driver PIDS 10-20V is delivered in a high-quality transport case – along with all its accessories.
Simply keep using already available bits. The PIDS 10-20V permits the usage of all customary bits and screw attachments. The application possibilities of the PIDS 10-20V can further be extended by using the optional 32-piece accessory bit set produced by Trotec.
Uncompromising in terms of endurance and capacity
There is nothing more frustrating than an unexpectedly dying battery, unnecessarily long charging periods or a decreasing performance during work. Using the PIDS 10-20V you'll be spared from these unwelcome surprises. The 20 V high-capacity battery Flexpower supplies the high-torque impact driver persistently with a constant voltage. The impact driver's screwing performance is kept at a steady level – even at a low battery level.
Fully recharged within 1 hour
At the push of a button the three-stage battery level indication integrated in the housing indicates the battery status – even if the battery is not connected to the device. By using the quick charger included in the scope of delivery a completely discharged battery will again be ready for use after 1 hour. Why not use your lunch break to quickly recharge the battery?
The Flexpower system is highly compatible
One battery, various tools – no problem at all for Trotec! The 20 V /2 Ah Flexpower multi-device battery of the PIDS 10-20V can also be used with other Trotec power tools. Consequently, you always have the right battery at hand. For further information on our Flexpower multi-device batteries click here or read the info block below.
Special equipment features of the PIDS 10-20V
All Cordless impact driver in direct comparison:
To find the Cordless impact driver which exactly meets your requirements, please consult the concise overview of all Cordless impact driver from Trotec, which we're providing to you here so that you can compare them directly to each other.
Models which you do not wish to include in your comparison can be easily dismissed with only one click.
A few practical benefits:
Powerful 20V lithium-ion battery without memory effect and without self-discharge
Flexpower multi-device battery 20 V 2.0 Ah – can be flexibly combined also with other 20 V cordless tools
Function with high torque and impact force for screwing in or tightening and loosening screws and nuts
Robust die-cast aluminium gear housing for optimum heat dissipation and durability
Special tool holder combining ¼" square and ¼" hexagon for even for application scenarios
Tool holder with locking mechanism
Infinitely variable speed control with quick stop
Special impact mechanism protects your wrist from torsional forces – ideal for driving in long screws without effort
Integrated LED work light
Quick charger with automatic charge termination: only 1 hour of charging required
Three-stage battery level indication integrated in the battery
Convenient clockwise/counter-clockwise rotation selection and start lock
Soft grip rubber inlays in the housing for extra firm hold
Mountable belt clip facilitates access and transport
Incl. bit adapter for screwing
All important features at a glance
Convincing price-performance ratio
So far, you basically only had two options when choosing a cordless impact driver: either good but expensive, or mainly cheap.
Trotec's PowerTools now offer a smart choice: good and cheap at the same time. For we do not only stand for measuring devices and air conditioners, but also for power tools of brand quality: Powertools professional Trotec solutions with an excellent value-for-money ratio!
Benefit from the Trotec brand quality guaranteeing high value, safety and functionality. Via the registered GS mark the inspection authority TÜV Rheinland certifies that, if used foreseeably and as intended, the device does not pose a risk to the health and safety of the user.
Brand quality plus cost-efficiency
Reliable, powerful and suited for the most challenging fields of application: these are some of the quality features of Trotec's cordless impact drivers. Thanks to their high capacity they are able to withstand the most extreme conditions. HighPerformance for demanding applications – after all, Trotec stands for brand quality and professional solutions with an excellent value-for-money ratio!
Flexpower – the innovative multi-device battery system from Trotec
Even the standard scope of delivery of this power tool from Trotec already includes a powerful 20 V multi-device battery from the Trotec Flexpower portfolio with a high charging capacity of 2 Ah. You can check the current charging status via the three-stage battery level indication that is integrated in the battery housing and clearly visible at one glance.
This power pack that can be fully charged in about an hour not only enables device runtimes extended by up to 33 % – as compared to standard batteries with only 1.5 Ah – moreover, this Flexpower multi-device battery can also be flexibly combined with different Trotec tools, including i.a. the cordless rotary hammer PRDS 10‑20V, the cordless multi-function tool PMTS 10‑20V, the cordless portable circular saw PCSS 10‑20V, the cordless random orbital sander PESS 10-20V, the cordless work light PWLS 10‑20V, the cordless work LED light PWLS 15‑20V, the cordless drill driver PSCS 11‑20V, the cordless hammer drill PHDS 11‑20V, the cordless grass and shrub shears PGSS 10-20V, the Cordless compressor PCPS 11‑20V and air pump PCPS 12‑20V, the cordless pendulum action jigsaw PJSS 11‑20V, the cordless hand-held vacuum cleaner VC 10‑20V or the Cordless vacuum cleaner VC 15‑20V.
Thanks to Flexpower you can do without unnecessary batteries and chargers – and the search for a suitable battery has also come to an end. Simply change the device, not the battery. Flexpower puts a stop to the unnecessary amount of various exchangeable batteries; the combination option with an ever increasing number of tools allows you flexibility at all times so you can carry on your projects energetically!
Premium branded battery for constantly full power
By now, lithium-ion batteries are widely distributed, after all they come without memory effect and self-discharge. Plus these batteries can be disconnected from the charger and used right away without it affecting the battery's lifetime. But "lithium ions" is a generic term used for batteries of various qualities and made of diverse electrode materials; including those with a perceptibly weakening performance once the battery charge decreases.
Lithium-ion batteries supplied by Trotec are high-quality premium branded NMC batteries with a high energy density and charging voltage lasting until the end without exceptions – guaranteed! Compared to conventional lithium-ion batteries the performance of our premium branded batteries does not decrease even as the discharge increases.
Consequently, you benefit from lasting maximum power even with an almost empty battery. During longer operation only the battery charge decreases, never their performance – that is the added value of Trotec's premium branded batteries!
Buy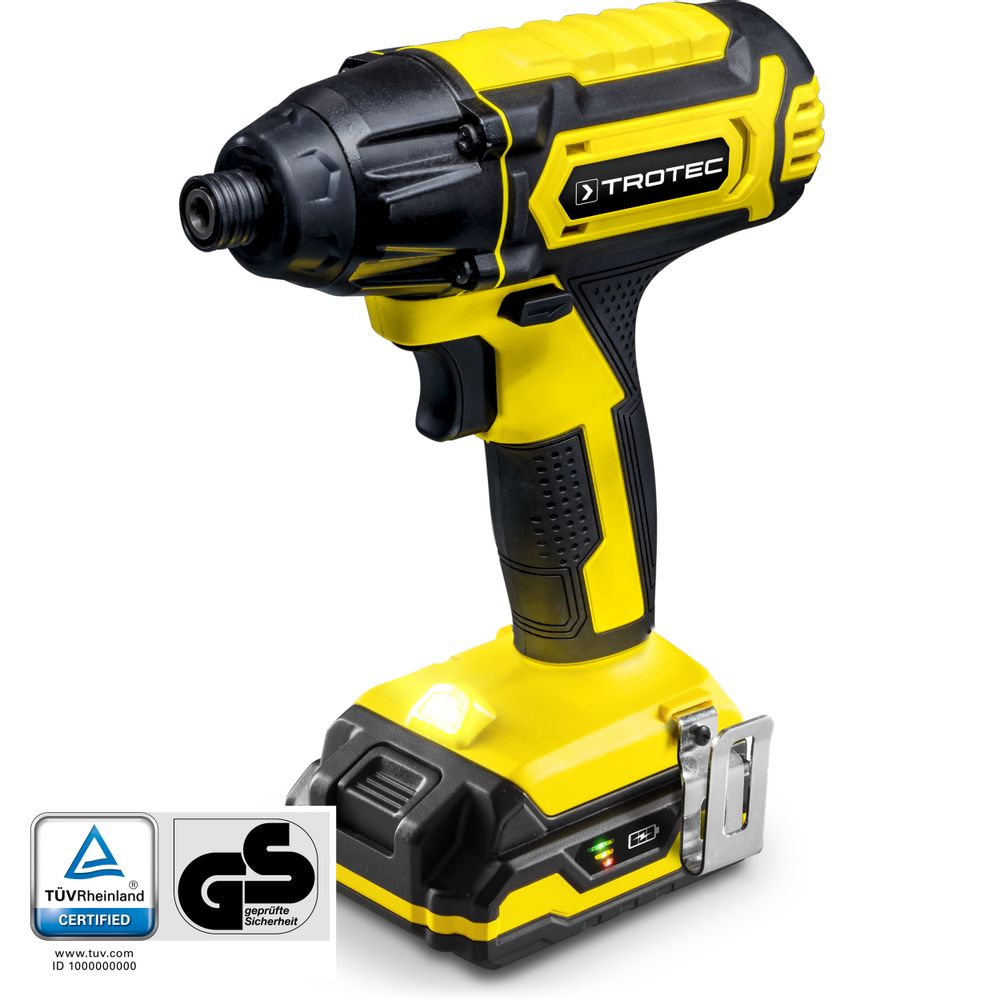 Technical data
Technical data
General information
Article number
4.410.000.601
Technical data
Idle speed 1. Speed level
0 - 2.800 min-1
Impact frequency combined 1. Speed level
0 - 3.600 min-1
Max. torque [Nm]
180
Tool holder
1/4" hexagon socket retainer
Maximum screw diameter
Max. screw diameter wood [mm]
8
Max. screw diameter metal [mm]
8
Sound values according to EN 62841-2-2
Sound pressure level [dB(A)]
96.74
Sound power level [dB(A)]
107.74
Uncertainty K [dB]
3
Vibration information according to EN 62841-2-2
Vibration emission value (ah) [m/s²]
12.74
Uncertainty K [m/s2]
1.5
Electrical values battery
Battery nominal voltage [V]
20
Battery capacity [Ah]
2
Capacity indication
3-stage
Battery type
Li-ion
Battery charging time [h]
1
Charger
Mains connection
230 - 240 V, 50 Hz
Output voltage [V]
21.5
Power input [W]
65
Nominal current consumption [mA]
2,400
Connection plug
CEE 7/16
Cable length [m]
1.5
Protection class
II
Start lock
Square socket adapter 1/4"
Dimensions
Length (packaging excluded) [mm]
180
Width (packaging excluded) [mm]
95
Height (packaging excluded) [mm]
235
Weight
(packaging excluded) [kg]
1.5
Equipment, features and functions
Functions and features
Infinitely variable speed control with quick stop
Gear selector switch
Torque selection
Clockwise / counter-clockwise rotation
Function selector switch
Function selector switch with release button (safety lock)
Switch for the impact mechanism
Automatic SPINDLE LOCK
Continuous operation
SDS-plus system tool holder
Tool-free exchange of accessories
Changeable battery
Pneumatic hammer mechanism
Venting slots
Slip-resistant soft grip
Vibration damping
Integrated LED work lamp
Integrated bit magazine
Softgrip
Belt clip
Dust protection cap made of rubber fitted on the tool holder
Standard scope of delivery
Accessories scope of delivery
Number of batteries
1
Additional handle
Depth stop
Quick charger
Lubricant container
Dust protection cap
Transport case
Bit extension
1/4" 50 mm
standard equipment
optionally available
not available
Alternative products
Loading...