Cordless hand-held vacuum cleaner VC 10-20V
High-power hand-held vacuum cleaner of the latest generation with dust filter, replaceable battery system and crevice/brush nozzle
High-power wet and dry vacuum cleaner for in-between cleaning
No matter which features you value the most in a cordless hand-held vacuum cleaner for thorough in-between cleaning – the innovative cordless hand-held vacuum cleaner VC 10-20V will impress you in all disciplines. As a hand-held vacuum cleaner of the latest generation, the modern VC 10-20V in ergonomically shaped Trotec design combines an extremely high suction capacity with an almost unlimited battery life – thanks to the replaceable 20 V 2 Ah Flexpower multi-device battery – and comfort features that are outstanding in this device class.
Don't be misled by the compact size and low weight of only 1,300 grams – the handy battery-powered VC 10-20V vacuums just as powerfully and thoroughly as its larger siblings, the upright vacuum cleaners of the VC series.
Ready for use always and everywhere: cordless and immediately at hand
Crumbs on hard floors and carpets, animal hair on the couch, cat litter or road dirt on the stairs, dust inside the car or water bowls tipped over by our furry friends – there is almost nothing at home, in the office, in the camper van or in the car that the pleasantly lightweight hand-held vacuum cleaner VC 10-20V cannot remove quickly and completely with its wet and dry nozzles already included in the scope of delivery.
An all-round clean affair: hygienic container emptying and cleaning
Up to 400 ml of dry dirt or 100 ml of liquid can be collected in the easy-to-clean collection container, which is equipped with a hygienic opening mechanism – more than enough for common household dirt. With just one click on the release button, the collection container can be removed, emptied and cleaned under clear tap water. Particularly convenient: The vacuum cleaner operates without a dust bag and the integrated dust filter can also be cleaned under the tap when heavily soiled.
Flexpower multi-device batteries – long runtimes for the hand-held vacuum cleaner VC 10-20V and other Trotec power tools
A hand-held vacuum cleaner for (almost) any type of dirt – the all-rounder for the household
The VC 10-20V has everything you need for quick in-between cleaning. Whether it's crisps leftovers on the sofa after an evening in front of the TV or pet hair flying all over the house, especially during the change of coat. 
The quick-change crevice and brush nozzle allow you to clean
smooth surfaces
textiles
flooring
seating furniture
vehicle interiors
in no time at all by removing almost all common types of soiling such as dust, dirt, food residues, animal hair and small amounts of liquids. 
Wet or dry – not a question for the VC 10-20V
Even spilled coffee on the desk, the puddle of water around a wet umbrella or wet food scattered on the floor by pets are effortlessly vacuumed up by the all-purpose wet and dry vacuum cleaner VC 10-20V.
When it comes to cleaning the car, the cordless hand-held vacuum cleaner shows its strengths over bulky, large vacuum cleaners equipped with a cable. With the approx. 19 cm long crevice nozzle, even poorly accessible gaps, corners and crevices can be cleaned easily, while the brush nozzle is the perfect choice for cleaning the dashboard and centre console.
The cordless hand-held vacuum cleaner VC 10-20V is a true all-rounder for quick and effortless cleaning of almost all surfaces and flooring. 
VC 10‑20V – special equipment features
Be prepared for any possible application scenario: get yourself a VC 10-20V!
All cordless vacuum cleaners in direct comparison:
To find the cordless vacuum cleaner which exactly meets your requirements, please consult the concise overview of all cordless vacuum cleaners from Trotec, which we're providing to you here so that you can compare them directly to each other.
Models which you do not wish to include in your comparison can be easily dismissed with only one click.
A few practical benefits:
Powerful cordless hand-held vacuum cleaner for wet and dry applications
20 V lithium-ion battery (2 Ah) without memory effect and without self-discharge
For quick and convenient in-between cleaning or for cleaning the car interior
High suction power on all surfaces
Easy and quick to clean thanks to easily removable container
Compact design with ergonomic handle and slip-resistant soft grip inlays
Large container for 400 ml of dry dirt and 100 ml of liquid
Constantly high suction power for up to 18 minutes
Crevice nozzle for poorly accessible locations
Brush nozzle for thorough cleaning
Flexpower – the innovative multi-device battery system from Trotec
Even the standard scope of delivery of this power tool from Trotec already includes a powerful 20 V multi-device battery from the Trotec Flexpower portfolio with a high charging capacity of 2 Ah. You can check the current charging status via the three-stage battery level indication that is integrated in the battery housing and clearly visible at one glance.
This power pack that can be fully charged in about an hour not only enables device runtimes extended by up to 33 % – as compared to standard batteries with only 1.5 Ah – moreover, this Flexpower multi-device battery can also be flexibly combined with different Trotec tools, including i.a. the cordless rotary hammer PRDS 10‑20V, the cordless multi-function tool PMTS 10‑20V, the cordless portable circular saw PCSS 10‑20V, the cordless random orbital sander PESS 10-20V, the cordless work light PWLS 10‑20V, the cordless work LED light PWLS 15‑20V, the cordless drill driver PSCS 11‑20V, the cordless hammer drill PHDS 11‑20V, the cordless grass and shrub shears PGSS 10-20V, the Cordless compressor PCPS 11‑20V and air pump PCPS 12‑20V, the cordless pendulum action jigsaw PJSS 11‑20V, the cordless hand-held vacuum cleaner VC 10‑20V or the Cordless vacuum cleaner VC 15‑20V.
Thanks to Flexpower you can do without unnecessary batteries and chargers – and the search for a suitable battery has also come to an end. Simply change the device, not the battery. Flexpower puts a stop to the unnecessary amount of various exchangeable batteries; the combination option with an ever increasing number of tools allows you flexibility at all times so you can carry on your projects energetically!
Premium branded battery for constantly full power
By now, lithium-ion batteries are widely distributed, after all they come without memory effect and self-discharge. Plus these batteries can be disconnected from the charger and used right away without it affecting the battery's lifetime. But "lithium ions" is a generic term used for batteries of various qualities and made of diverse electrode materials; including those with a perceptibly weakening performance once the battery charge decreases.
Lithium-ion batteries supplied by Trotec are high-quality premium branded NMC batteries with a high energy density and charging voltage lasting until the end without exceptions – guaranteed! Compared to conventional lithium-ion batteries the performance of our premium branded batteries does not decrease even as the discharge increases.
Consequently, you benefit from lasting maximum power even with an almost empty battery. During longer operation only the battery charge decreases, never their performance – that is the added value of Trotec's premium branded batteries!
Buy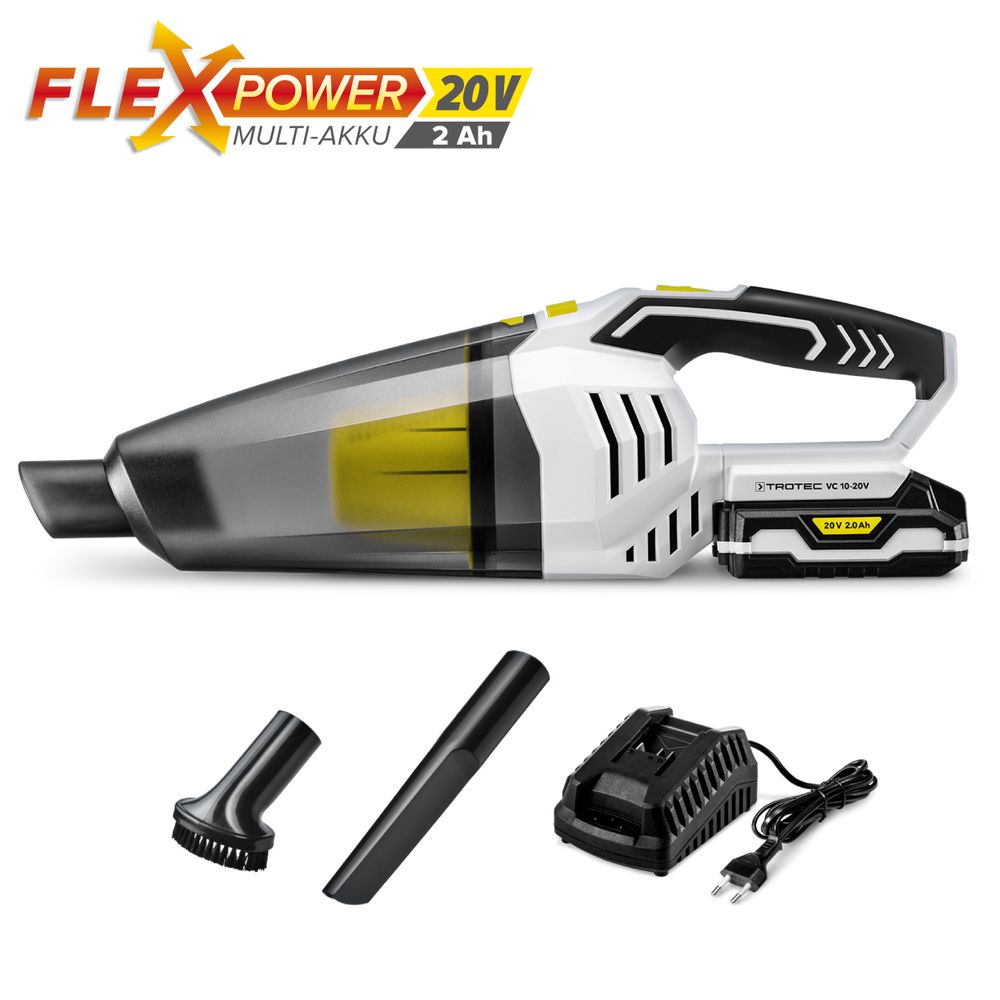 Technical data
Technical data
General information
Article number
4.655.000.015
Technical data
Power input [W]
65
Max. runtime [Min.]
18
Capacity of the dust container
Dry dirt max. [ml]
400
Liquids max. [ml]
100
Safety feature
Protection class
II
Housing design
Plastics
Electrical values battery
Battery nominal voltage [V]
20
Battery capacity [Ah]
2
Capacity indication
3-stage
Battery type
Li-ion
Battery charging time [h]
1
Charger
Mains connection
230 - 240 V, 50 Hz
Output voltage [V]
21.5
Power input [W]
65
Nominal current consumption [mA]
2,400
Connection plug
CEE 7/16
Cable length [m]
1.5
Protection class
II
Dimensions
Length (packaging excluded) [mm]
80
Width (packaging excluded) [mm]
440
Height (packaging excluded) [mm]
145
Weight
(packaging excluded) [kg]
1.3
Equipment, features and functions
Functions and features
Wet vacuum cleaning function
Dry vacuum cleaning function
Discharge function
ON/OFF switch
Battery level indication
Battery level indication
integrated in the battery
Washable dust filter
Washable HEPA filter
Castors
Standard scope of delivery
Accessories scope of delivery
Squeegee nozzle
Crevice nozzle
Brush nozzle
Extension hose
Wall holder
Dust filter
HEPA filter
standard equipment
optionally available
not available
Alternative products
Loading...