Cordless impact wrench PIWS 10-20V
This 20 V battery with 4 Ah offers considerably more power and endurance for screwing and repair work on your car
A great deal of power to meet high demands
With an external ½" (12.7 mm) square retainer as tool holder and the automatic activation of the impact mechanism the cordless impact wrench PIWS 10-20V is a professional high-performance solution for the powerful tightening or loosening of screws and nuts.
Maximum control achieved by preselectable torque settings
To prevent a damaging of the thread, screws and nuts must be neither tightened too little nor too much. Overtightening is reliably prevented owing to the 4-stage torque selection of the PIWS 10-20V. Select the desired torque of 100 Nm, 200 Nm, 300 Nm or even 400 Nm in advance at the push of a button. After that the torque can be adjusted steplessly and precisely via the on/off switch – but only up to a preset maximum value. Even in the dark the different torque settings can be read clearly on the illuminated LED indicator integrated in the base that holds the battery. With the impact mechanism's pulsating rotational movements of up to 3,000 rpm the cordless impact wrench PIWS 10-20V loosens even seized, cross-threaded or rusted screw connections. You don't even need to set the device down to switch between tightening and loosening screws and nuts; simply actuate the integrated changeover switch for clockwise / counter-clockwise rotation.
High battery capacity and long runtime
With its untiring, high-performance (Li-ion) Flexpower multi-device battery 20 V / 4 Ah the PIWS 10-20V recommends itself for screwing and assembly work in wood and metal to be performed in the entire house, for repair work on your car, motorcycle or bike or even for the professional application in workshops. To make sure you can start working right away a matching set of sockets of the most common sizes (respective width across flats: 17, 19, 21, 23 mm) is already included in the scope of delivery.
Changing tyres like a pro
Using a good old spider wrench for swapping from summer to winter tyres or vice versa takes a great deal of time and effort. There are always seized screws and nuts to be loosened or properly tightened when carrying out repair work on a motorcycle, engine or gearbox. Using the battery-powered PIWS 10-20V these tasks can be accomplished in next to no time – just like they do in motorsports – but without a compressed-air hose or an annoying cord.
Practical tip: With the PIWS 10‑20V flat tyres no longer have to be dreaded. If you have the compact cordless impact wrench in your boot, the spare tyre is assembled with lightning speed even in the gathering darkness at nightfall. The integrated LED work light ensures the best possible illumination of the working area. For that sense of safety: Once charged, the Flexpower multi-device battery supplies the full charging capacity even after a longer period of non-use.
Speaking of torque ...: The torque of an impact wrench is a safety-relevant factor when changing tyres. The torque varies depending on the type of vehicle and wheel rim. Hence you should contact your vehicle / rim manufacturer and enquire about the recommended value. With 4 selectable torque settings ranging between 100 and 400 Nm the PIWS 10-20V provides enough power for any vehicle and tyre combination. A set of sockets suitable for the most commonly used wheel bolts is already delivered along with the device. A suitable key or adapter may be required for wheel locks.
Quality & performance – it's in your hands
Due to using weight-reduced materials for the fibreglass-reinforced plastic housing and a lightweight die-cast aluminium gear housing the PIWS 10-20V weighs only 2,500 g and so permits a secure grip without tiring even during longer working periods. The soft grip inlays incorporated in the handle ensure a firm grip, but also that the device rests comfortably in the hand. Even long screws are driven in effortlessly since the special impact mechanism of the PIWS 10-20V protects your wrist against the torsional forces. For a maximum of occupational safety the device further comes equipped with a quick stop rundown brake and a start lock preventing an unintentional activation of the impact wrench.
The cordless impact wrench is supplied with a 20 V Flexpower multi-device battery (with a capacity of 4.0 Ah) that is also compatible with other Trotec power tools, with a 1.5 h quick charger with automatic charge termination and a set of 4 sockets. Additionally included is a practical belt clip for the attachment to the left- or right-hand side of the impact wrench's handle. An indispensable tool when carrying out work on a ladder or at frequently changing locations. To keep things in order the entire set is delivered in a robust and stable transport case.
Keep using already available sockets and screwdriver bits. The tool holder of the PIWS 10-20V allows you to use all customary external ½" square socket wrenches. Exchanging the attachments does not require any further tools, the attached socket automatically locks in place. With a (½" square to ¼" hexagon) bit adapter* you can also use ¼" hexagon bits – e.g. the 32-piece accessory bit set from Trotec – for the operation of the impact wrench PIWS 10-20V.
*Not included in the scope of delivery.
Twice as long-lasting with the Flexpower multi-device battery 20 V / 4 Ah
The lithium-ion battery of the PIWS 10-20V without self-discharge or memory effect is a genuine power pack. He who is not fully satisfied with 20 V and 2 Ah, can further benefit from the substantially increased endurance of this prime battery.
100 % more power than a battery with 2 Ah
Compared to a battery with 2 Ah the charging capacity of 4 ampere-hours enables twice the runtime. The full battery capacity is available from start to finish without any signs of weakening towards the end. Such a great deal of power and endurance also impresses in practice and you get things done more efficiently!
Fully charged in only 90 minutes
At the push of a button the 3-stage battery level indication integrated in the housing indicates the battery status – even if the battery is not connected to the device. The charging process is completed in next to no time: By using the quick charger included in the scope of delivery a completely discharged battery will again be ready for use after 90 minutes.
The Flexpower system is highly compatible
The Flexpower multi-device battery 20 V / 4 Ah can also be used in combination with other Trotec power tools. Besides prospective further power tools the battery can be attached to the convenient work light PWLS 10-20V. Should you already have a 20 V Flexpower multi-device battery with 2 Ah, it can also be connected to the impact wrench PIWS 10-20V. It makes for a good spare battery in any event.
Special equipment features of the PIWS 10‑20V
All Cordless impact driver in direct comparison:
To find the Cordless impact driver which exactly meets your requirements, please consult the concise overview of all Cordless impact driver from Trotec, which we're providing to you here so that you can compare them directly to each other.
Models which you do not wish to include in your comparison can be easily dismissed with only one click.
A few practical benefits:
Powerful 20V lithium-ion battery without memory effect and without self-discharge
Flexpower multi-device battery 20 V 4.0 Ah – can be flexibly combined also with other 20 V cordless tools
Function with high torque and impact force for screwing in or tightening and loosening screws and nuts
Robust die-cast aluminium gear housing for optimum heat dissipation and durability
Suitable for changing tyres thanks to the high torque
4 torque settings plus automatic activation of the impact mechanism (during tightening and loosening)
Robust external ½" square retainer
Infinitely variable speed control with quick stop
Special impact mechanism protects your wrist from torsional forces – ideal for driving in long screws without effort
Integrated LED work light
Quick charger with automatic charge termination: only 1.5 hours of charging required
Three-stage battery level indication integrated in the battery
Convenient clockwise/counter-clockwise rotation selection and start lock
Soft grip rubber inlays in the housing for extra firm hold
Mountable belt clip facilitates access and transport
Incl. 4 sockets of the common sizes 17, 19, 21, 23 mm
All important features at a glance
Compelling value-for-money ratio
So far, you basically only had two options when choosing a cordless impact wrench: either good but expensive, or mainly cheap.
Trotec's PowerTools now offer a smart choice: good and cheap at the same time. For we do not only stand for measuring devices and air conditioners, but also for power tools of brand quality: professional Trotec solutions with an excellent value-for-money ratio!
An alternative comes in the form of the convenient cordless impact driver PIDS 10-20V with maximally 180 Nm – a true all-rounder for a great variety of screwing applications.
Benefit from the Trotec brand quality guaranteeing high value, safety and functionality. Via the registered GS mark the inspection authority TÜV Rheinland certifies that, if used foreseeably and as intended, the device does not pose a risk to the health and safety of the user.
Brand quality plus cost-efficiency
Reliable, powerful and suited for the most challenging fields of application: these are some of the quality features of Trotec's cordless impact wrenches. Thanks to their high capacity they are able to withstand the most extreme conditions. HighPerformance for demanding applications – after all, Trotec stands for brand quality and professional solutions with an excellent value-for-money ratio!
Premium branded battery for constantly full power
By now, lithium-ion batteries are widely distributed, after all they come without memory effect and self-discharge. Plus these batteries can be disconnected from the charger and used right away without it affecting the battery's lifetime. But "lithium ions" is a generic term used for batteries of various qualities and made of diverse electrode materials; including those with a perceptibly weakening performance once the battery charge decreases.
Lithium-ion batteries supplied by Trotec are high-quality premium branded NMC batteries with a high energy density and charging voltage lasting until the end without exceptions – guaranteed! Compared to conventional lithium-ion batteries the performance of our premium branded batteries does not decrease even as the discharge increases.
Consequently, you benefit from lasting maximum power even with an almost empty battery. During longer operation only the battery charge decreases, never their performance – that is the added value of Trotec's premium branded batteries!
Buy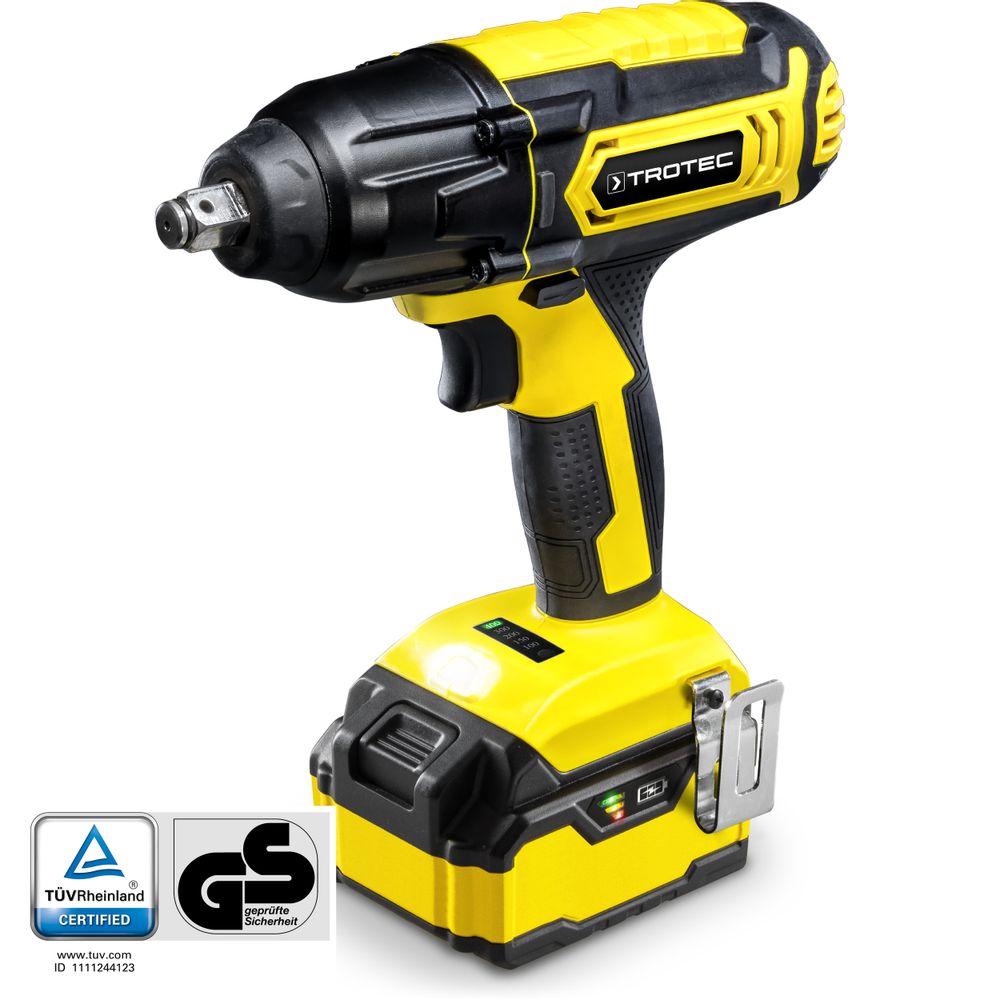 Technical data
Technical data
General information
Article number
4.410.000.651
Technical data
Idle speed 1. Speed level
0 - 2.300
Impact frequency combined 1. Speed level
0 - 3.000 min-1
Number of torque settings
4
Max. torque [Nm]
400
Tool holder
External 1/2" square retainer
Maximum drilling diameter
Max. screw diameter wood [mm]
23
Max. screw diameter metal [mm]
23
Sound values according to EN 62841-2-2
Sound pressure level [dB(A)]
96.74
Sound power level [dB(A)]
107.74
Uncertainty K [dB(A)]
3
Vibration information according to EN 62841-2-2
Vibration emission value (ah) [m/s²]
12.74
Uncertainty K [m/s2]
1.5
Electrical values battery
Battery nominal voltage [V]
20
Battery capacity [Ah]
4
Capacity indication
3-stage
Battery type
Li-ion
Battery charging time [h]
1.5
Charger
Mains connection
230 - 240 V, 50 Hz
Output voltage [V]
21.5
Power input [W]
94
Nominal current consumption [mA]
3,500
Connection plug
CEE 7/16
Cable length [m]
1.5
Protection class
II
Start lock
Square socket adapter 1/2"
Dimensions
Length (packaging excluded) [mm]
215
Width (packaging excluded) [mm]
70
Height (packaging excluded) [mm]
250
Weight
(packaging excluded) [kg]
2.5
Equipment, features and functions
Functions and features
Infinitely variable speed control with quick stop
Torque selection
Clockwise / counter-clockwise rotation
Automatic SPINDLE LOCK
Continuous operation
Changeable battery
Integrated LED work lamp
Softgrip
Belt clip
Dust protection cap made of rubber fitted on the tool holder
Standard scope of delivery
Accessories scope of delivery
Number of batteries
1
Quick charger
Dust protection cap
Transport case
standard equipment
optionally available
not available
Alternative products
Loading...