Comfort dehumidifier TTK 60 E
High user comfort in an elegant design...
...reduced power consumption, reliable powerful performance!
Naturally with the compulsory tasks of a modern dehumidifier it can score in every respect: Due to the combination of high operating range, flexible two-stage fan, hygrostat control and powerful 0.47 kW compressor, the TTK 60 E is optimally suited for an agreeably silent dry keeping of living and office spaces or heated basements.

Furthermore, this elegant room air dehumidifier impresses with the especially neat design of the control panel, which is easy to handle despite the manifold comfort functions.

The control panel allows to select either a fully automatic or a permanent dehumidification process by means of the digital real-value humidity selection. Permanent dehumidification can even be operated unattended thanks to the option to connect a condensation drain hose. Thanks to the timer function a time-controlled application is also possible. You see that you do not have to worry about the device switching off as this will happen automatically after the timer has reached the preset time for switching off.
The practical handle and easy-running wheels made of plastics allow you to change the application site for the dehumidifier TTK 60 E easily and quickly.
PRODUCT BROCHURE
Moisture in the bathroom, basement or bedroom can lead to mold. All relevant information about our comfort dehumidifiers can also be found in the product brochure. Download the PDF directly here.
Gentle laundry drying with dehumidifiers
Apart from ambient air dehumidification, a dehumidifier can be conveniently used for drying laundry – either in an assisting way or as a full replacement for a conventional dryer. The laundry drying function (also referred to as clothes drying mode or SuperDry function) is comparable to traditional air drying outside.
Dehumidifiers offer the benefit of drying the laundry as gently as in the nature outside. Colours retain their brilliance and the life span of clothes is longer than with conventional dryers – and all this with a substantially lower power consumption.
Furthermore, even sensitive materials such as wool, silk or synthetic fibres can be dried without any problems. In contrast to pure air drying, the laundry feels much softer and more pleasant on your skin.
Laundry drying can also be performed with dehumidifiers without an additional laundry drying function. The target value of the air humidity must then be set in accordance with the desired residual humidity:
Cupboard dry: 46 % of relative air humidity
Iron dry: 58 % of relative air humidity
Skin dry: 65 % of relative air humidity
Propane (R290) as environmentally friendly refrigerant in dehumidifiers
Every year, several million tonnes of environmentally harmful CO2emissions (greenhouse gases) are emitted into the air by synthetic refrigerants. For this reason, the utilization of alternative refrigerants has become one of our key objectives. By using propane (R290) as refrigerant, this dehumidifier makes a valuable contribution to protecting our climate.
The natural refrigerant propane (R290) is an organic compound belonging to the group of hydrocarbons. Unlike synthetic refrigerants the environmentally friendly propane (R290) comes with neither ozone depletion potential (ODP = 0) nor a noteworthy greenhouse effect (GWP = 3).
Additional bonus for the environment: Owing to its excellent thermodynamic properties, propane (R290) is a particularly energy-efficient refrigerant thereby additionally reducing your energy costs.
Not only elegant, convenient and quiet, but also safe to operate!
Especially convenient is also the standard filter cleaning indicator, which automatically displays, when a reusable air filter has to be cleaned.

For applications where a regular manual draining of the water tank is not always possible, e.g. during unattended permanent drying applications in holiday homes, there is a separate connection integrated in the TTK 60 E through which the condensate can be drained directly using a hose.

The standard equipment of the electronically defrostable TTK 60 E is completed by a filling level warning light to indicate a full water tank as well as by an overflow protection with automatic switch-off function. In addition, the condenser dehumidifier is equipped with an automatic fault diagnosis system.

Thanks to the digital real-value humidity selection the desired room climate conditions can be established straight to the point and energy-saving, which reduces the power consumption in comparison to conventionally controlled devices.
Auto restart function
In case of an unexpected switch-off due to a power interruption, the auto restart function (or "Memory function") makes the device restart with the previously selected setting as soon as the power supply has been restored. This makes the dehumidifier also suitable for combined use with a timer.
TTK 60 E – special equipment features
A few practical benefits:
Hygrostat-controlled automatic dehumidification with target value preselection between 35 and 80 % RH in increments of 5 %
Once the desired humidity value has been reached, the compressor will switch off automatically. The fan coasts down and switches off with delay. The display does not switch off. When the value is exceeded, the unit is automatically activated.
2 fan stages
LED control panel
Permanent mode
Timer function
Laundry drying function
Filter cleaning indicator
Filling level warning light indicating a full water tank
Overflow protection with automatic switch-off
Automatic air circulation defrost system
Connection for external condensation draining
Quiet operation
Which device to use for which room size? Here you find a specific performance chart for the suitability of each comfort dehumidifier. It indicates the room size in combination with an area and volume scale. Click to enlarge in a new window ...
Save electricity and money on dehumidification
With our socket hygrostat BH30 you can additionally save money when dehumidifying damp rooms or keeping rooms dry. The programmable switch is simply plugged in between the dehumidifier and socket to regulate the dehumidification process based on the measured humidity level.
Once the desired target humidity is reached, the hygrostat disconnects the device from the mains until dehumidification is required again. By switching off the compressor and fan during standby times, the device's energy consumption is noticeably reduced.
The initial acquisition costs of the BH30 will have been amortized in a minimum of time.
Moreover, many dehumidifiers only offer rough target value setting for optimum humidity. The hygrostat BH30 allows the room humidity level to be adjusted in increments of 1 % from 20 % to 90 % and thus offers significantly more precise target humidity selection.
standard equipment
optionally available
not available
Buy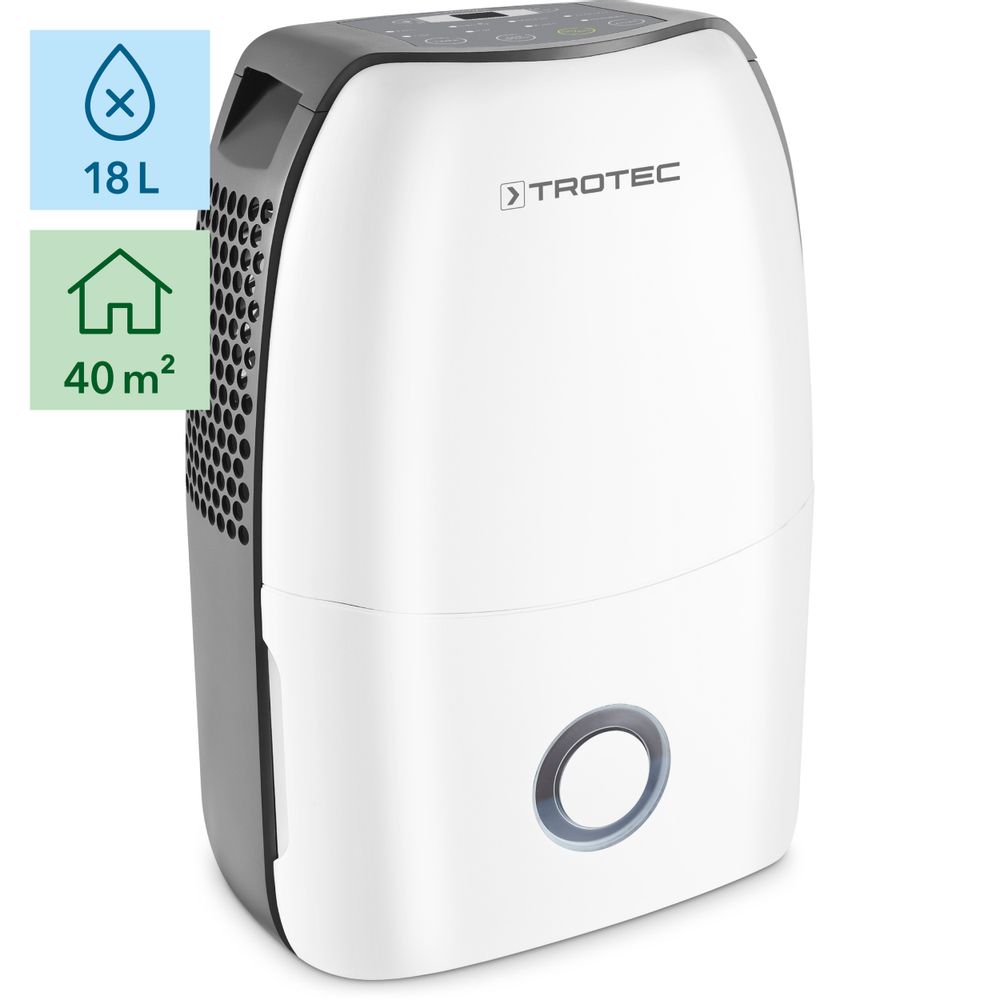 Technical data
Technical data
General information
Article number
1.120.000.049
Dehumidification performance
At 30 °C / 80 % RH [l/24h]
16
Max. [l/24h]
18
Air flow rate
Level Max. [m³/h]
100
Recommended room size construction drying
m³
m²
Recommended room size dry keeping
m³
100
m²
40
Ambient conditions
Min. temperature range [°C]
5
Max. temperature range [°C]
35
Min. humidity range [% RH]
35
Max. humidity range [% RH]
95
Electrical values
Mains connection
220 - 240 V, 50 Hz
Nominal current consumption [A]
2.1
Power input [kW]
0.47
Recommended fusing [A]
10
Required current starting phase [A]
Electric connection
Connection plug
CEE 7/7
Cable length [m]
1.8
Compressor
Reciprocating piston compressor
Rotary piston compressor
Minimum room size [m²]
4
refrigerant
R290
Amount of refrigerant [g]
80
GWP factor
3
CO2 equivalent
0.00024
Pressure suction side [MPa]
1.5
Pressure outlet side [MPa]
3
Water tank
Contents in [l]
3.5
Sound values
Distance 1 m [dB(A)]
43
Dimensions
Length (packaging excluded) [mm]
225
Width (packaging excluded) [mm]
353
Height (packaging excluded) [mm]
496
Weight
(packaging excluded) [kg]
12
Equipment, features and functions
Automatic defrost system
Electronic
Hot gas
Automatic dehumidification
Non-stop dehumidification
Electronic hygrostat
Hygrostat-controlled
Analogue hygrostat
Program-controlled
Fan
Radial
axial
stages
2
Condensate tank monitoring
Container available
Overflow protection with automatic switch-off
Filling level warning light to indicate a full water tank
Water filling level indicator
Room air filter
Readily accessible
Cleanable
Ionizer selectable
Pre-filter
Synthetic fibre
Timer function
Switch-on time preselectable
Switch-off time can be preselected
Functions and features
Laundry drying function
Automatic operation
Continuous operation
Automatic fault diagnosis system
Auto restart function
Memory function
Fan rundown function
Anzeige der eingestellten Luftfeuchtigkeit
Selectable ionisation
Internal drying function
Child lock
Noiseless night operation in whisper mode
Comfort button
Operating hours counter
Operating hours counter
Power meter
Mobility
Carry/transport handle(s)
Plastic wheels
Rubber-tyred metal wheels
Non-marking full-rubber wheels
Swivel casters with parking brakes
Adjustable bar handle
Condensate drain
Hose connection possible
Recommended hose size [mm]
12.7
Hose included in the scope of delivery
Condensate pump
Control panel
LED display
Digitalanzeige
Membrantasten
Shelf life
stackable
Adjustable air discharge direction
manual
Swing function
Housing design
Plastics
Steel coated
Stainless steel
Metal plastic composite housing
Aluminium
standard equipment
optionally available
not available
Alternative products
Loading...