Belt sander PBSS 10-900
Gives your protects the right finish – 900-watt belt sander with fixture, dust collection bag and abrasive belt for wood for mobile and stationary use
Powerful grinding and deburring of wood, plastics or metal
With the belt sander PBSS 10‑900, professional processing of wood, metal, spackle and painted surfaces is particularly easy and time-saving. An enormous 900 watts of sanding performance guarantee a high removal rate, for example when smoothing, cleaning and deburring wood, removing layers of paint and paint residues or grinding off large surfaces to prepare the workpiece for subsequent painting. The handy powerhouse is equally suitable for an easy processing of metal, for instance to remove surface rust by grinding or to provide metal surfaces with a shiny and flawless finish.
Whether you wish to carry out rough grinding tasks with maximum material removal or finishing tasks for especially smooth surfaces – with the belt sander PBSS 10‑900 and the matching abrasive belts of size 76 x 533 mm, you are perfectly equipped to meet all challenges of wood, plastic or metal surface treatment. German brand quality with a professional full equipment at an attractive DIY product price – this is an offer exclusively made by Trotec power tools.
It's got it all – ergonomics, functionality and high performance
The PBSS 10‑900 belt sander is ergonomically perfectly balanced and provides a low centre of gravity. The device's excellent balance and power transmission to the surface to be worked on are its outstanding characteristics. This allows you to use the grinding machine without fatigue even during long grinding sessions. To provide for a secure grip, the handle with integrated locking switch for continuous operation and belt speed control is additionally equipped with a non-slip soft-grip inlay. A second guide handle ensures a permanently high contact pressure for two-hand operation.
Equipped with a durable 900 watt motor and a belt speed that can be steplessly adjusted with a setting wheel from 120 m/min (level 1) to 380 m/min (level 6), the PBSS 10-900 ensures material-compliant working with high removal rates even on large surfaces.
Mobile like a hand-held grinding machine – stationary like a workbench
The PBSS 10‑900 convinces both as a mobile and stationary belt sander with outstanding versatility and equipment in its class. At the same time, the device is pleasantly easy to handle.
In stationary operation, the PBSS 10‑900 can be precisely fastened on the work table or workbench using easy-to-use retaining brackets and can be set to continuous operation by means of the locking switch. The device is provided with an integrated fixture to securely fit the table clamps supplied.
The slim reel for sanding close to the edge is equipped with an automatic centring function to automatically centre the abrasive belt. If necessary, manual fine adjustment of the belt run can be carried out via an easily accessible adjusting screw. Changing the abrasive belt is carried out equally easy thanks to the innovative clamping lever system – without the use of any tools and in only a few seconds.
To ensure that you can directly start, an abrasive belt of grain size 80 for wood machining is already included in the scope of delivery. The PBSS 10-900 can be used with commercially available abrasive belts of size 76 x 533 mm. To make sure that you're always ideally equipped for all work that needs to be performed,
we recommend using our Special price 10-piece set of abrasive sanding belts.
Good to know: An overview of the different belt speeds and sandpaper grain sizes suitable for the different tasks and materials can be found here.
Brand quality with a professional full equipment at an attractive DIY product price – this is an offer exclusively made by Trotec power tools.
PBSS 10‑900 – high sanding performance without raising dust
Chips are not only produced by chipping. With its excellent sanding performance, the PBSS 10‑900 belt sander also provides a high material removal rate and thus large amounts of particles. To prevent this fine dust from ending up in the room air, contaminating the workplace or even being inhaled, the PBSS 10‑900 comes with a connection for external dust extraction. In addition, an easy-to-clean textile dust collection bag with quick lock function is also included in the scope of delivery. The bag is emptied quickly and easily via a zipper system.
This also makes the PBSS 10‑900 suitable for indoor applications in the environment of dust-sensitive furniture or electronic devices, for example for renovation work.
The key equipment features of the PBSS 10‑900 at a glance
With the versatile belt sander PBSS 10‑900 everything runs smoothly
All Grinding machines in direct comparison:
To find the grinding machines which exactly meets your requirements, please consult the concise overview of all grinding machines from Trotec, which we're providing to you here so that you can compare them directly to each other.
Models which you do not wish to include in your comparison can be easily dismissed with only one click.
A few practical benefits:
Powerful 900 W belt sander allowing a high removal rate on large surfaces
Slim reel ensures sanding operation close to the edge
Switch lock for continuous operation including retaining brackets for stationary use
Tool-free clamping system allowing for easy replacement of the abrasive belt
Steplessly adjustable belt speed (between 1 to 6 levels) ensures material-compliant working
Automatic belt run centring with a fine adjustment option for working close to the edge
Attachable textile dust collection bag with zipper emptying for clean working
Connection for an external dust extraction system
Suitable for commercially available abrasive belts (76 x 457 mm)
Main handle with rubberised soft grip insert plus guide handle to provide for extra firm support and precise working
All important features at a glance
Benefit from the Trotec brand quality guaranteeing high value, safety and functionality. Via the registered GS mark the inspection authority Intertek certifies that, if used foreseeably and as intended, the device does not pose a risk to the health and safety of the user.
Brand quality plus cost-efficiency
So far, you basically only had two options when choosing a belt sander: either good but expensive, or mainly cheap.
Trotec's PowerTools now offer a smart choice: good and cheap at the same time. For we do not only stand for brand quality where measuring devices and air conditioners are concerned, but also when it comes to power tools of brand quality: professional Trotec solutions with an excellent value-for-money ratio!
10-piece set of abrasive belts
Which grit is to be used for which type of application?
The set of abrasive belts from Trotec contains sandpapers with 6 different grain sizes. Which grit best suits which application depends on the condition of the initial surface and on the desired result or the intended surface appearance. Coarse, medium or fine grit – for ideal results we recommend using the following abrasive belts from our set:
Coarse grit (1 x 40 and 2 x 60)
With the coarse grain sizes 40 and 60 you can start processing rough surfaces on boards, planks or old furniture. Coarse-grained sandpaper removes a lot of material in a short period of time – this ensure a fast work progress which is especially suited for removing scratches, discontinuities and surface irregularities. But the sanded surface is still relatively rough.
Medium grit (1 x 80 and 2 x 100)
Following the rough grinding you can use the abrasive belts of grain size 80 and 100 to refine your result. The medium-grained belts are also excellently suited for removing any paint or adhesive residues. An already very smooth wooden surface on the other hand can be roughened up a little for subsequent painting.
Fine grit (2 x 120 and 2 x 150)
For the perfect finishing touches we recommend using the two sandpapers with the finest grit (120 and 150). Afterwards you can run your fingers along a silk-smooth wooden surface. Fine sanding is also the best preparation for a later treatment of the wood with oil or wax.
Using the 10-piece set of efficient abrasive belts from Trotec you are optimally prepared to achieve ideal results with all customary belt sanders with the corresponding holding fixture.
VC 15‑20V – perfect working without raising any dust
With the cordless vacuum cleaner VC 15‑20V you spare yourself the trouble of emptying the dust bag. As an extraction system for electric tools, the VC 15‑20V keeps the air and working environment clean – making you independent of free sockets and annoying extension cables. Just as many Trotec power tools, the vacuum cleaner draws its power from a lithium-ion battery (20V/2Ah) from the Flexpower multi-device battery series.
Fine dust particles that are ejected in the sanding or sawing process are sucked into the 10-litre dust collection container without any effort by the extremely manoeuvrable cordless vacuum cleaner with its practical castors. Furthermore, an integrated HEPA filter (> 89 % filter efficiency) prevents dust particles that have been sucked in from getting back into the room air and being inhaled.
standard equipment
optionally available
not available
Buy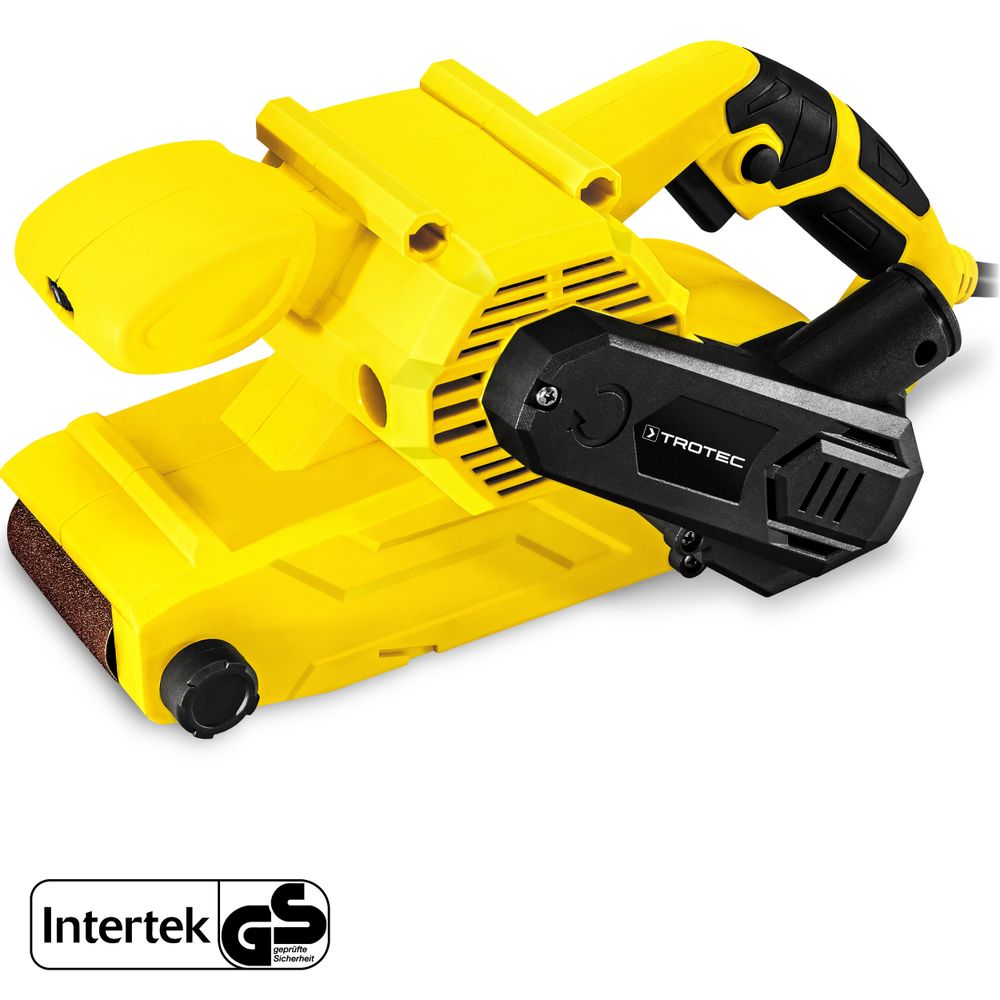 Technical data
Technical data
General information
Article number
4.450.000.002
Technical data
Power input [W]
900
Speed selection [min‑1]
1.030 - 3.270 min-1
Belt speed [m/min.]
120 - 380 m/min.
Belt dimensions (W x L)
76 x 533 mm
Grinding surface
76 x 154 mm
Electrical values
Mains connection
220 - 240 V, 50/60 Hz
Electric connection
Connection plug
CEE 7/17
Cable length [m]
4
Sound values according to EN 62841-2-4
Sound pressure level [dB(A)]
89
Sound power level [dB]
100
Uncertainty (K) [(K)]
3
Vibration information according to EN 62841-2-4
Vibration emission value (ah) Main handle [m/s²]
3.41
Uncertainty (K) Main handle [m/s²]
1.5
Safety feature
Protection class
II
Dimensions
Length (packaging excluded) [mm]
150
Width (packaging excluded) [mm]
350
Height (packaging excluded) [mm]
155
Weight
(packaging excluded) [kg]
2.5
Equipment, features and functions
Functions and features
ON/OFF switch
Infinitely variable speed control
Infinitely variable belt speed
Continuous operation
Tool-free clamping system
Suited for mobile and stationary operation
Mountable dust collector
Standard scope of delivery
Accessories scope of delivery
Dust collector
Dust bag
Adapter for external dust extraction
Reducer
Retaining brackets
2
Abrasive belt for wood
Grain size 80, 76 x 533 mm
standard equipment
optionally available
not available
Alternative products
Loading...