Cordless electric planer PPLS 10-20V
Powerful cordless hand-held plane for outstanding surface qualities in woodworking – with a particularly powerful 20V/4Ah Flexpower multi-device battery
The all-rounder for processing wooden surfaces and edges
The battery-powered electric planer PPLS 10-20V produces perfectly flat wooden surfaces and clean edges without any effort. The powerful 20 V 4.0 Ah Flexpower multi-device battery guarantees effortless and trouble-free working without any time pressure or loss of power and can also be combined and used with a variety of other Trotec tools.
Planing, chamfering, rebating, cutting with only one machine
Planing of wooden surfaces
Chamfering of wooden edges and bevels
Removal of material
Rebating for milling steps
Whether for precisely levelling workpiece edges, chamfering wooden edges, reducing the material thickness or even removing stubborn layers of paint – with the high-speed (12,000 revolutions) cordless planer PPLS 10-20V, these and other woodworking tasks can be carried out professionally and precisely with a cutting depth of max. 1.5 millimetres (adjustable by means of a rotary knob), a rebating depth of 10 millimetres and a maximum planing width of 82 millimetres.
Full equipment making work easier for do-it-yourselfers and professionals
Optimum planing results combined with fast work progress – made possible by the large cutting head with high-quality carbide blades. The blades have cutting edges on both sides and can be turned over with the supplied tool when one of them is worn. Chip ejection is possible on the left or right as desired to avoid an annoying chip congestion when machining the workpiece. A suitable adapter for connecting an external dust extraction system is already included in the scope of delivery. For precisely milled groove and rebate joints, for example in furniture or window construction, the PPLS 10-20V also has an easy-to-install rebating depth stop and rip fence enabling the precise production of mortises and tenons. Chamfering of wooden edges is just as easy. Three V-grooves of different depths are already integrated in the base plate. Bring into position, chamfer and you're done!
Simple and safe to use
The safety and protective mechanisms of the PPLS 10-20V are just as convincing as the equipment. To make sure that the compact and comparatively light battery-powered electric planer always glides over the workpiece with a secure grip, the device, which is suitable for both left- and right-handed users, is equipped with non-slip soft-grip inlays – an indispensable guarantor for precise planing and milling results in the dusty joinery, carpentry or home workshop. After the work is done, the cordless hand-held planer 20 V 4.0 Ah can put aside safely. An automatic lift-off device protects the workpiece and the blades from damage when the device is put down. The start lock incorporated in the device's handle prevents unintentional switch-on of the device.
Accessories contained in scope of delivery:
1 x Rip fence
The rip fence, which can be used optionally, is attached with a wing screw and serves as a guide for precise working at the edge of the workpiece.
1 x Rebating depth stop
The width of the planing track or the base plate resting on the workpiece can be reduced by using the rebating depth stop with wing screw closure.
1 x Adapter for external dust extraction
The adapter allows you to connect a dust bag or external dust extraction system on the right or left side.
1 x Allen wrench and open-end wrench
Required for changing the carbide blades.
1 x Flexpower multi-device battery (20 V 4.0 Ah)
The Flexpower multi-device battery is supplied already partially charged so that you can start immediately. Thanks to Flexpower you can do without unnecessary batteries and chargers. It takes the battery, that comes with a three-stage battery level indication, only 1.5 h to be fully charged in the supplied charging station. The battery offers a high charging capacity of 4.0 Ah, which guarantees enduring missions with numerous Trotec electric tools.
The cordless planer PPLS 10-20V is an indispensable helper for woodworking tasks. Perfectly smooth surfaces and precisely machined edges give every workpiece the finishing touch.
Flexpower – the innovative multi-device battery system from Trotec
Even the standard scope of delivery of this power tool from Trotec already includes an extremely powerful 20 V multi-device battery from the Trotec Flexpower portfolio with an impressively high charging capacity of 4 Ah. You can check the current charging status via the three-stage battery level indication that is integrated in the battery housing and clearly visible at one glance.
This power pack that can be fully charged in only about 90 minutes not only enables device runtimes extended by up to 166 % – i.e. a more than one and a half times longer device life as compared to standard batteries with only 1.5 Ah – moreover, this Flexpower multi-device battery can also be flexibly combined with different Trotec tools, including i.a. the cordless angle grinder PAGS 20‑115, the work light PWLS 10‑20V, the cordless rotary hammer PRDS 20‑20V, the cordless planer PPLS 10‑20V, the cordless tacker PTNS 10‑20V, the cordless glue gun PGGS 10‑20V, the cordless polisher PPOS 10‑20V, the mini cordless portable circular saw PCSS 05‑20V, the cordless portable circular saw PCSS 10‑20V, the cordless grass and shrub shears PGSS 10-20V and the cordless impact wrench PIWS 10-20V.
Thanks to Flexpower you can do without unnecessary batteries and chargers – and the search for a suitable battery has also come to an end. Simply change the device, not the battery. Flexpower puts a stop to the unnecessary amount of various exchangeable batteries; the combination option with an ever increasing number of tools allows you flexibility at all times so you can carry on your projects energetically!
Premium branded battery for constantly full power
By now, lithium-ion batteries are widely distributed, after all they come without memory effect and self-discharge. Plus these batteries can be disconnected from the charger and used right away without it affecting the battery's lifetime. But "lithium ions" is a generic term used for batteries of various qualities and made of diverse electrode materials; including those with a perceptibly weakening performance once the battery charge decreases.
Lithium-ion batteries supplied by Trotec are high-quality premium branded NMC batteries with a high energy density and charging voltage lasting until the end without exceptions – guaranteed! Compared to conventional lithium-ion batteries the performance of our premium branded batteries does not decrease even as the discharge increases.
Consequently, you benefit from lasting maximum power even with an almost empty battery. During longer operation only the battery charge decreases, never their performance – that is the added value of Trotec's premium branded batteries!
The key equipment features of the PPLS 10-20V at a glance
PPLS 10-20V – high-performance cordless electric planer for demanding woodwork
All Electric planers in direct comparison:
To find the Electric planer which exactly meets your requirements, please consult the concise overview of all Electric planers from Trotec, which we're providing to you here so that you can compare them directly to each other.
Models which you do not wish to include in your comparison can be easily dismissed with only one click.
A few practical benefits:
Compact and powerful cordless planer for demanding applications up to a cutting depth of 1.5 mm
Powerful 20 V lithium-ion battery without memory effect and without self-discharge
Flexpower multi-device battery 20 V 4.0 Ah – can be flexibly combined also with other cordless tools from Trotec
Combined guide and cutting depth knob enables safe working and fine adjustment of the cutting depth
Chip ejection to the left or right as desired – preventing chip congestion
Three V-grooves in different sizes for easy chamfering of edges
Automatic lift-off device protecting the cutting head and workpiece
Rebating depth stop and rip fence ensuring high accuracy even for demanding planing work
Reversible high-quality carbide blades providing excellent surface quality
Large cutting head for optimal planing results
Safety switch preventing unintentional switch-on
Solid aluminium base plates for plane work results
Soft grip rubber inlays in the housing guaranteeing extra firm grip
Quick charger with automatic charge termination: only 1.5 hours of charging required
Three-stage battery level indication integrated in the battery
Connection for external dust extraction
All important features at a glance
Unpack the device, insert the battery, start right away: The cordless planer PPLS 10-20V is supplied with a partially charged 20 V 4 Ah lithium-ion battery and a quick charger. The standard scope of delivery includes a rip fence, a rebating depth stop, an adapter for dust extraction, an Allen wrench and an open-end wrench.
Brand quality plus cost-efficiency
Reliable, powerful and suited for the most challenging fields of application: These are some of the quality features of Trotec's planers. Owing to their high capacity they are able to withstand the most extreme conditions. HighPerformance for demanding applications – after all, Trotec stands for brand quality and professional solutions with an excellent value-for-money ratio!
VC 15‑20V – perfect working without raising any dust
With the cordless vacuum cleaner VC 15‑20V you spare yourself the trouble of emptying the dust bag. As an extraction system for electric tools, the VC 15‑20V keeps the air and working environment clean – making you independent of free sockets and annoying extension cables. Just as many Trotec power tools, the vacuum cleaner draws its power from a lithium-ion battery (20V/2Ah) from the Flexpower multi-device battery series.
Fine dust particles that are ejected in the sanding or sawing process are sucked into the 10-litre dust collection container without any effort by the extremely manoeuvrable cordless vacuum cleaner with its practical castors. Furthermore, an integrated HEPA filter (> 89 % filter efficiency) prevents dust particles that have been sucked in from getting back into the room air and being inhaled.
Buy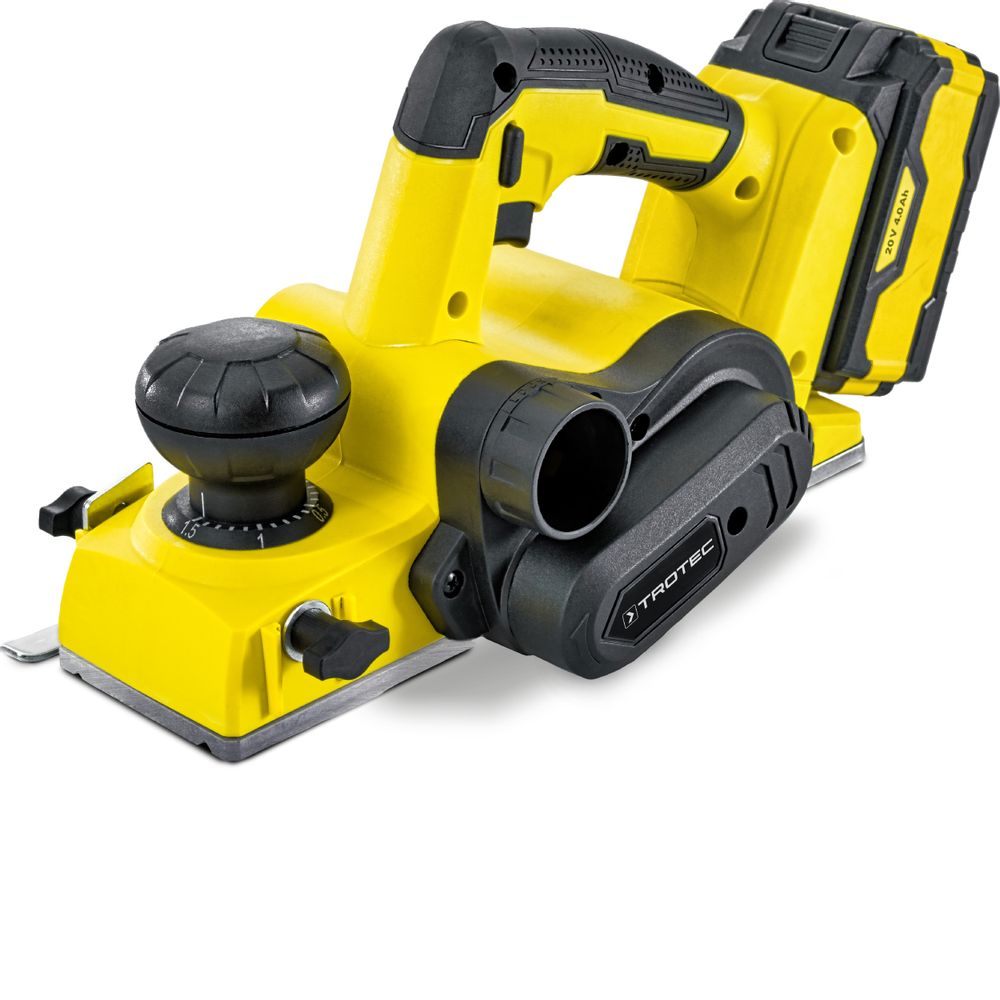 Details
Technical data
General information
Article number
4.450.000.110
Technical data
Idle speed
0 - 12.000 min-1
Planing width [mm]
82
Cutting depth
0 – 1.5 mm
Rebating depth
max. 10 mm
Sound values according to EN 62841
Sound pressure level [dB(A)]
96
Sound power level [dB(A)]
85
Uncertainty (K) [dB]
3
Weighted acceleration, typically
Hand-arm-vibration ah [m/s²]
1.2
Uncertainty (K) [m/s²]
1.5
Electrical values battery
Battery nominal voltage [V]
20
Battery capacity [Ah]
4
Capacity indication
3-stage
Battery type
Li-ion
Battery charging time [h]
1.5
Charger
Mains connection
230 - 240 V, 50 Hz
Output voltage [V]
21.5
Power input [W]
94
Nominal current consumption [mA]
3,500
Connection plug
CEE 7/16
Cable length [m]
1.5
Protection class
II
Dimensions
Length (packaging excluded) [mm]
321
Width (packaging excluded) [mm]
168
Height (packaging excluded) [mm]
175
Weight
(packaging excluded) [kg]
2
Equipment, features and functions
Functions and features
ON/OFF switch
Start lock
V grooves
3
Two-side chip ejector
Softgrip
Lift-off device
Standard scope of delivery
Accessories scope of delivery
Rip fence
Rebating depth stop
Changeable battery
Adapter for dust extraction
Allen wrench
Open-end wrench
standard equipment
optionally available
not available
Alternative products
Loading...