Cordless LED work light PWLS 06-10
Powerful cordless LED work light (10 watts) with a USB Powerbank and magnetic holder for indoor and outdoor applications.
Cordless LED spotlight with USB Powerbank function
The battery-powered LED work light PWLS 06-10 emits its extra bright planar light (800 lumen) in all the places where there is very little light or no light at all. The LED work light with its powerful 3.7-V lithium ion battery (4.4 Ah) additionally scores with an integrated USB Powerbank function – to be used, for example, to supply smartphones, tablet PCs, measuring instruments, construction site radios or other USB devices with power (5 V / 1 A).
Mobile light and energy source for the use at home or in the hobby and leisure sector, and for industrial applications
The cordless LED work light PWLS 06-10 can be used for a large scope of applications. No matter whether you're working in the shell or if there is a power failure, if you want to read the meters in the basement, if you're planning to do automotive repair work in the garage or if you want to do some gardening in the twilight – good lighting is always the factor that defines the success of your manual work! The compact hand lamp is also equally helpful and practical in the leisure sector, for example as a mobile light source for camping, adventures and outdoor activities and also as night-time lighting for anglers, or as a cordless lamp for your beach party.
Variable alignment and magnetic attachment
With its robust design for the illumination of rough indoor and outdoor work areas, the splash-proof work light with IP44 type of protection, which is made of resilient PVC, is provided with shockproof edge protection. Particularly convenient: The handle, which can be adjusted by 180° in six positions, can be turned into a variable foot for targeted spotlight illumination of the work area in no time. This variability is supplemented by a strongly adhesive magnetic holder, making it possible to for example fasten the LED light in the engine compartment of a vehicle, on a mounting frame, or on other metal surfaces.
Light-intense and durable lighting performance in 3 brightness levels
The 10-watt work light with COB surface LED technology which emits bright light in an especially uniform fashion offers daylight white illumination in three setting levels in the colour temperature 6,000 Kelvin – with a burn time of approx. 8 hours (depending on the operating mode). Further below you'll learn more about the benefits of COB-LED technology.
Mode 1 – Maximum brightness: the strong light intensity of 800 lumen provides for optimum visibility conditions.
Mode 2 – Reduced brightness: For glare-free light, the brightness can be reduced to 240 lumen.
Mode 3 – Strobe light: The flash light flaring at intervals can be used as flashing warning light, as marker light or for the defence against wild animals.
No more empty batteries of smartphones or tablet PCs on the construction site
If you're a do-it-yourselfer or a craftsman with frequently changing work areas you'll be familiar with this problem: You're out on business and you're doing some important phone calls in your car or surfing on the Internet, so that the battery power of your smartphone will be down sooner or later. Of course this will be exactly when absolutely no socket is in sight anywhere on the construction site.
Two devices in one: a work light and a USB Powerbank (4.4 Ah battery capacity)
With the work light PWLS 06-10 you won't need to spare a thought about the battery runtime of your mobile devices. The versatile LED work light not only offers you perfectly illuminated wok areas – the integrated Powerbank with its USB type A socket additionally supplies mobile USB devices such as smartphones, tablet PCs and measuring instruments with the necessary 5-volt voltage. Many construction site radios today are provided with a USB connection instead of a power cable and in this way can be connected conveniently to the PWLS 06-10.
Modern lithium ion battery technology for a constantly high performance
The energy for so much luminous power and durability is supplied by a high-quality 3.7-V lithium ion battery with a charging capacity of 4.4 Ah. A four-stage battery level indication on the device rear reliably informs you about the charging status during the charging phase.
Integrated charging system with USB connection
Even if you wouldn't expect this when you see the compact dimensions of the work light with its light weight of only approx. 430 g: the durable lithium ion battery is already integrated in the housing. A 80-cm USB charging cable with a USB plug (type A) and micro USB plug (type B) is part of the scope of delivery. In this way the LED work light can be optionally charged on the socket (using a commercially available USB mains adapter) or via a vehicle USB adapter on the 12-volt cigarette lighter in the vehicle.
The practical rechargeable cordless LED work light PWLS 06-10 is equally recommendable as a breakdown light that can be stored permanently in the vehicle, or as a powerful work light at changing work sites.
Casts a positive light on your work
In addition to the suitable tool, there are two things that are in particular required when you perform craftwork: good lighting and free hands – in particular in places that are difficult to access. There will also always be dark moments in your household. Therefore: Take precautions and fully rely on the flexible possibilities provided by the PWLS 06-10.
Reliable light source for construction and crafts
No matter whether you're performing painting and lacquering, installation work in dry wall construction or plasterwork and tiling work in the shell – perfect work results require optimum light conditions. If the daylight does not suffice, the PWLS 06-10 guarantees extensive illumination of the work area.
A clear view when you carry out automotive work
If you service and repair your car yourself, you'll appreciate the comfort of the PWLS 06-10. Positioned underneath the vehicle, the LED light allows for perfect visibility to the underbody and into every corner – without the range of motion being constrained by an annoying cord or without one hand being always busy with having to hold the lamp. When you're performing work in the engine compartment, the magnetic holder allows to attach the lamp quickly to the bonnet.
Invaluable help in the case of breakdowns
Play it safe and place the flatly foldable LED work light PWLS 06-10 in your glove compartment or the trunk as an emergency lamp. And, if you ever happen to be involved in an accident, in this way you'll always have a bright warning light at hand. Even an unplanned wheel change at night will no longer worry you with the work light PWLS 06-10. Tip: In addition to the work light PWLS 06-10 and as an alternative to the conventional wheel spider, we recommend putting the cordless impact wrench PIWS 10-20V from Trotec into your car as well to make sure that the wheel nuts can be loosened and tightened with very little effort.
Practical hand lamp in the event of a power failure and for meter reading
A power failure is not only annoying – on the way to the fuse box you might also have to encounter some dangerous trip hazards and walk some stairs. This also applies for reading the power, gas and water meters in the dark basement. The PWLS 06-10 brings light into the darkness and prevents accidents in day-to-day activities.
Handy camping light for outdoor and leisure activities
Whether you're out camping, fishing or on a trekking tour that takes several days: in wild nature it's pitch-dark at night! Therefore, add the PWLS 06-10 to your luggage to have perfect visibility even in the dark. Furthermore, the strobe light function is useful to scare off wild animals. Even for spontaneous parties and a campfire get-together in the open, the cordless LED lamp PWLS 06-10 is a practical and uncomplicated light source.
Special equipment features of the cordless LED work light PWLS 06-10
Perfect work-life balance: Mobile light for work and leisure time
All work lights in direct comparison:
To find the work light which exactly meets your requirements, please consult the concise overview of all work lights from Trotec, which we're providing to you here so that you can compare them directly to each other.
Models which you do not wish to include in your comparison can be easily dismissed with only one click.
A few practical benefits:
3.7 V lithium ion battery (4.4 Ah)
Light-intense LED work light with shockproof edge protection
High-performance COB-LEDs provide for uniform, extra bright light (800 lm)
Flexible handle and foot, adjustable by 180° in 6 positions
3 lighting modes: high brightness, low brightness, strobe mode
Strong magnetic holder for fastening to metal surfaces
Powerbank function with USB connection (type A) and 80-cm USB charging cable supplied (USB plug type A / micro USB plug type B)
Protection type IP44 – splash-proof housing offering protection against spray water from all directions.
4-stage battery level indication
Constantly long lighting duration of up to 8 hours
Colour temperature 6,000 K (daylight white)
Compact and can be stowed away flatly
All important features at a glance
Compelling value-for-money ratio
When choosing a Cordless work lights so far, basically you only had two options: either good but expensive, or mainly cheap.
Trotec's PowerTools now offer a smart choice: good and cheap at the same time. For we do not only stand for brand quality where measuring devices and air conditioners are concerned, but also when it comes to power tools: professional Trotec solutions with an excellent value-for-money ratio!
Uniform area light thanks to COB-LED technology
COB means "Chip-on-Board" and refers to a very homogeneously lit LED technology for lamps. In comparison to conventional LED lamps in the case of which individual light diodes can often be noticed with the naked eye, work lights with high-performance COB-LED lamps produce an even and full-surface light diffusion. The whole surface of the COB-LEDs is perceived as a uniformly bright area.
In addition to these optical benefits in the perception of the light modern COB-LEDs convince with a additionally increased energy efficiency compared to commercially available LEDs. COB-LEDs shine 20 times as bright as conventional bulbs and consuming the same amount of power.
Trotec's work lights at a glance
standard equipment
optionally available
not available
Buy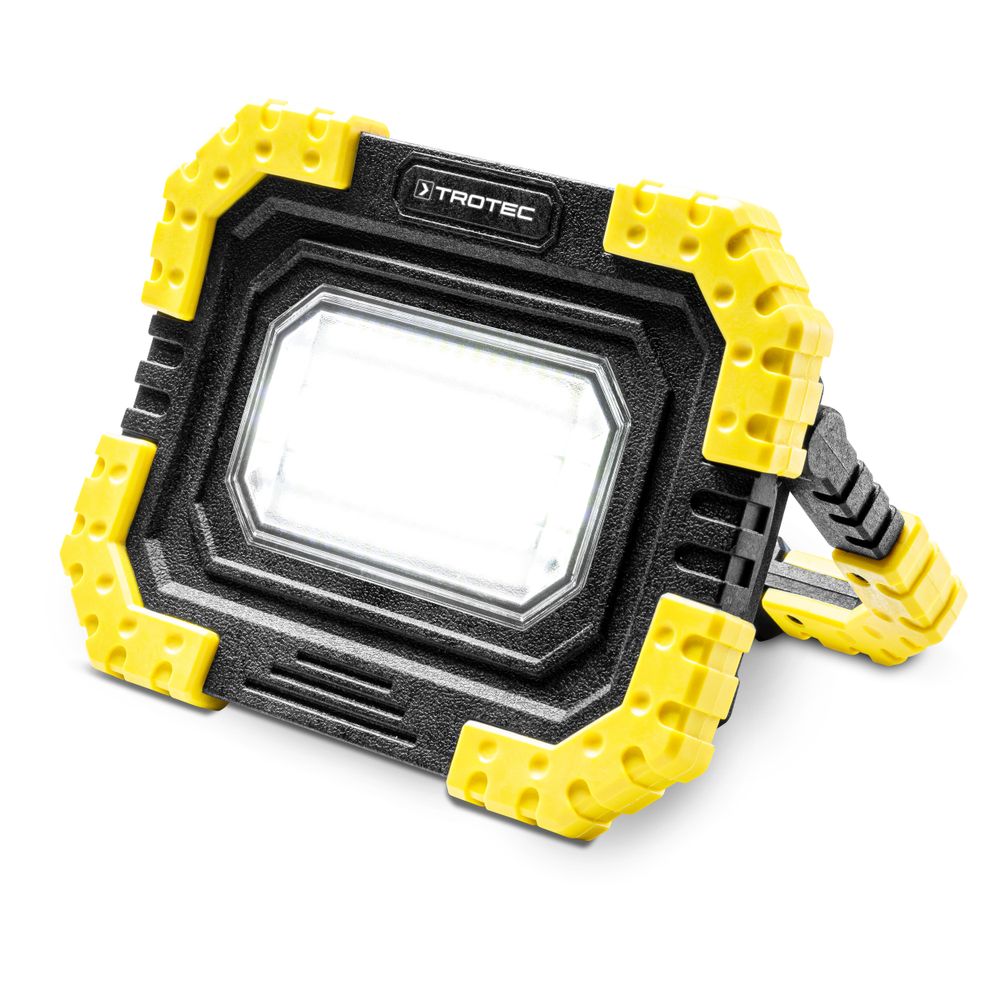 Technical data
Technical data
General information
Article number
4.455.000.006
Technical data
Power input Surface LED [W]
10
Luminous flux Surface LED [lm]
800
Burn time Surface LED
High brightness level: 4-5 h
Low brightness level: 8-9 h
Colour temperature (K)
6,000
Safety feature
Type of protection
IP44
Protection class
III
Ambient conditions
Operation - min. temperature [°C]
-20
Operation - max. temperature [°C]
55
Storage - min. temperature [°C]
-30
Storage - max. temperature [°C]
75
Functions and features
ON/OFF switch
Softgrip
Flexible suspension hook
Wrist strap attachment
Belt clip
Flashing warning light
Mounting bracket
Integrated magnetic holder
Brightness levels
3
Stroboscope
Handle, adjustable
6 positions, 180°
Powerbank function
Battery level indication
Available
Changeable battery
USB connection
5V
Electrical values battery
Battery nominal voltage [V]
3.7
Battery capacity [Ah]
4.4
Battery type
Li-ion
Dimensions
Length (packaging excluded) [mm]
40
Width (packaging excluded) [mm]
160
Height (packaging excluded) [mm]
125
Weight
(packaging excluded) [kg]
0.434
Standard scope of delivery
Accessories scope of delivery
USB charging cable
standard equipment
optionally available
not available
Alternative products
Loading...