Cordless grinder PMTS 01-12V
Cordless rotation tool with 51-piece accessory kit – ideal for a variety of different applications in the job as well as in the DIY and hobby sector
One tool for an infinite number of jobs
The cordless grinder PMTS 01-12V has a lot to show off. Equipped with a powerful 12 V lithium-ion battery, useful accessories and a variety of different tools, the cordless all-rounder provides for perfect work results for many kinds of precision work indoors and outdoors. With its unbeatable combination of versatility, cordless freedom and user-friendliness, the PMTS 01-12V is recommended for professional craftsmen, DIY enthusiasts and hobbyists alike. Wherever there is a need or work to be done – the all-rounder is immediately ready for use.
7-stage speed setting function for cutting, grinding, milling, engraving, polishing, derusting and cleaning
Whether filigree art or glass work, precision work in wood, metal and aluminium processing, smoothing rough edges, rust removal in the automotive sector or small cosmetic repairs to the house or garden – the lightweight universal tool provides almost endless possibilities with the tools and attachments included in the scope of delivery. Give free rein to your creativity. In addition to many further applications the multifunctional precision tool is for example ideal for grinding, scraping, drilling small holes, cutting, milling, chamfering, engraving, cleaning, derusting and polishing of glass, wood, metal, plastic, stone, ceramic or leather objects.
For material-compatible working, a speed can be set steplessly selected within a range of 5,000 rpm to 25,000 rpm via the setting wheel. Depending on the application and the type of material, you can adjust the optimum rotational speed for your tasks. An overview showing you which speed is ideal for which application can be found here.
Work ergonomically, work better
The PMTS 01‑12V convinces with excellent ergonomics. Thanks to its compact dimensions and low weight, the cordless grinder fits your hand perfectly, enabling fatigue-free work and perfect work performance. Soft grip rubber inlays ensure precise guiding and a secure grip. An integrated battery level indication with LEDs in traffic light colours provides clearly visible information about the charging status of the battery.
The cordless grinder PMTS 01‑12V in the practical, neatly arranged storage box facilitates a wide variety of handicraft tasks or tasks in your professional life.
Tips and notes for selecting the correct speed level
For cutting, forming, chamfering or milling grooves in the wood, and for sanding or grinding wood or metal, select a high speed level.
If you wish to cut plastics or other materials with a low melting point, select a low speed level.
For drilling into wood, select a low speed level to prevent overheating of the tool
For polishing, buffing and cleaning by means of a wire brush, select the lowest speed level 1, in order to prevent damage of the brush by loosening of the bristles from the mount.
For milling or drilling into non-ferrous metals, such as aluminium, copper, lead, zinc alloys, select a low speed level. Additionally use a cutting oil or another suitable lubricant (not water) in order to prevent chips from settling on the cutting edges of the tool, and to prevent the tool from being overheated.
Info: Even with lower speed values, you should work without pressure. Applying higher pressure to the workpiece will not improve the result.
Alternatively, for example, use a different tool bit or another speed setting to obtain the desired result.
Accessories tip for the PMTS 01‑12V:
Maximum radius of action with the 282-piece accessory kit for rotation tools
You'll be perfectly equipped if you directly get the maxi accessory kit with 282 pieces for the Trotec cordless grinder PMTS 01‑12V, which universally matches conventional rotation tools. In this way you'll not only be provided with a well-assorted supply of spare tools at home, but, thanks to a variety of further accessories you'll also benefit from a great deal of additional options. You're for instance provided with additional silicon carbide grinding stones for processing porcelain, glass or ceramic, polishing and cleaning brushes of brush bristles, brass and stainless steel for material-compliant applications, a large diamond-tipped milling cutter set, different engraving cutters and lots more.    
Complete scope of delivery at a quick glance:
Rotation tool PMTS 01‑12V
12 V lithium-ion battery (2.0 Ah)
Charger with battery status indicator
Wrench
4 abrasive wheels (aluminium oxide & silicon carbide)
16 cutting wheels
2 engraving bits (diamond-tipped)
5 aluminium oxide grinding heads
5 collet chucks for tool bits: 1.0 mm / 1.6 mm / 2.0 mm / 2.4 mm / 3.2 mm
6 HSS twist drill bits: 2 x 1.0 mm / 1 x 1.6 mm / 1 x 2.0 mm / 1 x 2.4 mm / 1 x 3.2 mm
3 HSS milling cutters
2 mandrels for cutting/abrasive wheels
1 mandrel for polishing attachment
2 bristle brushes (plastic)
1 bass brush
3 polishing attachments
1 transport case including tool holder and sorting inserts
The 51-piece accessory kit in detail
The 51-piece accessory kit of the rotation tool PMTS 01-12V offers you the matching tools for numerous possible applications. In the following we'll describe the individual attachments and accessory parts sorted by possible applications:
Grinding / sharpening
4 x Grinding wheels
The abrasive wheels are made of an especially resilient material (aluminium oxide and silicon carbide). They are perfectly suited to carry out woodwork or for grinding metal or plastics. 
5 x aluminium oxide grinding stone
All five differently shaped grinding heads made of hard aluminium oxide are known for their low wear and thus for their long durability. They are perfect for sharpening blades and for processing stone or ceramics.
Polishing / cleaning / derusting
3 x polishing attachment, 2 x bristle brush (plastic), 1 x brass brush
The polishing discs of felt are ideal for polishing valuable pieces of gold and silver jewellery as well as metal or plastic surfaces. Use the plastic brushes if the dirt is a little more stubborn. We recommend using the brass brush to remove small rust patches, for instance in the motor vehicle sector.
Cutting / separating
16 x Cutting wheels 
With the stable cutting wheels made of thickened paper, thin wood, sheet metal or plastics can be cut with precision. Also thin, protruding screws or nails can be cut off.
Milling / engraving
3 x HSS milling cutter, 2 x engraver (diamond-tipped)
The HSS milling cutter is ideal for evenly milling out shapes in wood or plastics. The milling cutter with a ball head is perfectly suited to produce recesses and grooves. The three diamond-tipped engraving bits can be used to individually decorate or label workpieces of wood, glass, ceramic, metal, stone, leather or plastic.
Drilling
6 x HSS twist drill bits (2 x 1.0 mm / 1 x 1.6 mm / 1 x 2.0 mm / 1 x 2.4 mm / 1 x 3.2 mm)
By means of the two HSS twist drills, you can drill precise holes into metal, wood or plastics.
Mandrels and wrenches for retooling
3 x mandrel for cutting wheels / abrasive wheels / polishing attachments
For the insertion of the polishing attachments, cutting wheels and abrasive wheels.
5 x collet chucks (1.0 mm / 1.6 mm / 2.0 mm / 2.4 mm / 3.2 mm)
For the insertion of the twist drill bits and further tool bits.
1 x Wrench
For quickly changing the tool bits.
Lithium-ion battery, charging station, transport case
1 x 12 V lithium-ion battery (2.0 Ah)
High-performance lithium-ion battery with long battery life and convenient release button for quick battery change, without memory effect and without self-discharge. The 12V 2Ah battery can be flexibly combined with the cordless drill driver PSCS 11-12V from Trotec.
1 x Charger
For charging the lithium-ion battery supplied. Two coloured LEDs provide information about the charging status (red: battery is being charged – green: charging complete).
1 x Transport case
With the practical transport case including tool holder and sorting inserts you always have all tool heads and accessory components handy and smartly stowed away.
A tool for working with wood, metal, jewellery, plastics, leather, ceramics and glass
Whether you wish to perform mending jobs, model construction, handicraft work, decorations or repairs – the applications of the PMTS 01‑12V are almost infinite.
Cutting
When you're carrying out restoration or repair work, the cutting wheels allow for the cutting and cutting to length of materials like wood, plastics or metal.
Sanding
Unsightly marks on old furniture and scratched surfaces of wood, metal or steel can be smoothed again using the abrasive wheels and grinding heads. With the same ease, rock or ceramic can be machined, and tiles, glass or other brittle materials can be deburred.
Milling
The milling cutters supplied are equally excellently suitable for milling forms or slots in the field of model construction and for recessing or grooving, for instance for creative metal or jewellery processing.
Engraving
Decorating leather belts or engraving initials into a leather wallet are only two of the possibilities opening up to you with the diamond-tipped engraving bits. You can also personalize cups or decorate wine glasses with the names of the guests.
Polishing
Plastics and precious metals like gold or silver will shine with a new brilliance in a flash. Tarnished chromium parts on bicycles, cars and motorcycles can be polished so that they are spotless again.
Rust removal
The brass brush removes small rust patches on your vehicle and helps old treasures to shine with a new splendour. With equal ease, tools, machinery parts or garden lamps can be partially refurbished if they have started to rust in the course of time.
Drilling
Whether you're constructing models, working in the wood workshop or performing DIY tasks – with the HSS twist drills, for example fine holes can be drilled into wooden strips or thin plates and passages for passing through cables or wires.
The possibilities are almost infinite...
Special equipment features of the PMTS 01-12V
All Multi-function tools in direct comparison:
To find the Multi-function tool which exactly meets your requirements, please consult the concise overview of all Multi-function tools from Trotec, which we're providing to you here so that you can compare them directly to each other.
Models which you do not wish to include in your comparison can be easily dismissed with only one click.
A few practical benefits:
Versatile cordless grinder for perfect work results
Powerful 12 V lithium-ion battery without memory effect and without self-discharge
12V 2Ah battery – can be flexibly combined with the cordless drill driver PSCS 11-12V from Trotec
Extensively usable rotation tool for grinding, drilling, cutting, milling, engraving and much more.
Suitable for processing a large variety of different materials such as wood, metal, plastics, ceramic or glass
51-piece accessory kit with versatile tool bits
7-level speed selection for material-compliant working
Ergonomic design for better control and greater user comfort
Charger with automatic charge termination: 5 hours of charging required
Three-stage battery level indication integrated in the device
Transport case including tool holder and sorting inserts
All important features at a glance
Compelling value-for-money ratio
When choosing a multi-function tool so far, basically you only had two options: either good but expensive, or mainly cheap.
With the Trotec PowerTools you can now make a clever choice: good and cheap at the same time. For we do not only stand for brand quality where measuring devices and air conditioners are concerned, but also when it comes to power tools: professional Trotec solutions with an excellent value-for-money ratio!
Brand quality plus cost-efficiency
Reliable, powerful and suited for the most challenging fields of application: these are some of the quality features of Trotec's multi-function tools. Owing to their high capacity they are able to withstand the most extreme conditions. HighPerformance for demanding applications – after all, Trotec stands for brand quality and professional solutions with an excellent value-for-money ratio!
PSCS 11‑12V – compatible with the 12V 2Ah Li-ion battery
Special features of the PSCS 11‑12V: 19 torque settings for powerful screwing even at a low speed and an extra setting for convenient drilling at high speed. Combining a wide range of sophisticated equipment features, the PSCS 11‑12V is an ideal and highly recommended tool for almost every kind of screwing or drilling work at home, in the workshop or in the garden.
The cordless drill driver PSCS 11-12V from Trotec has been tested and awarded the recommendation "LOW PRICE & GOOD QUALITY".    Different 12-volt cordless drill drivers were tested, the PSCS 11‑12V convinced with its attractive price-performance ratio.
standard equipment
optionally available
not available
Buy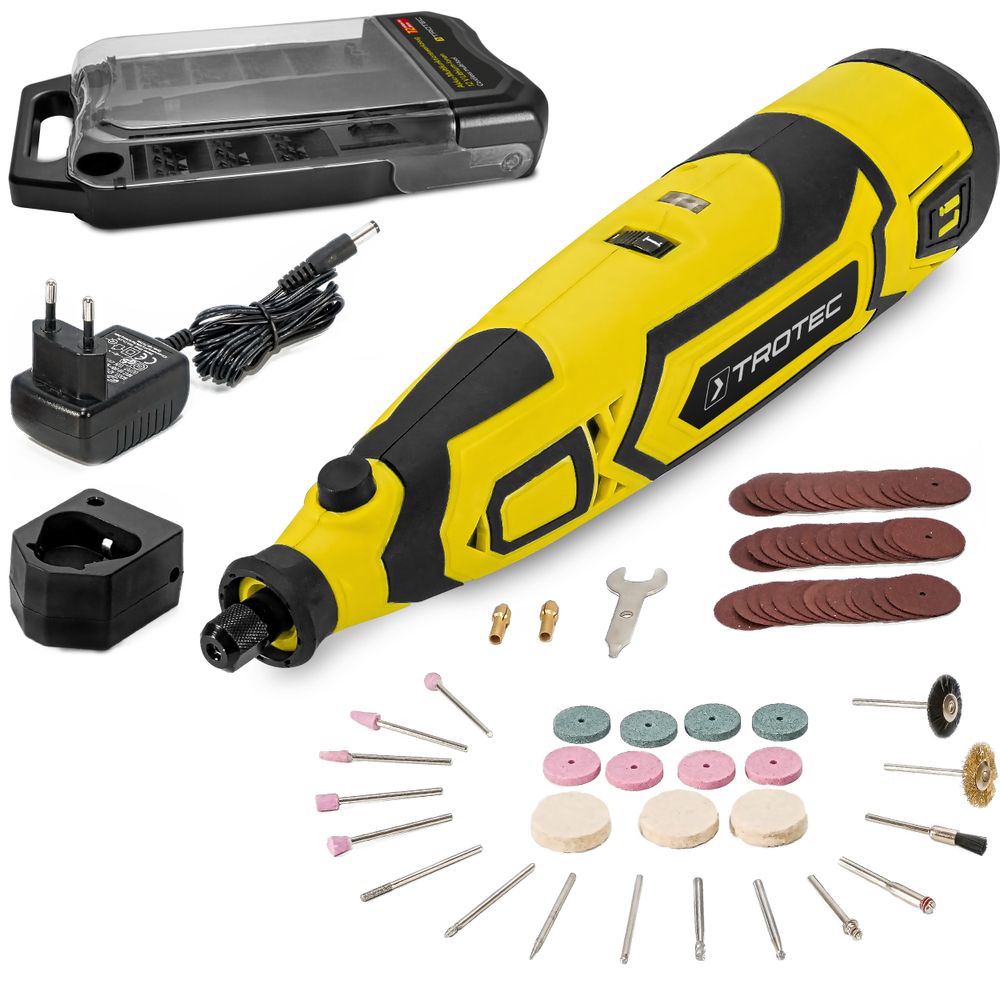 Technical data
Technical data
General information
Article number
4.420.000.004
Technical data
Idle speed 1. Speed level
5.000 - 25.000 min-1
Rated speed
5.000 - 25.000 min-1
Max. drill chuck [mm]
3.2
Sound values according to EN 60745
Sound pressure level [dB(A)]
67
Sound power level [dB]
78
Uncertainty K
3
Vibration information according to EN 60745
Uncertainty K [m/s2]
1.5
Electrical values battery
Battery nominal voltage [V]
12
Battery capacity [Ah]
2
Battery type
Li-ion
Battery charging time [h]
5
Charger
Mains connection
100 - 240 V, 50 Hz
Output voltage [V]
13
Power input [W]
30
Nominal current consumption [mA]
300
Connection plug
CEE 7/16
Cable length [m]
1.5
Protection class
II
Dimensions
Length (packaging excluded) [mm]
235
Width (packaging excluded) [mm]
55
Height (packaging excluded) [mm]
50
Weight
(packaging excluded) [kg]
0.42
Equipment, features and functions
Functions and features
Infinitely variable oscillation rate selection with soft start
Speed levels
7
Battery level indication
3-stage
Changeable battery
Tool-free exchange of accessories
SPINDLE LOCK button
Clamping nut
Union nut
Additional handle
Softgrip
ON/OFF switch
Standard scope of delivery
Accessories scope of delivery
HSS drill bit
6x
Polishing disc
3x
Cutting disc
16x
Abrasive wheel
4x
Collet chuck
5x, max. 3,2 mm
Plastic brush
2x
Milling bits
3x
Engraving bits
2x
Sanding bits
5x
Mandrel for cutting discs/abrasive wheels
2x
Metal brush
Wrench
Storage case
Quick charger
standard equipment
optionally available
not available
Alternative products
Loading...