Multi-function tool PMTS 10-230V
The powerful all-rounder for renovation, expansion and reconstruction
Powerful 300W motor with constantly high performance even under load
Multifunctional brilliance for passionate do-it-yourselfers and professional craftsmen: The full AC power and a fast change of accessories within a matter of seconds make the multi-function tool PMTS 10-230V a powerful universal talent for the most varied repair and renovation works.
With this power pack you can start your project immediately – plug in and go. The soft start of the PMTS 10-230V included as standard ensures a jolt-free start-up of its powerful 300 W motor, which cannot be thrown off balance even in case of strenuous tasks. Once switched on, it oscillates permanently and reliably up to 21,000 times per minute – infinitely variable at all times for an ideal adaptation to the respective material and corresponding application.
To ensure focussed and fatigue-free usage of the PMTS 10-230V even during longer operating times, this multi-function tool was designed in a particularly ergonomic way. Hence, the easy-to-hold device lies very well in the hand. A central soft grip inlay offers optimum hold and the clever arrangement of switches enables flexible one-handed operation with an infinitely variable oscillation rate adjustment.
Handles everything – without losing power
Due to the convenient corded operation, the PMTS 10-230V is particularly suited for more time-consuming renovation work as you do not have to consider the battery status when using this multi-function tool. Furthermore, its AC power allows you to process various materials such as wood, metal, plastic or ceramic effortlessly with a fast work progress. The large oscillation angle of 3.2 degrees guarantees precise working even at corners and edges.
Thus you are perfectly equipped for the most varied projects with the PMTS 10-230V: whether for sawing laminate to size, milling out tile joints, removing mortar residues or grinding off various surfaces – the tool is an indispensable aid also for major works at home.
The accessories can be exchanged conveniently fast and easily using the quick-release system of the PMTS 10-230V. Simply pull the locking lever, exchange the accessory without tools and variably position it in one of the 12 possible working directions.
The precisely manufactured accessory holder not only guarantees an optimum tight fit with any accessory selected, but is also compatible with all accessories complying with the OIS standard. This allows you to benefit from maximum flexibility when selecting an accessory.
The PMTS 10-230V has all you need – all in one
Delta sander, wood and metal saw, angle grinder, plunge saw, scraping knife – or simply PMTS 10-230V. With this versatile multi-function tool, you only need one tool for virtually all kinds of work, since Trotec supplies the PMTS 10-230V as a complete package with an extensive range of accessories including a convenient carry case.
The standard scope of delivery includes, among other things, a delta sanding plate with 18 sandpapers for wood and metal, special plunge cut saw blades for wood, metal and plasterboard, a segment saw blade as well as a scraping knife.
Moreover, you will be provided an additional anti-vibration handle. This screw-on handle, which can be attached on either side, is vibration-damping and allows you to guide the tool safely and precisely during demanding applications.
A practical dust extraction system is also supplied without additional charge. Simply fasten it to a vacuum cleaner, and dust and dirt produced during grinding work are history.
For yet more application possibilities you can of course easily combine your PMTS 10-230V with further accessories, for instance our accessory set for bathroom restoration. Besides, the accessory holder of this professional multi-function tool is OIS-compatible and can thus be used with accessories from many brand suppliers.
Special equipment features of the PMTS 10-230V
Multifunctionality for numerous applications related to renovation, reconstruction and expansion
All Multi-function tools in direct comparison:
To find the Multi-function tool which exactly meets your requirements, please consult the concise overview of all Multi-function tools from Trotec, which we're providing to you here so that you can compare them directly to each other.
Models which you do not wish to include in your comparison can be easily dismissed with only one click.
A few practical benefits:
Powerful 300W motor with constantly high performance even under load
Professional oscillation technology for grinding, scraping, sawing, cutting
Infinitely variable oscillation rate selection with soft start
Quick-release system for accessories exchange without tools within a few seconds
Accessories can be mounted variably in 12 different working positions
Additional handle for precise guiding and vibration-damped working
Mountable dust extraction system
Cable with suspension eye as additional storage option
All important features at a glance
Tool accessories contained in the complete set of the PMTS 10-230V:
1 x scraping knife HCS SC 80/30 for removing tile adhesive, silicone, mortar and paint residues
1 x segment saw blade HSS SM 85/20 for wood and metal
1 x plunge cut saw blade BIM CS 75/25 for wood, plastic, GRP, light metal and non-ferrous metal
1 x plunge cut saw blade HCS CS 95/40 for wood, plasterboard and soft plastics
1 x delta sanding plate
12 x Velcro sanding triangles for wood
6 x Velcro sanding triangles for metal
Benefit from the Trotec brand quality guaranteeing high value, safety and functionality. Via the registered GS mark the inspection authority TÜV Rheinland certifies that, if used foreseeably and as intended, the device does not pose a risk to the health and safety of the user. Naturally, not only the cordless multi-function tool but also the charger was tested for safety and certified accordingly.
Brand quality plus cost-efficiency
So far, you basically only had two options when choosing a multi-function tool: either good but expensive, or mainly cheap.
Trotec's PowerTools now offer a smart choice: good and cheap at the same time. For we do not only stand for measuring devices and air conditioners, but also for power tools of brand quality: professional Trotec solutions with an excellent value-for-money ratio!
VC 15‑20V – perfect working without raising any dust
With the cordless vacuum cleaner VC 15‑20V you spare yourself the trouble of emptying the dust bag. As an extraction system for electric tools, the VC 15‑20V keeps the air and working environment clean – making you independent of free sockets and annoying extension cables. Just as many Trotec power tools, the vacuum cleaner draws its power from a lithium-ion battery (20V/2Ah) from the Flexpower multi-device battery series.
Fine dust particles that are ejected in the sanding or sawing process are sucked into the 10-litre dust collection container without any effort by the extremely manoeuvrable cordless vacuum cleaner with its practical castors. Furthermore, an integrated HEPA filter (> 89 % filter efficiency) prevents dust particles that have been sucked in from getting back into the room air and being inhaled.
standard equipment
optionally available
not available
Shop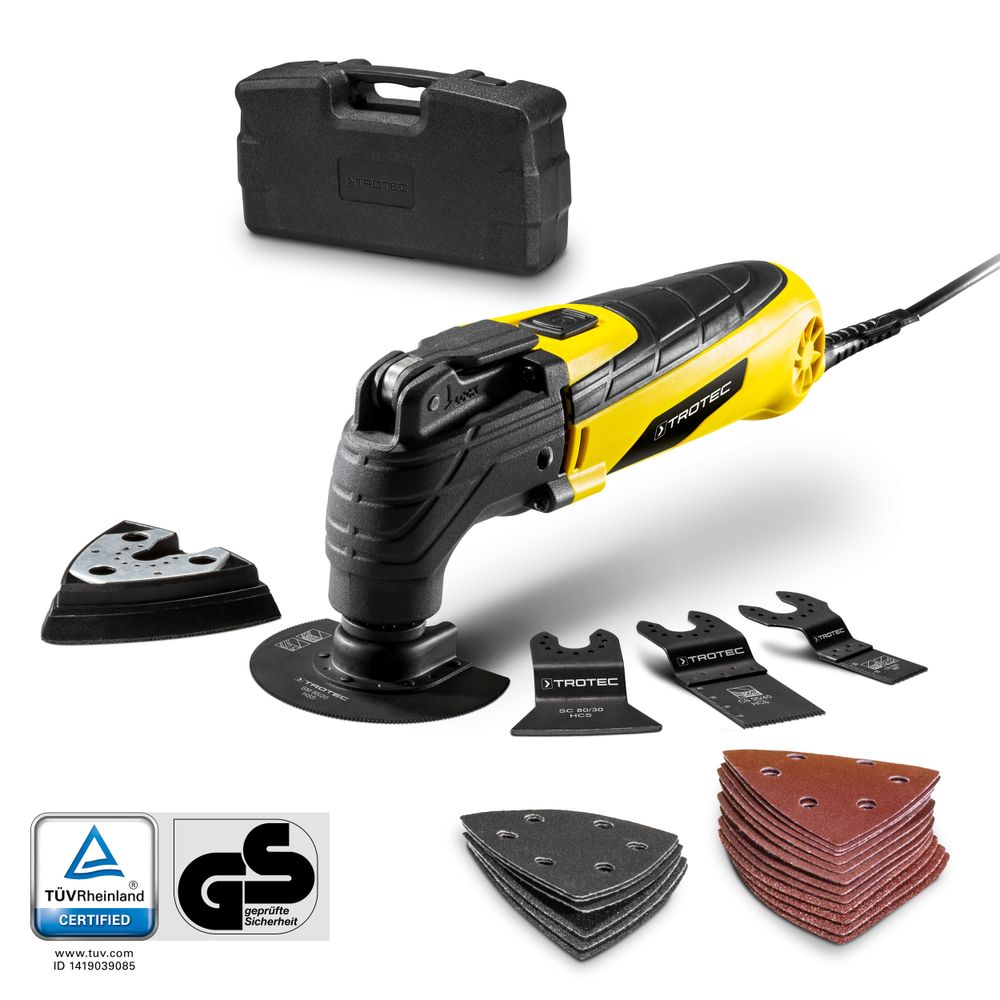 Technical data
Technical data
General information
Article number
4.420.000.101
Technical data
Idle speed 1. Speed level
15.000 - 21.000
Oscillation angle
3,2°
Electrical values
Mains connection
230 - 240 V, 50 Hz
Power input [W]
300
Electric connection
Connection plug
CEE 7/7
Cable length [m]
2
Sound values according to EN 60745
Sound pressure level [dB(A)]
82.3
Sound power level [dB]
93.3
Uncertainty K [dB]
3
Vibration information according to EN 60745
Uncertainty K [m/s2]
1.5
Safety feature
Protection class
II
Dimensions
Length (packaging excluded) [mm]
280
Width (packaging excluded) [mm]
65
Height (packaging excluded) [mm]
100
Weight
(packaging excluded) [kg]
1.8
Equipment, features and functions
Functions and features
Infinitely variable oscillation rate selection with soft start
Corded device
Integrated LED work lamp
Dust extraction unit
Additional handle
Softgrip
Quick tool release
ON/OFF switch
Oscillation technology for grinding, scraping, sawing, cutting
Tools can be applied in variable working directions
Standard scope of delivery
Accessories scope of delivery
Sandpaper
12wood; 6xmetal
Segment saw blade HSS SM
85x20 mm
Plunge cut saw blade (wood and metal) BIM CS
75x25 mm
Plunge cut saw blade (wood and plasterboard) HCS CS
95x40 mm
Delta sanding plate [mm]
90
Scraping knife HCS SC
80x30 mm
Anti-vibration handle
Mountable dust extraction system
Transport case
standard equipment
optionally available
not available