Peltier dehumidifier TTP 10 E
Convenient dehumidification solution for small rooms
High degree of flexibility due to extra-small construction
The compact Peltier dehumidifier TTP 10 E combines an attractive drying performance with decent design, thus leaving a good impression in any environment. With the innovative thermoelectric technology and a dehumidification performance of 750 ml per day the device can keep rooms sized up to 10 m² reliably dry.

The perfect position for this dehumidifier is f.i. in walk-in closets, pantries or small, windowless bathrooms. In these particularly humidity-sensitive spots within your home it effectively removes excess moisture from the air, reduces condensation and thus prevents mould growth.
Special features:
Simple dehumidification operation
Air purification function – filters animal hair, fluff and dust
Particularly easy handling
Ultra-silent operation
Energy-efficient
PRODUCT BROCHURE
Moisture in the bathroom, basement or bedroom can lead to mold. All relevant information about our comfort dehumidifiers can also be found in the product brochure. Download the PDF directly here.
Innovative dryer technology for smaller rooms
The integrated filling level warning light warns you in good time when the tank is full and the overflow protection with automatic switch-off function prevents the 2 l water tank from overflowing. Owing to the air purification function the TTP 10 E filters animal hair, fluff and dust from the air – all you need to do is to take out and gently clean the reusable air filter.

Thanks to the Peltier element the operation of the energy-efficient TTP 10 E is also ultra-silent, hence it will certainly not be the device that disturbs your sleep. Moreover, the Peltier device can score with its simple handling characteristics during dehumidification: just plug the device in and switch it on – that's it! A carrying handle simplifies transportation or rather the change of location.
TTP 10 E - special equipment features
All TTK dehumidifiers in direct comparison:
To find the dehumidifier which exactly meets your requirements, please consult the concise overview of all TTK dehumidifiers from Trotec, which we're providing to you here so that you can compare them directly to each other.
Models which you do not wish to include in your comparison can be easily dismissed with only one click.
A few practical benefits
For keeping rooms that are difficult to ventilate, e.g. walk-in closets, windowless bathrooms or pantries, dry
High degree of flexibility due to extra-small construction
Modern thermoelectric Peltier element (without compressor and refrigerant)
Air purification function – filters animal hair, fluff and dust
Filling level warning light to indicate a full water tank
Removable air filter
Overflow protection with automatic switch-off
Appealing, compact design
With transparent water collection container
Power indicator light
Trotec's guidebook providing practical knowledge on semiconductor dehumidifiers
What can such dehumidifiers achieve – and what's not possible?
Peltier dehumidifiers, often also referred to as semiconductor, electric or mini dehumidifiers, are sensible solutions for clearly outlined areas of application. No more, but also no less – even if they are sometimes advertised elsewhere as veritable miracles making the use of compressor devices completely obsolete in many areas.
With our guidebook "Practical knowledge on semiconductor dehumidifiers", we would like to provide serious facts about such praised Peltier products so that you can inform yourself objectively before making a purchase.
Come and see for yourself – go to Trotec's guidebook "Practical knowledge on semiconductor dehumidifiers" ...
Here is how condenser dryers with Peltier technology work
A cold surface must be generated within this type of dehumidifier as well. The temperature of this surface must lie below the dew point of the air so that water can condense on it. This is achieved by the eponymous Peltier element: a compact, thermoelectric converter that – when electricity flows – causes one element side to become very hot and the other very cold.
A blower now sucks in the room air and guides it past the cold side of the Peltier element. There the air cools down to below dew point, the moisture condenses and drips into a collection container. The dry air is then guided past the hot element side, where it absorbs the heat and flows back into the room as warm, dry air.
More practical information regarding dehumidification such as device differences, functional principles and application possibilities can be found here.
Save electricity and money on dehumidification
With our socket hygrostat BH30 you can additionally save money when dehumidifying damp rooms or keeping rooms dry. The programmable switch is simply plugged in between the dehumidifier and socket to regulate the dehumidification process based on the measured humidity level.
Once the desired target humidity is reached, the hygrostat disconnects the device from the mains until dehumidification is required again. By switching off the compressor and fan during standby times, the device's energy consumption is noticeably reduced.
The initial acquisition costs of the BH30 will have been amortized in a minimum of time.
Moreover, many dehumidifiers only offer rough target value setting for optimum humidity. The hygrostat BH30 allows the room humidity level to be adjusted in increments of 1 % from 20 % to 90 % and thus offers significantly more precise target humidity selection.
standard equipment
optionally available
not available
Buy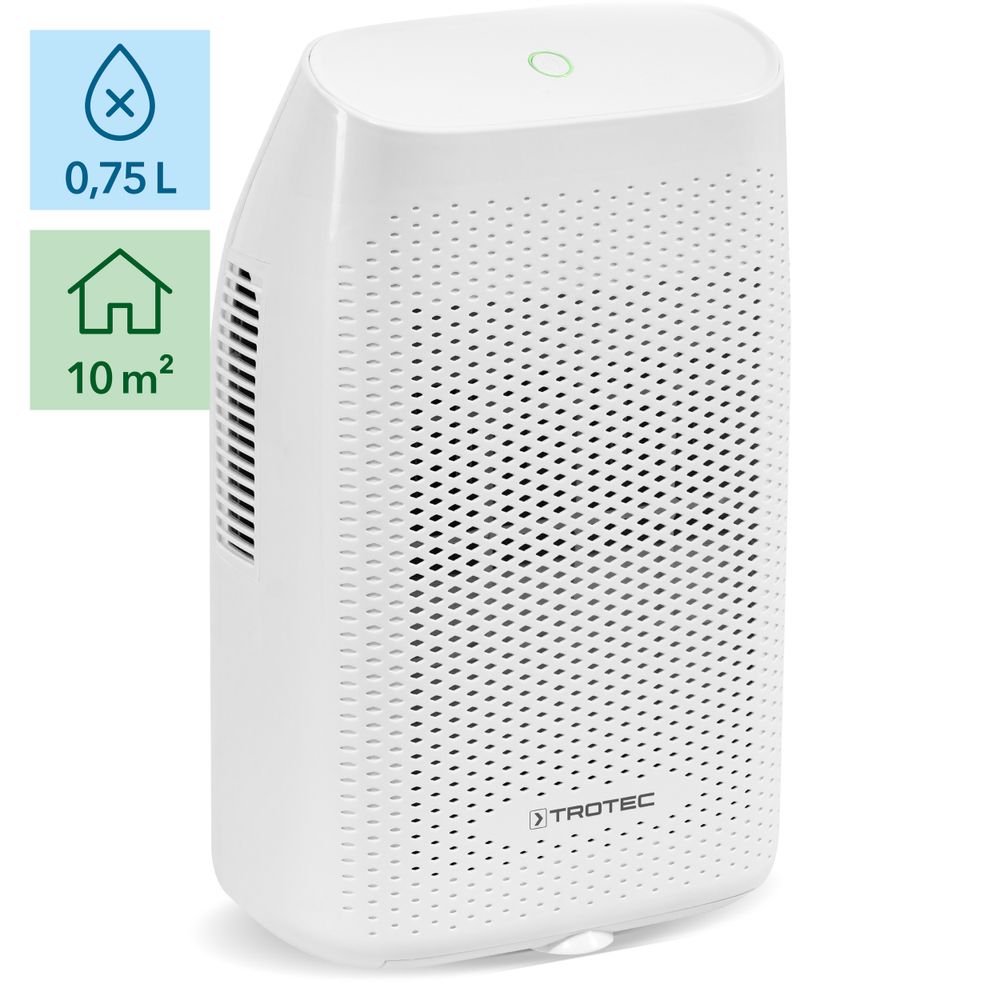 Technical data
Technical data
General information
Article number
1.105.000.020
Dehumidification performance
Max. [l/24h]
0.75
Recommended room size dry keeping
m³
25
m²
10
Suitable for drying rooms
Suitable for keeping dry
Ambient conditions
Min. temperature range [°C]
10
Max. temperature range [°C]
50
Protection class
II
Electrical values
Mains connection
220 - 240 V, 50/60 Hz
Nominal current consumption [A]
2.5
Power input [kW]
0.04
Electric connection
Connection plug
CEE 7/16
Cable length [m]
1.4
Water tank
Contents in [l]
2
Sound values
Distance 1 m [dB(A)]
45
Dimensions
Length (packaging excluded) [mm]
130
Width (packaging excluded) [mm]
220
Height (packaging excluded) [mm]
370
Weight
(packaging excluded) [kg]
2
Equipment, features and functions
Fan
axial
stages
1
Condensate tank monitoring
Container available
Overflow protection with automatic switch-off
Filling level warning light to indicate a full water tank
Room air filter
Cleanable
Functions and features
Auto restart function
Mobility
portable
Condensate drain
Possible
Control panel
On/off switch (LED illuminated)
Housing design
Plastics
standard equipment
optionally available
not available
Alternative products
Loading...