Weather station and indoor climate monitoring unit BZ07
The 6-in-1 combination device displays indoor climate values, weather forecast, 12-hour temperature statistics, feel-good indication, time and date and it comes equipped with a digital alarm clock.
Always keep an eye on your room climate
Whether wall-mounted or positioned on its fold-out stand, at one glance the thermohygrometer BZ07 provides relevant information on the current room climate. Both the room temperature (in °C or °F) and the humidity level (in %) are indicated on the large, easily legible 5" LC display.
To make it extra convenient for you, a graphical feel-good indication with 3 symbols illustrates whether temperature and humidity are in the optimal feel-good range. That way, you don't have to interpret the exact measured values, instead you know right away whether everything is fine with your room climate.
The temperature profile is also recorded
Of particular interest for monitoring purposes is the bar graph indicator of the BZ07. With it you can easily track the temperature changes of the past 12 hours. As an additional service, the integrated weather forecast indication shows you the expected development of the weather in form of 4 symbols. The extensive functional range is completed by the indication of time or date and the alarm function with snooze button.
Universally applicable
The BZ07 is an interesting source of room climate information and its stylish design blends in with any environment: you can use it on journeys or at work, put it up in your living room, the conservatory, kitchen, children's room, basement hobby room, bathroom, bedroom or even a salesroom.
Save for the alarm signal all display functions are completely noiseless, also there is no ticking sound straining your nerves or interrupting your train of thought.
Enjoy the perfect feel-good climate
Too hot, too cold, too muggy or too dry: everyone has their own sensibilities and perceives things differently. Using the BZ07 you can always keep track of the room climate and then change the ambient conditions for the better based on the previously measured values.
Saving energy costs thanks to more precise information
Knowing the exact room climate data is the key to reducing your energy costs. Every degree in room temperature saved reduces the energy consumption for heating by approx. 6 % and therefore also your heating bill. But when cooling rooms, one doesn't have to go overboard either. Simply use the BZ07 to keep an eye on the actual room temperature values – it pays.
Preventing mould growth in advance
Attention: One must not underestimate the health risk presented by rooms in which mould has already formed due to excessive humidity values. To be on the safe side, use the BZ07 from the start to prevent too high humidity levels. Often, the first visible warning signs are damp articles of clothing, a musty smell and mould stains on the walls or sprouting potatoes in basements. Mould can already form at humidity levels of 70 %. When humid air encounters cold walls, a formation of condensation ensues and quickly leads to mould stains on wallpaper or in corners. In most cases, just airing the place out is insufficient to reduce the humidity level. To achieve a reliable and simultaneously convenient humidity regulation we therefore recommend the application of dehumidifiers.
Too dry air is not very pleasant either, in the long run it irritates our respiratory tract, eyes and skin. But the moisture content in the air can quickly be increased to the feel-good level by means of a humidifier. And owing to the clear measured value display of the BZ07 you can immediately check, whether your measures have the desired effect and the climate conditions return to normal.
Comfortableness can be measured
But which temperature and humidity values are perceived as "agreeable"? The answer to this question can be found in the so-called "comfort chart" (according to Leusden and Freymark).
From this overview you can see that we feel most comfortable at temperatures between 20 and 22 °C and a relative humidity of 40 to 60 %. Climate conditions beyond these values, on the other hand, are perceived as unpleasant by most people.
Feel-good indication – everything becomes transparent at one glance
With the indoor climate monitoring unit BZ07 you can easily keep an eye on the precise temperature and humidity values. Furthermore, an easily comprehensible feel-good indication indicates the comfort level. You can immediately judge the room climate based on the 3 symbols "DRY", "COMFORT" and "WET". So, if the COMFORT symbol is indicated at the top of the BZ07 bar graph display, you can just lean back and relax knowing the climate conditions in the room are ideal.
The tolerance values for temperature and humidity stored in the device for this simplified representation for the most part correspond to the comfort chart by Leusden and Freymark.
As comfortable as it gets!
BZ07 – a true all-rounder
Each minute the thermohygrometer BZ07 measures the current room temperature and the relative humidity. The temperature measuring range is between 0 °C and +50 °C. The relative humidity level is measured between 20 % RH and 99 % RH. Via the integrated MAX/MIN function the measuring device indicates the day's respectively highest or lowest measured value. The bar graph is a handy indication helping you to evaluate the room temperature development. Temperature fluctuations of the past 1, 2, 3, 6 and 12 hours are indicated on the LC display in form of a bar graph. You can easily track the temperature changes within the tolerance range of +/-3 °C.
Come rain or shine? The weather forecast indication will tell
As an alternative source of meteorological information the BZ07 offers a symbolic weather forecast indication. Based on the humidity values, 4 appealing weather symbols reveal at one glance whether the day will be sunny, partly cloudy, overcast or rainy.
Convenient alarm mode with snooze button
For the application in your bedroom an alarm function is integrated in the otherwise completely noiseless BZ07. The time can be displayed in either 12-hour or 24-hour format. Are you having difficulties getting up in the morning? One push of the snooze button allows you to sink back into your cushions for another 8 minutes. And if the weather forecast promises a sunny day, it is much easier to rise and shine! By pressing the "Mode" button of the BZ07 you can simply switch over into the calendar view. For approx. 8 seconds you will now see the current date in place of the time.
As you can see, the BZ07 is a true all-rounder! Treat yourself or get it as a gift for others – the BZ07 always keep you up to date with the current indoor climate.
Special equipment features of the BZ07
BZ07 – comfortable climate in every room
All climate measuring devices in direct comparison:
To find the climate measuring device which exactly meets your requirements, please consult the concise overview of all climate measuring devices from Trotec, which we're providing to you here so that you can compare them directly to each other.
Models which you do not wish to include in your comparison can be easily dismissed with only one click.
A few practical benefits:
Simultaneous indication of room temperature, humidity level, time or date, weather forecast, feel-good indication and temperature fluctuations
Visualisation of the temperature changes spanning the past 12 hours
Symbolic weather forecast indication
Simplified feel-good indication
Alarm function with snooze button
Completely noiseless (except for the alarm function)
Display of minimum and maximum values
Large 5'' LC display with clear and easily legible measured value indication
Compact wall-mounted or table-top device in a modern, stylish design
Supplies helpful information for preventing mould growth
Optimum value-for-money ratio
standard equipment
optionally available
not available
Buy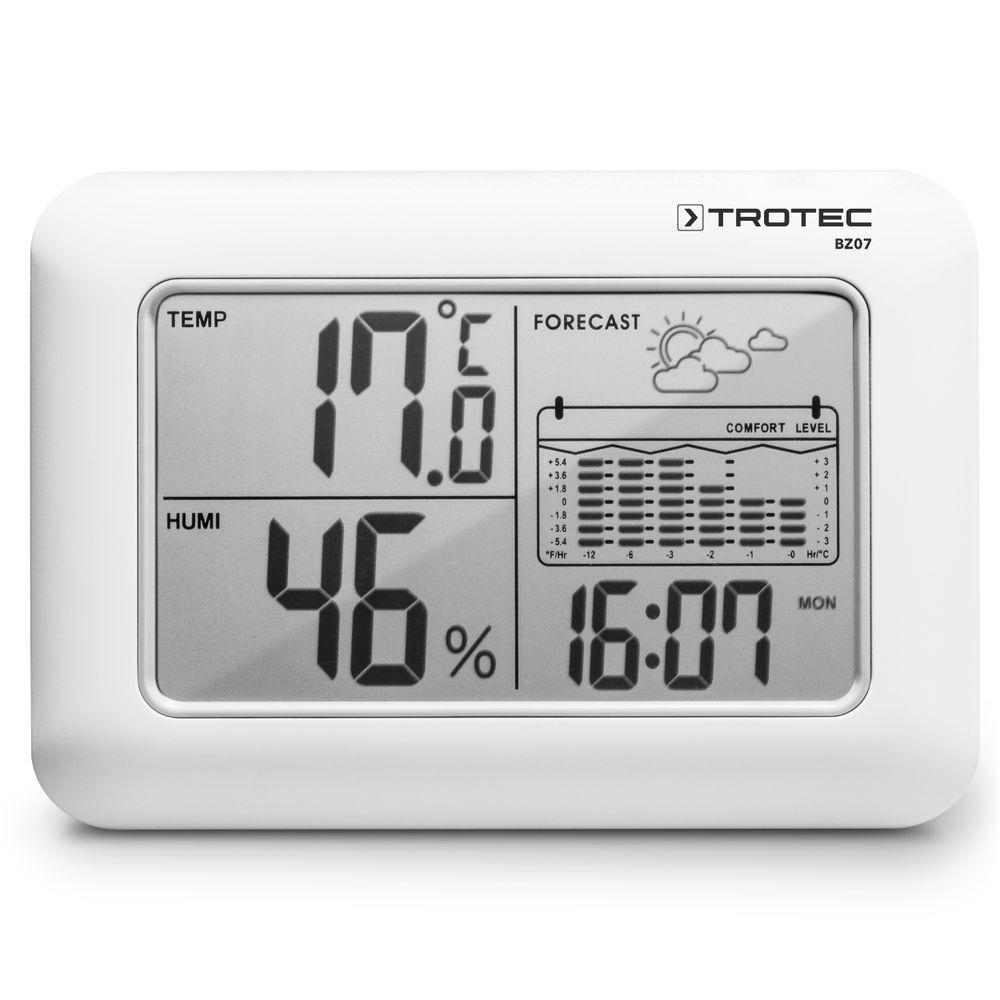 Technical data
Technical data
General information
Article number
3.510.205.017
Air temperature [°C]
Min. measuring range | Air temperature [°C]
0
Max. measuring range | Air temperature [°C]
50
Resolution [°C]
0.1
Accuracy ± 0 °C - 50 °C [°C]
2
Air temperature [°F]
Min. measuring range | Air temperature [°F]
32
Max. measuring range | Air temperature [°F]
122
Resolution [°F]
1
Relative humidity (%)
Min. measuring range | Relative humidity [%]
20
Max. measuring range | Relative humidity [%]
99
Resolution | Relative humidity [%]
1
Accuracy 35 % - 75 % [%]
8
Accuracy 20 % - 34 % [%]
10
Accuracy 76 % - 95 % [%]
10
Display
LCD
Device control
Push buttons
Power supply
External (power adapter)
Internal (battery)
2 x 1.5 V AAA
Ambient conditions
Operation - min. temperature [°C]
0
Operation - max. temperature [°C]
60
Operation approx. - max. relative humidity (non-condensing) [%]
90
Storage - min. temperature [°C]
-30
Storage - max. temperature [°C]
85
Storage - max. relative humidity (non-condensing) [%]
95
Dimensions
Length (packaging excluded) [mm]
105
Width (packaging excluded) [mm]
151
Height (packaging excluded) [mm]
22
Weight
(packaging excluded) - batteries included [kg]
0.173
Standard scope of delivery
Standard scope of delivery
Measuring device
Battery(-ies)
Getting started guide
Ascertainable measured values and functions
Functions and features
Minimum value display
Maximum value display
Weather forecast indication
Switching function °C/°F
Feel-good indication
Bar graph indicator
Date
Time
Alarm function
Battery status indication
standard equipment
optionally available
not available
Alternative products
Loading...