BG20 carbon monoxide measuring device
For quick checking of CO concentrations
Quick and reliable measurement of CO concentrations in the ambient air
With the BG20 of the MultiMeasure Basic series, the exact CO content in the ambient air can be detected and so one can e.g. ensure the adherence to applicable limit values at the workplace.
The hand-held measuring device is ready for operation a few seconds after switch-on and quickly and reliably captures CO concentrations ranging from 0 to 1,000 ppm. The values are determined accurately to ± 10 ppm and indicated clearly legible on the large, backlit display. If required, ten measured values can further be stored directly in the BG20.
Thanks to the integrated alarm function, it is also very simple and convenient to quickly check critical values: In case of values above 35 ppm, the measuring device automatically alerts the user by means of an acoustic signal, whose interval shortens with increasing values and from 200 ppm is emitted as a constant warning signal.
Thanks to the automatic switch-off after 15 minutes of inactivity, unintentionally flat batteries have become a thing of the past.
The clearly structured function keys allow convenient single-handed operation.
Facts worth knowing about carbon monoxide:
Carbon monoxide (CO) is an invisible, odourless and tasteless gas forming in the process of combustion of fossil fuels. Without a sufficient oxygen feed, the CO concentration in the ambient air rises especially fast and then even small amounts can be enough to cause damages to health:
Already at a CO share of only 1.28 % in the room air, death by suffocation occurs after only one to two minutes.
Therefore, in Germany we have severe limit values required by law for the CO exposure of employees. The permissible limit value here is 30 ppm (corresponds to 35 mg per m³) in the ambient air.
Nevertheless, the air pollution in production facilities, craft enterprises or workshops is often wrongly assessed and the risk of CO poisoning ignored, although even the short-term operation of diesel-powered and petrol-driven machines in closed rooms such as underground car parks, assembly shops or construction sites can lead to symptoms of intoxication.
Hence, it is important to constantly check the current CO concentration in indoor spaces, factory halls and building sites using appropriate measuring devices. The inspection of the air quality by use of CO measuring devices is also absolutely recommendable for the catering trade, e.g. when using gas radiant heaters, or for indoor go-kart operators.
BG20 – Special equipment features
For quick checking of CO concentrations
All Gas measuring devices in direct comparison:
To find the gas meter which exactly meets your requirements, please consult the concise overview of all Gas measuring devices from Trotec, which we're providing to you here so that you can compare them directly to each other.
Models which you do not wish to include in your comparison can be easily dismissed with only one click.
A few practical benefits:
Quick and reliable measurement of CO concentrations in the ambient air
Measuring range from 0 ppm to 1,000 ppm
Optimum price-performance-ratio
Maximum value and hold function
Adjustable alarm limit values
Easy, one-hand operation
Illuminable display
Storage space for ten measured values
Automatic switch-off
standard equipment
optionally available
not available
Shop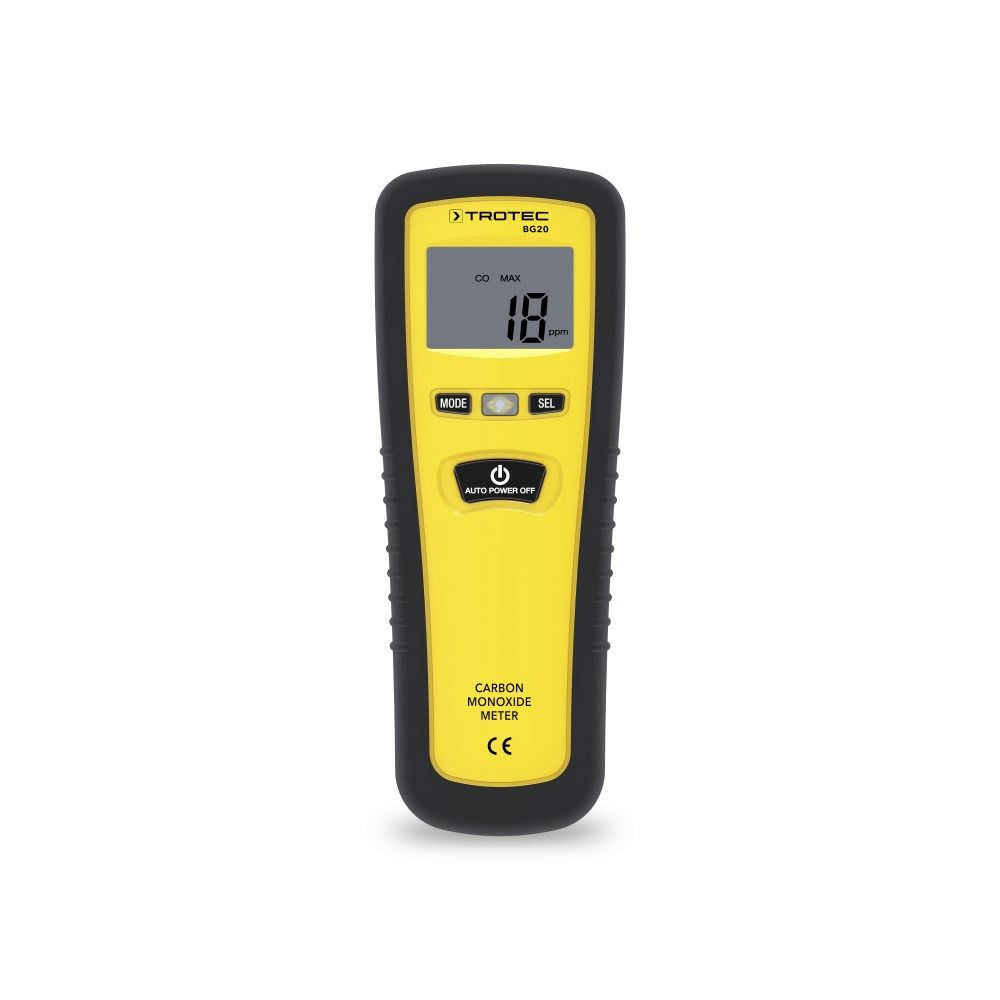 Technical data
Technical data
General information
Article number
3.510.205.060
Carbon monoxide
Measuring range | Carbon monoxide
0-1,000 ppm
Accuracy | Carbon monoxide
±5 % or ±10 ppm
Resolution | Carbon monoxide
1 ppm
Sensor type
Stabilised electrochemical gas-specific (CO)
Warm-up time | Carbon monoxide
< 20 s
Memory organisation
Internal flash memory
For 10 measured values
Interfaces
3.5 headphone jack
USB
Display
LCD
Monochrome
Housing design
Plastics
Power supply
Internal (battery)
Battery type
1 x 9V battery
Ambient conditions
Operation - min. temperature [°C]
0
Operation - max. temperature [°C]
50
Operation – min. relative humidity [%]
0
Operation – max. relative humidity (non-condensing) [%]
99
Dimensions
Length (packaging excluded) [mm]
160
Width (packaging excluded) [mm]
40
Height (packaging excluded) [mm]
56
Weight
(packaging excluded) [kg]
0.18
Standard scope of delivery
Standard scope of delivery
Measuring device
Battery(-ies)
Bag/holster
Operating manual
Ascertainable measured values and functions
Internal sensors
Carbon monoxide [ppm]
Combustible gases [indicative via acoustic signal depending on the concentration]
Functions and features
Maximum value display
Measured value hold function
Automatic switch-off
Backlit display
Acoustic alarm function
Visual alarm function
Memory for ten measured values
Gooseneck probe
standard equipment
optionally available
not available
Alternative products
Loading...