Designer air cleaner AirgoClean® 100 E
Fully automatic HEPA air purification with "triple protection" filter technology including remote control
A healthier life and more well-being with every breath
We spend about 80 percent of our time indoors, i.e. at home or in the office. For this reason, clean indoor air is at least as important for our health and well-being as a balanced diet, exercise and a sufficient amount of sleep are. Nevertheless, the breathing air quality is often neglected when it comes to optimising your health. How very unjustly!
Clean and uncontaminated room air enhances our productivity - removes 95 % of airborne allergens
People who breathe clean air feel better, have more energy and are proven to live healthier lives. The amount of air we breathe in every day is more than 10,000 litres of air. However, unfiltered interior air is rarely really ever clean. In one cubic centimetre of air, you could find about 50,000 particles floating – such as fine dust and pollen – but also pathogens like bacteria and mould spores. These contaminations continuously impact our productivity, and, in the worst case, they may cause allergies and diseases.
Put an end to this and get yourself the AirgoClean® 100 E to produce HEPA-filtered clean air that is 95% free of pathogenic suspended matter. To breathe freely and healthily!
More quality of life for the entire family
Timelessly beautiful, elegant and kept in trendy white colour, the compact air cleaner AirgoClean® 100 E improves the air we breathe. With its HEPA filter system including DACRON® prefilter and carbon filter, the device reliably removes pollutants, contaminations and unpleasant odours from the room air that burden our daily interactions with family and friends. The three-speed fan and a high air circulation of 180 m³/h allow for a fast air exchange in rooms up to 21 m². A convenient feature is the optical air quality sensor which indicates the current air quality in traffic light colours. If the air quality deteriorates, for example due to an open window or caused by odours from the kitchen, the device automatically adjusts the air cleaning intensity. The comfort equipment of the air purifier are completed with an indicator light for the filter, an ultra-silent night mode, a timer function for time-controlled switching on and off and a handy IR remote control.
Improved air cleaning by means of ionization
The filter performance is already extremely efficient, but even more increased by fully automatic ionization. In the course of the ionization process, negatively charged ions are released. Their static charge binds all pollen, dust, viruses and bacteria. As a result, these particles sink down to the ground where they will be immediately drawn in by the air current of the three-stage fan to be eliminated in the end. This way, the room air is cleaned even more effectively and additionally enriched with active oxygen.
Because every day is a special day: Individually adjustable air purification
Do not leave the air quality to chance! In order for you to concentrate on the really important things in life, the sensor-controlled automatic mode of the AirgoClean® 100 E provides fully automatic and needs-based cleaning of the room air. The device can be operated conveniently and easily via the supplied IR remote control or optionally directly via the digital control panel.
Air Quality Sensor – improving the air quality fully-automatic
The air purification capacity cannot only be controlled manually. In addition, the AirgoClean® 100 E is equipped with a smart "air quality sensor" to react to changes in the room air quality within seconds. The innovative air quality sensor consecutively measures the level of pollution in the air. If the air quality deteriorates, for example due to dirt or dust carried into the room on shoes, the sensor will detect this within seconds and the performance will be adjusted accordingly.
The fan speed is controlled according to the measured quality:
Good air quality (green)

Fan stage 1
Medium air quality (orange)

Fan stage 2
Poor air quality (red)

Fan stage 3
Ultra-silent night mode
With the night mode switched on, the AirgoClean® 100 E is pleasantly quiet and allows you to get a good night's sleep. During night mode, the airflow is automatically adjusted to your sleeping requirements.
Programmable 12-hour timer
A timer that can be set in steps of 4 hours switches the device off fully automatically after the preset time has expired. This saves energy and you do not need to worry about switching it off after you have had a hard day working remotely from home or when going to bed.
IR remote control with locking function
You can also adjust all functions conveniently from the place where you're sitting. The locking function is extremely useful in households with children and animals as it protects the device settings from the exploration by curious children's hands and romping animals.
Healthy indoor climate thanks to "triple protection" filter technology
By combining three different filter technologies, allergenic and pollutant particles as well as pathogens are reliably filtered from the interior air.
DACRON® Pre-filter
DACRON® is a designation for synthetically manufactured continuous polyester filaments, which are ideally suited as a pre-filter in air purification due to their particularly allergy-neutral characteristics. The pre-filters made of these synthetic fibres are particularly tear-resistant, durable and water-repellent. The synthetic fibre filter alone is able to filter odours of slight to medium intensity, coarse house dust and animal hair from the room air.
Carbon filter
Perfect for smokers: the additional carbon filter consisting of carbon. In addition to pollutants, this filter effectively neutralises tobacco odours, pet odours, kitchen and smoke odours as well as formaldehyde and solvent odours from the ambient air. For clean air – without unpleasant odours.
HEPA filter (95 %)
Pollen, allergens, fine dust particles and mould spores sized up to 1.0 micrometre are eliminated in the HEPA filter of filter class E11. Due to the high filtration efficiency of 95 %, filters of this filter class are used in e.g. hygiene-sensitive laboratories and in the food production industry. These filters provide optimum conditions to turn your own four walls into an oasis of well-being with clean, fresh and filtered room air. Perfect for smokers: the carbon filter consisting of carbon has already been additionally integrated into the device. This activated carbon filter is integrated in the combination filter. Apart from pollutants, it also filters unpleasant odours such as smoke or formaldehyde in an effective way from the surrounding air.
Quick and simple filter change
The AirgoClean® 100 E is just as easy to operate as it is to change the pre-mounted filters that can be done in no time. In one simple step, the device cover can be removed without using tools. This way, carbon and HEPA filters can be visually inspected and replaced if necessary.
Clean air for a healthier life, more well-being and an increased productivity – the AirgoClean® 100 E air cleaner makes it possible.
Effective against:
Pollen and pet allergens
Fine dust, house dust and dust mite residues
Viruses, bacteria and mould spores
Cigarette smoke and unpleasant odours
AirgoClean® 100 E – special equipment features
Fresh, clean air – Anywhere you need it
All AirgoClean® air cleaners in direct comparison:
To find the air cleaner which exactly meets your requirements, please consult the concise overview of all air cleaners of the AirgoClean® series from Trotec, which we're providing to you here so that you can compare them directly to each other.
Models which you do not wish to include in your comparison can be easily dismissed with only one click.
A few practical benefits:
Two-stage room air filter system with DACRON® pre-filter, carbon filter and HEPA filter (95 %)
Effective HEPA filtering of pollutants and odours
IR remote control
Air quality display
Suited for fully automatic air purification of rooms sized up to 53 m³
Purification volume max. 180 m³/h
3 fan stages
Improved air cleaning thanks to ionizer
Compactness and high performance combined with simple operation
Uncomplicated, quick filter change
Automatic operation
Indicator light for filter
Locking function to preserve device settings
Timer function
Night mode (ultra-silent)
Low noise level: max 49 dB(A)
Low energy consumption
Suitable for allergy sufferers
You are looking for air cleaners for professional health protection for continuous commercial applications?
While the AirgoClean® One is our number 1 high-performance air purifier to produce virus-filtered clean air in smaller shops, offices, medical practices, law firms or exclusive private rooms, we recommend using our high-volume TAC high-performance air purifiers for effective air purification in highly frequented medium-sized and larger rooms. They are the world's first room air cleaners that have been developed explicitly for filtering out virus-laden aerosols in interior spaces. In addition to the mobile version for easy changes of location, all TAC models are also available as a stationary version – providing a clean design solution for clean air on the spot!
TAC high-performance air purifiers are the perfect solution for effective virus filtration in larger rooms:
Trotec brand quality
Benefit from the Trotec brand quality guaranteeing high value, safety and functionality. Via the registered GS mark the inspection authority SGS certifies that, if used foreseeably and as intended, the device does not pose a risk to the health and safety of the user.
standard equipment
optionally available
not available
Buy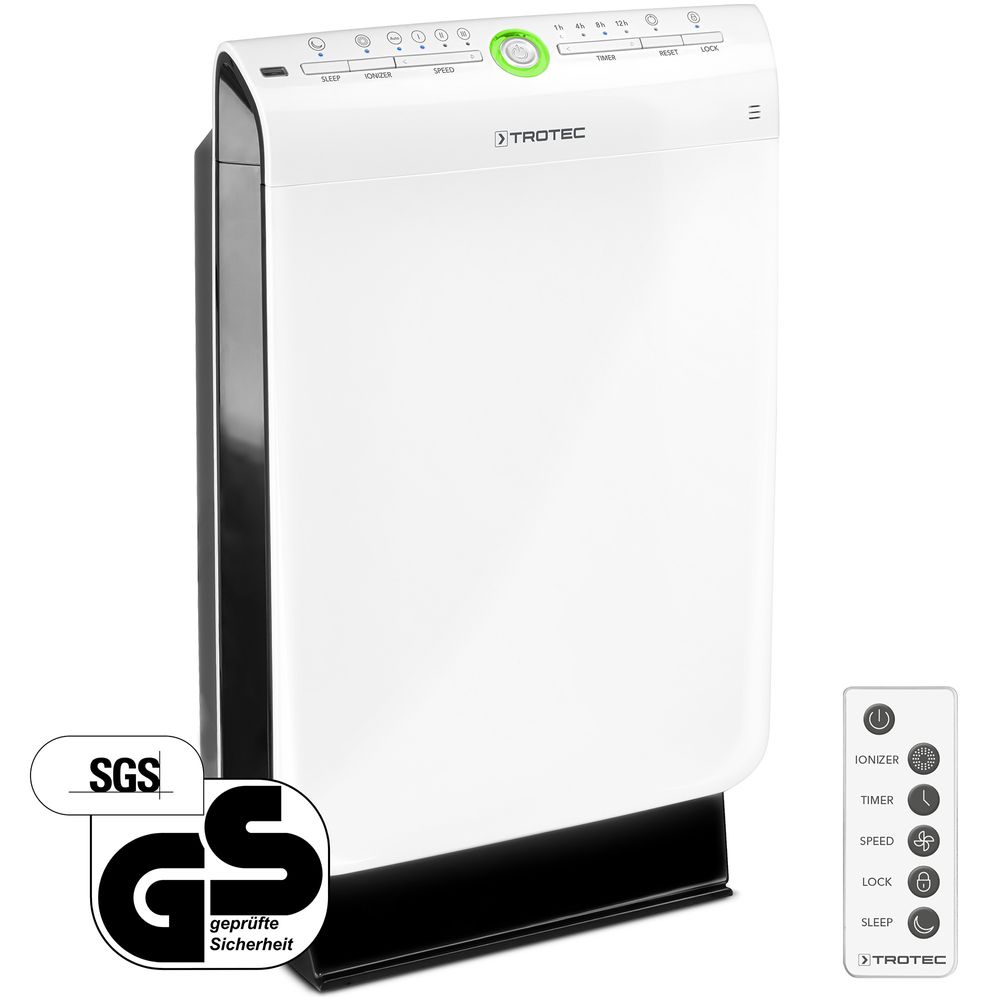 Technical data
Technical data
General information
Article number
1.580.001.020
Air flow rate
Suitable for rooms sized up to [m²/m³]
21 m² /53 m³
Level 1 [m³/h]
70
Level 2 [m³/h]
130
Level 3 [m³/h]
180
Electrical values
Mains connection
220 - 240 V, 50/60 Hz
Power input [kW]
0.045
Nominal current consumption [A]
0.187
Electric connection
Connection plug
CEE 7/17 (shaped plug)
Cable length [m]
1.8
Sound values
Level 1 - Distance 1 m [dB(A)]
38
Level 2 - Distance 1 m [dB(A)]
47
Level 3 - Distance 1 m [dB(A)]
49
Fan
Radial
axial
stages
3
Protection class
II
Dimensions
Length (packaging excluded) [mm]
321
Width (packaging excluded) [mm]
210
Height (packaging excluded) [mm]
523
Weight
(packaging excluded) [kg]
5
Equipment, features and functions
Equipment
Air quality sensor
Air quality display
On / off switch
Operating control lamp
Dust sensor
Timer function
Child lock button
Ionization
Emission of negative ions
Automatic operation
Night mode
Infrared remote control
Filter cleaning indicator
Turbo mode
Filter
Pre-filter
Synthetic fibre
HEPA filter
HEPA filter
efficiency
95,0%
Mobility
Feet
Carry/transport handle(s)
Housing design
Plastics
standard equipment
optionally available
not available
Alternative products
Loading...