Battery charger PBCS 2A
Smart universal charger for charging and maintaining 12 V car, motorcycle and motor scooter batteries – even at low temperatures
Quick and efficient charging of 12 V batteries
The battery chargers from Trotec's PBCS series offer you the right charger for every type of vehicle. The portable battery charger PBCS 2A with a charging current of 2 amperes and LED display is a microprocessor-controlled all-round charger with six charging cycles, trickle charge function and winter charging mode for 12 V car, motorcycle and motor scooter batteries between 4 Ah and 60 Ah. Both non-maintenance-free and maintenance-free 12 V batteries are supported, including wet batteries like lead acid, Ca/Ca and EFB batteries as well as gel and AGM batteries. Adapted to technically advanced and powerful batteries of modern vehicles, the charger offers you a comprehensive range of technical protective and maintenance mechanisms and ensures quick, gentle charging, thus attaining a long battery lifetime at full performance.
Protection against deep discharge, battery damage and battery-related breakdowns
If you drive a convertible with a seasonal license plate, a classic or vintage car or a motorised two-wheeler, you'll be familiar with this problem: Low temperatures in the winter, rare use, short distance rides and age affect the battery and impair its performance. A lack of maintenance and care considerably decreases the battery's service life. And this may well be the reason why your car refuses to start from one day to the next.
A problem that is not only time-consuming but also cost-intensive. Especially if a battery replacement is the only way to get your vehicle going again. Although battery technology is already very advanced nowadays, deeply discharged car batteries remain the most common cause of breakdowns – and there's not always a neighbour with a jumper cable on the spot. With the trickle charge mode, the PBCS 2A protects the battery from deep discharge and maintains it at a constantly ideal charging level.
To ensure that your vehicle starts reliably
With the universally applicable battery charger PBCS 2A you ensure the reliability of your fleet and extend the service life of 12 V batteries. Problems with the battery pack are prevented – annoying start-up problems due to a too low charging capacity are a thing of the past.
The scope of equipment features and functions of the PBCS 2A comprises: 
Three adjustable programmes (standard charging mode, trickle charge mode, winter charging mode)
Four-stage charging progress indication (25 %, 50 %, 75 %, 100 %)
Optical warning function in the case of incorrect polarity of the battery terminals (incl. reverse polarity protection functionality)
Practical suspension eye for wall mounting
Fully insulated battery terminals
The intelligent microprocessor control of the PBCS 2A monitors the multi-stage charging cycle constantly and adapts it fully automatically if required.
Safety is also a top priority of the PBCS 2A
The charger is protected against dust and splash water by IP65 degree of protection. The PBCS 2A reliably protects your battery against excessive charge. Inadvertently reversing the battery poles during the connecting procedure is no problem either: The integrated reverse polarity protection functionality prevents short circuits, sparking as well as damage to the battery or the charger. Fully insulated battery terminals top off the safety package.
For reliable charging, maintenance and care of common 12 V batteries
The easy-to-handle PBCS 2A features the following three charging modes:
Standard charging mode
The standard charging mode with multi-state charging cycle is suitable for completely charging partially discharged lead acid, AGM and gel type 12 V batteries. The cyclically optimised charging process increases the battery's service life.
Trickle charging mode
The trickle charge mode serves to permanently and reliably compensate for the battery's self-discharge. The maximum charging capacity is maintained constantly without damaging the battery by excessive charging. Ideally suited to prevent deep discharge of the batteries of rarely used vehicles like vintage cars or convertibles with seasonal licence plates.
Winter charging mode
Modern batteries are extremely temperature-sensitive. When the ambient temperature drops below 5 °C, the chemical processes in a lead acid battery slow down. Then the winter charging mode is perfect for quickly charging 12 V batteries in cold environments (-20 °C to +5 °C) with an increased charging end voltage.
Notes regarding the charging time of batteries with the
battery charger PBCS 2A
The duration of the charging process depends on the respective charging status and the charging capacity of the battery. A four-stage charging indicator provides information on the charging progress.
Approximate charging time (up to 80 %) :
  4 Ah: approx. 2 hours
10 Ah: approx. 5 hours
30 Ah: approx. 15 hours
60 Ah: approx. 30 hours
The convenient and compact battery charger PBCS 2A extends the service life of 12 V vehicle and motorcycle batteries as well as batteries for motor scooters and mobile lawn mowers and ensures the reliability of vehicles that are rarely used.
The right charger makes all the difference
The choice of the right charger should be carefully considered, depending on the amount of charging energy you require for your vehicle. Trotec offers you a total of 4 battery chargers, PBCS 2A, PBCS 4A, PBCS 6A and PBCS 10A, with a charging current of up to 10 A and a capacity of up to 200 Ah in the comprehensive car technology product range. Here you can find an overview of the different battery chargers and their fields of application. To make sure that you have the right charger for every application purpose at hand!
Special equipment features of the PBCS 2A
Strong battery performance with the battery charger PBCS 2A
All battery chargers in direct comparison:
To find the battery charger which exactly meets your requirements, please consult the concise overview of all battery chargers from Trotec, which we're providing to you here so that you can compare them directly to each other.
Models which you do not wish to include in your comparison can be easily dismissed with only one click.
A few practical benefits:
Battery charger 12 V, 2 A, 4 Ah to 60 Ah
Perfect for vehicles with 12 V battery, e.g. cars, motorbikes, motor scooters, mobile lawn mowers
Multi-stage charging cycle with microprocessor control and monitoring
Automatically adjusts to the battery voltage
All-round battery charger for various battery types, e.g. gel, EFB, AGM, Ca/Ca-, lead-acid batteries
High-quality AGM/EFB technology for start-stop systems
IP65 type of protection: dust- and water-jet-proof
Increase battery life through charging process
Trickle charge mode protects the battery from deep discharge
Optimal for seasonal vehicles with long standing times (e.g. convertibles, vintage cars, motorbikes, quads)
Winter charging mode for ambient temperatures below 5 °C
LED display with battery voltage and charging progress indication
Highest safety: electronic overload protection, short circuit, reverse polarity protection and overheating protection
Memory function for all charging programmes
Fully insulated battery terminals
Practical suspension eye, e.g. for wall mounting
standard equipment
optionally available
not available
Buy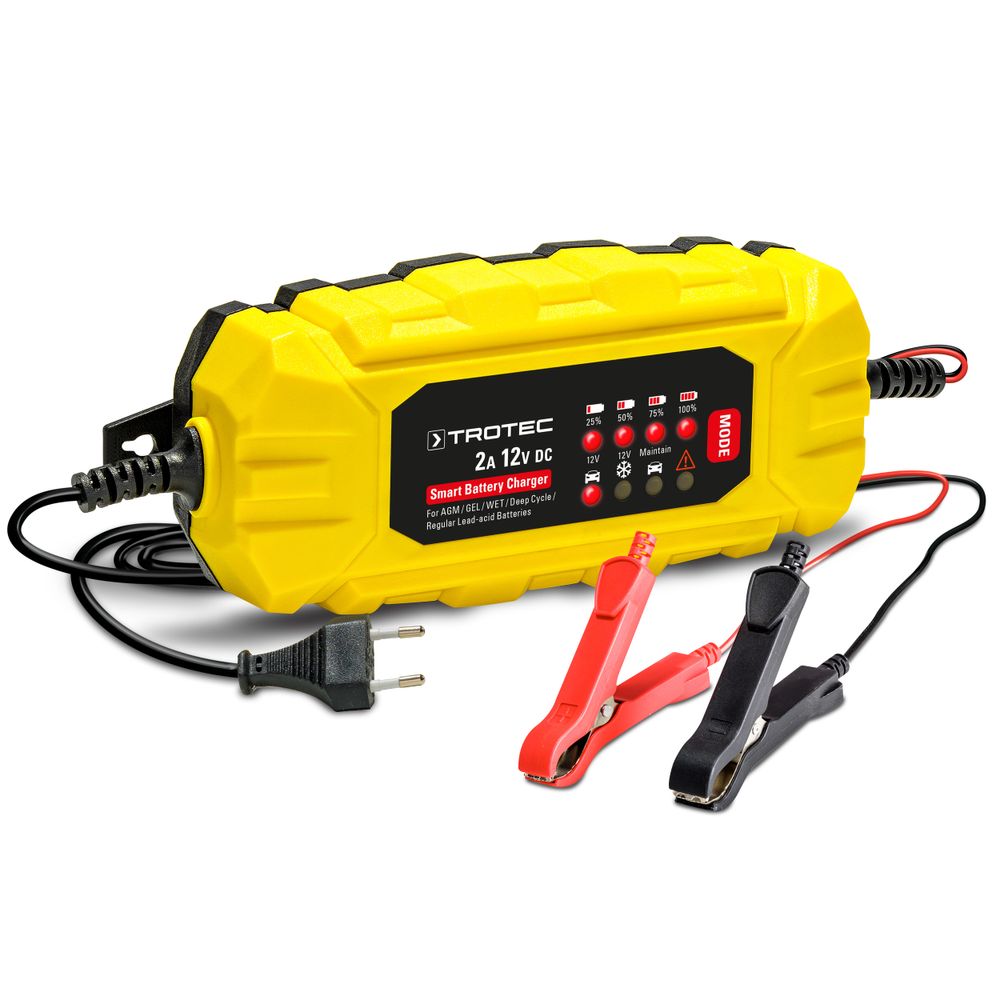 Technical data
Technical data
General information
Article number
4.675.000.001
Electrical values
Mains connection
220 - 240 V, 50/60 Hz
Coefficient of performance (COP) [%]
90
Min. charging current [A]
1
Max. charging current [A]
2
Reverse current
Noise voltage
Not specified
Battery types
Lead acid, AGM, GEL, Wet, Ca/ca, EFB
Power input [W]
35
Output voltage [V]
12
Charging end voltage
14,2 V / 14,8 V
Ladedauer
Capacity 4 Ah [h]
2
Capacity 10 Ah [h]
5
Capacity 30 Ah [h]
15
Capacity 60 Ah [h]
30
Batteriekapazitätsbereich
Capacity Standardmodus
4 - 60 Ah
Capacity Winterlademodus
4 - 60 Ah
Capacity Erhaltungslademodus
3 - 32 Ah
Electric connection
Connection plug
CEE 7/16
Cable length [m]
1.5
Cable length charging cable ( - ) [m]
1.55
Cable length charging cable ( + ) [m]
1.55
Number of battery terminals (copper wire)
2
Residual current device
Not available
Connection line
H03VVH2-F
Cable cross-section [mm²]
0.5
Safety feature
IP65
Protection class
II
Overheating protection
Ambient conditions
Umgebungsbedingungen - Lagerung
-20 - 40 °C
Control panel
LED display
Membrantasten
Functions and features
Operating modes
3
Fully automatic charging procedure
Charging progress indication
Indication of the operating modes
Microprocessor control
Standard mode
Winter charging mode
Trickle charging mode
Desulfation
Charging cycle analysis
Pulse charging
Memory function
Reverse polarity protection
Short-circuit protection
Protection against undervoltage
Overcharging protection
Automatic fault diagnosis system
Charging status indicator
AGM mode
Reconditioning mode
Supply mode
Charging cycle
Multi-stage, 6 stages
Soft start
Housing design
Plastics
Mobility
Suspension eye
Dimensions
Length (packaging excluded) [mm]
190
Width (packaging excluded) [mm]
85
Height (packaging excluded) [mm]
48
Weight
(packaging excluded) [kg]
0.37
standard equipment
optionally available
not available
Alternative products
Loading...