9-in-1 ratchet screwdriver
All in one: Robust and compact ratchet screwdriver with 6 bits and 3 hexagon holders for quick and accurate screwing tasks.
Comfortable and well-measured screwing
Irrespective of whether you are a professional craftsman or if you want to work like a seasoned professional as a DIY enthusiast − a versatile ratchet screwdriver (or just "ratchet") just has to be part of your toolbox. Because this practical multi-function tool allows you to work quickly and efficiently in every situation – and without any turns. With only one tool you can perform screwing tasks with a large variety of screws or screw sizes by literally giving them a quick twist.
The 9-in-1 multi-function tool includes the following tops: 3 slotted bits (SL4, SL5, SL6), 3 cross-headed bits (Phillips PH0, PH1, PH2) and 3 hexagon nut sockets (1/4" [6.3 mm], 5/16" [8 mm], 3/8" [9.5 mm]). The individual tool components can be assembled compactly and are then stored in the handle. In this way you always have all bits at hand so you can get started immediately. Depending on the desired bit, the individual elements can be easily combined via quick-fit plug connection. To provide for a secure hold, all components come with a spring-loaded ball bearing. The ratchet function provides for a high working comfort from which you can benefit whether you perform small tasks of high-precision work or if you are working on more extensive objects.
Reversal of the direction of rotation: Counter-clockwise and clockwise rotation for optimum handling
The three settings "Right-handed rotation", "Left-handed rotation" or "Blocking" for tightening, loosening or blocking can be selected at the ratchet handle to always exert the optimum power transmission when tightening or loosening screws. The integrated 360° ratchet is provided with more than 25 teeth and offers you a minimum returning angle of only 14.4 degrees in both directions of rotation, so that you can move screws and nuts even under tight space conditions. Of course, the ratchet function can also be locked so that you work in the same way as with a rigid screwdriver, if required. The rubberized handle supports a non-slip hold.
PERFORMING WORK PROFESSIONALLY
Whether you want to repair a bike, assemble a cabinet, perform screwing tasks on pipe clamps or on the computer housing – the multifunction tool from Trotec provides optimum service to you.
The bits from S2 tool steel and the sockets of chrome vanadium steel are available in different profiles and forms. The scope of delivery of the 9-in-1 ratchet screwdriver includes 3 bits for slotted screws, 3 bits for cross-headed screws and 3 hexagon screws. The practical compact set therefore replaces a 9-piece screwdriver set and thus minimizes your equipment.
Bit types and sizes:

• 3 x Slotted bits SL4, SL5, SL6

• 3 x Cross-headed-bits "Phillips": PH0, PH1, PH2

• 3 x Hexagon nuts for 1/4" [6.3 mm], 5/16" [8 mm], 3/8" [9.5 mm]
If functionality, comfort and quality are especially important to you, you're making the perfect decision when you opt for a Trotec 9-in-1 ratchet screwdriver. The combination of its robust finish, high-quality materials and its perfectly tuned mechanics guarantee for professional work assignments and longevity.
SPECIAL EQUIPMENT FEATURES of the 9-in-1 ratchet screwdriver
A few practical benefits:
Practical multi-function tool with 9 different bits
3 slotted bits, 3 cross-headed bits, 3 hexagon nuts
Ratchet screwdriver with reversible direction of rotation and locking function
One-handed screwing – one-handed direction reversal
360° ratchet function with 25 teeth (minimum returning angle 14.4°)
Compact connection system with clever combination options
Rubberized handle that makes your work comfortable and provides for a secure, non-slip hold
Robust brand quality of premium-quality tool steel
Replaces 9 individual screwdrivers or wrenches
All important features at a glance
Compelling value-for-money ratio
Surely you're familiar with the situation: so far, basically you only had two options: either good but expensive, or mainly cheap.
At Trotec you get both: good and low-priced at the same time! For we do not only stand for brand quality where PowerTools, measuring devices and air conditioners are concerned, but also when it comes to hand tools: professional Trotec solutions with an excellent value-for-money ratio!
As an alternative to the 9-in-1 ratchet screwdriver, the practical 15-in-1 multi-function tool proves a true all-rounder for a variety of applications.
And with our 40-piece bit and wrench set you always have direct access to a large selection of suitable bits.
Multi-function tool bits: Which type of bit is suited for which type of work?
At work, in the hobby sector and at home, we encounter a variety of different screws. Wooden screws, metal screws, slotted screws, cross-headed screws, and hexagon sockets. One thing is common to all screws: They connect two things with one another. For example, the handle with the kitchen shelf, or the housing parts of a computer. With the 9-in-1 ratchet screwdriver, you are perfectly equipped for almost all of these tasks.
Slotted bits for lighter mounting and assembly work in the house, and for woodworking and restoration tasks
The slotted screw is one of the classics of screws. Compared to cross-headed screws, however, the slotted screw provides for a lower power transmission. Especially in the fields of woodwork and furniture manufacturing, it is often still used, since in these sectors, due to the softer material, a maximum power transmission is of less greater relevance. By all means it must be observed that the width of the slotted bit complies with the width of the screw head. If the top of the bit is wider than the screw, you might possibly damage the workpiece. If the top of the bit is too thin, you'll slip whilst tightening the screw and in this way damage the screw.
Cross-headed bits for working on bicycles, motorcycles and technical and electronic devices
Cross-headed screws are found mostly in electrical appliances, in the automotive sector and on the attachment parts of bicycles and motorcycles. The so-called Phillips screwdriver with its different diameters is one of the most common screw heads. In contrast to the slotted screw, the power is directly transmitted by means of 2 cross-headed slots. The cross-headed bits in the sizes PH0, PH1 and PH2, which come with the 9-in-1 ratchet screwdriver, provide for a secure and non-slip fit of the tool bit in the matching screw head.
Hex sockets/wrenches for universal wood or metal screw connections
Hexagon screws can be found everywhere. When you carry out small repairs in the house, when you assemble kitchens or devices, but also in the DIY and hobby sector. They are especially used in applications that may require retightening of the screws or for which the use of a screwdriver to be applied vertically is not possible due to lack of space. The 3 hexagon nuts included in the scope of delivery of the 9-in-1 ratchet screwdriver have a size of 1/4" [6.3 mm], 5/16" [8 mm] and 3/8" [9.5 mm] to provide for quick and durable screw connections, preventing inadvertent slipping from the nut heads.
Note
Use the suitable bit type for every application − this is the only way to ensure trouble-free working. The wrong sizes and abrasion often produce wear of the screw heads which can then no longer be used.
Buy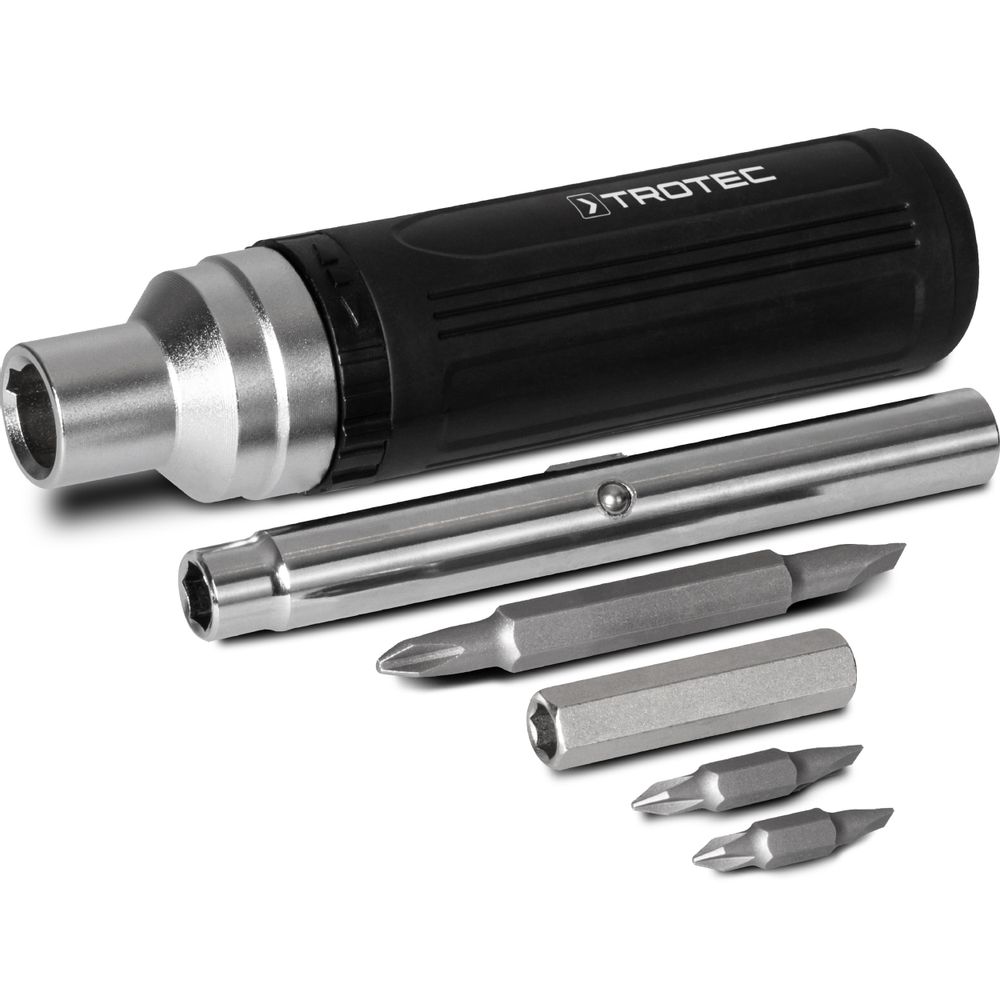 Technical data
Technical data
General information
Article number
4.660.000.001
Scope of delivery
Cross recessed bit
PH0, PH1, PH2
Slotted bit
4 mm, 5 mm, 6 mm
Socket wrench
1/4", 5/16", 3/8"
Dimensions
Length (packaging excluded) [mm]
35
Width (packaging excluded) [mm]
35
Height (packaging excluded) [mm]
220
Weight
(packaging excluded) [kg]
0.1
standard equipment
optionally available
not available
Alternative products
Loading...