BW05 brake fluid tester
Digital inspection of the water content in brake fluid
Suitable for cars, motorcycles and trucks
Whether used in a car workshop or at home in your garage: the easily manageable brake fluid tester BW05 is the perfect measuring device for quickly and precisely determining the water content in a vehicle's brake fluid. The BW05 serves to check the three most important types of brake fluid DOT3, DOT4 and DOT5.1 and, what is more, conceivably easy to use:
Having selected the test mode for the respective type of brake fluid, the sensors of the digital measuring device can be dipped into the fluid. Based on the traffic light principle three colour LEDs indicate the water percentage result in a matter of only a few seconds (see graph): Green light suggests that you are all set and ready to go, since the share of water amounts to less than 1.5 %. Yellow signifies that you may proceed with your journey, but should frequently reexamine the water content that is already between 1.5 and 3 %. And with more than 3 % the red light denotes the immediate necessity of exchanging the brake fluid to prevent a failure of the hydraulic braking system
At the end of the check-up switch the BW05 off, clean the sensors with a dry cloth and store the measuring device in a dry location until it is needed again. Should you forget to switch the device off by hand, no need to worry: the tester switches off automatically after a period of 20 seconds.
Caution! Risk of brake failure with a water content of 3 per cent
Brake fluid is hygroscopic, this means that – even though it flows through a closed circuit – water is absorbed from the humid air.
In minor quantities, to be sure, but it is a continuous process, so the fluid will be gradually diluted over time: Starting at a water content of three per cent it might be best to ditch your car or motorcycle for the time being, seeing as the brake fluid's boiling point decreases dangerously which can lead to overheating, the formation of vapour bubbles and a virtually absent braking effect.
Moreover, the elevated water percentage also increases the risk of corrosion within the entire braking system – right up to the point of seizing.
It would therefore be advisable to perform regular inspections of the brake fluid using the BW05 for any type of vehicle or machine fitted with a hydraulic braking system – especially in case of older vehicles or those that are only rarely used a recurring examinations are inevitable.
BW05 – Special equipment features
Application examples from practical experience:
All Measuring devices for liquid analysis in direct comparison:
To find the Measuring device for liquid analysis which exactly meets your requirements, please consult the concise overview of all Measuring devices for liquid analysis from Trotec, which we're providing to you here so that you can compare them directly to each other.
Models which you do not wish to include in your comparison can be easily dismissed with only one click.
A few practical benefits:
Suitable for cars, motorcycles and trucks 
Checking the water concentration in brake fluids of type DOT3, DOT4 and DOT5.1 in a matter of seconds 
Self-explanatory LED status indication based on the traffic light principle
Simple application
No expert knowledge required
Compact pen-shaped design with pocket clip 
Battery change indicator
Automatic switch-off
standard equipment
optionally available
not available
Buy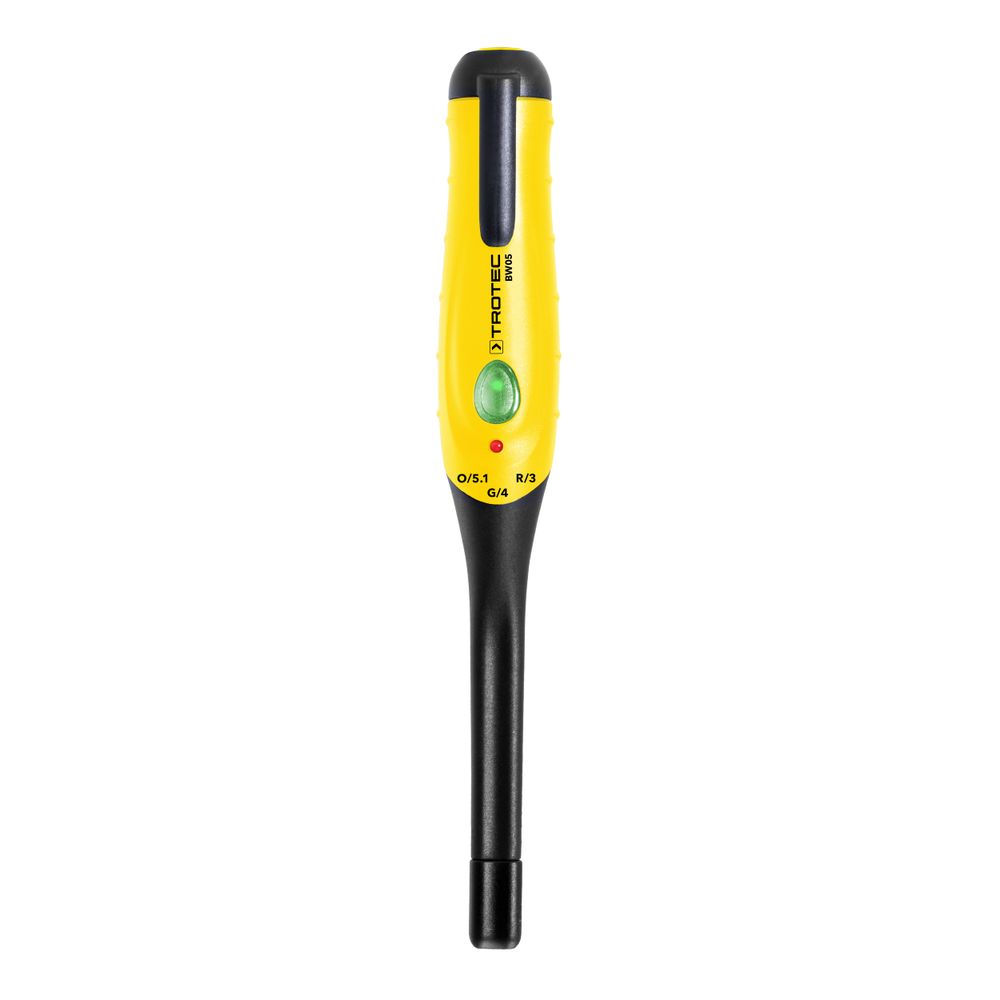 Technical data
Technical data
General information
Article number
3.510.205.805
Brake fluids
Brake fluids
DOT3, DOT4, DOT5.1
Power supply
Battery
Battery type
3 x 1.5 V, LR44
Ambient conditions
Operation - min. temperature [°C]
0
Operation - max. temperature [°C]
40
Operation - max. relative humidity [% r.F.]
80
Storage - min. temperature [°C]
-10
Storage - max. temperature [°C]
50
Storage - max. relative humidity [% r.F.]
80
Standard scope of delivery
Standard scope of delivery
Measuring device
Battery(-ies)
Operating manual
Ascertainable measured values and functions
Functions and features
Brake fluid test for DOT3, DOT4 and DOT5.1 (traffic light principle)
Visual alarm
Automatic switch-off
Automatic battery test
standard equipment
optionally available
not available
Alternative products
Loading...