BS06 Sound level measuring device
For the environment, workplace and leisure time
Quick and reliable sound level measurements
With the BS06 the sound level of different sources of noise can reliably be detected within a measuring range from 40 to 130 dB(A). Moreover, minimum and maximum values can be displayed.
For use in draughty outdoor environments an additional plug-on wind shield is included in the scope of delivery, which suppresses disturbing wind noise but simultaneously does not impair the sound level measurement.
An integrated sensor further permanently monitors the ambient light and in case of poor lighting conditions automatically switches on the display illumination.
Diverse application possibilities
Owing to the successful combination of innovative equipment, ergonomic design and unbeatable value-for-money ratio, this precision instrument is suited for manifold fields of application, e.g. for noise measurements in the office, leisure time, machine controls, in the private living environment, on building sites, in the disco and much more.
The BS06 can also be used for quality inspections in the building trade, e.g. to detect sources of noise or badly done insulation. Often disturbing noise is transferred via the ventilation system or other supply shafts.
BS06 – Special equipment features
Development, design, production 100 % Trotec
All Sound level measuring devices in direct comparison:
To find the sound level meter which exactly meets your requirements, please consult the concise overview of all Sound level measuring devices from Trotec, which we're providing to you here so that you can compare them directly to each other.
Models which you do not wish to include in your comparison can be easily dismissed with only one click.
A few practical benefits:
Development, design, production 100 % Trotec
Quick and reliable sound level measurements
Excellent value for money
Maximum or minimum value and hold function
Sensor controlled display lighting in low light
Easy, one-hand operation
Rapid response times
Automatic switch-off
Tripod thread
Practice-optimized German industrial design - protected design patent
standard equipment
optionally available
not available
Shop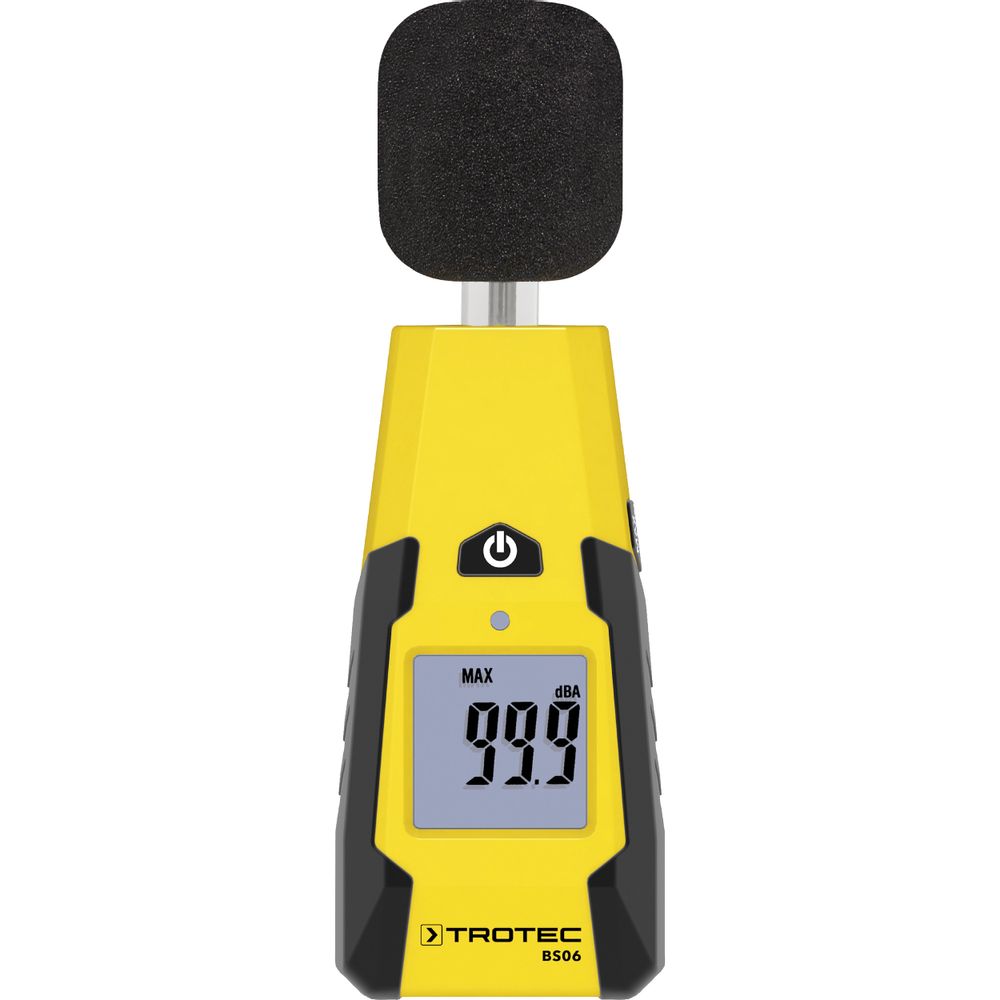 Technical data
Technical data
General information
Article number
3.510.205.051
Sound values
Min. sound [dB(A)]
40
Max. sound [dB(A)]
130
Accuracy | Sound
±3.5 dB (at 1 kHz and 94 dB)
Resolution | Sound
0.1 dB
Frequency range | Sound
31.5 Hz – 8 kHz
Dynamic range
Partial measuring ranges
Response time
0.125 s
Memory organisation
Internal flash memory
Display
LCD
Monochrome
Housing design
Plastics
Power supply
Internal (battery)
Battery type
1 x 9 V battery
Operating time
> 30 h
Ambient conditions
Operation - min. temperature [°C]
0
Operation - max. temperature [°C]
40
Operation – min. relative humidity [% RH]
10
Operation – max. relative humidity (non-condensing) [%]
75
Dimensions
Length (packaging excluded) [mm]
132
Width (packaging excluded) [mm]
33
Height (packaging excluded) [mm]
56
Weight
(packaging excluded) [kg]
0.135
Standard scope of delivery
Standard scope of delivery
Measuring device
Battery(-ies)
Bag/holster
Wind shield
Operating manual
Calibration certificate
Transport bag
Ascertainable measured values and functions
Internal sensors
Sound [dB A]
Sound [dB C]
Functions and features
Minimum value display
Maximum value display
Measured value hold function
Automatic switch-off
Sensor-controlled display illumination
¼ inch tripod thread
°C/°F switching
¼ inch tripod thread
4-digit measuring value display
A/C frequency weighting
Acoustic alarm function
Visual alarm function
Automatic display switch-off
Bargraph display
Photo recording
Limit value alarm
Calibration option
Light detector
Microphone
Average value display
Gooseneck probe
Language selection
Reversible time weighting
Video recording
standard equipment
optionally available
not available
Alternative products
Loading...