Ultrasonic humidifier B 2 E
3-in-1 humidifier with aroma diffuser, integrated carbon filter and colour LED displaying the room humidity
Inhale health and well-being with every breath
Good room air quality is neither a luxury nor a matter of course, but an indispensable part of a healthy life. Therefore, rely on the 3-in-1 humidifier B 2 E to improve the air quality and feel how beneficial good room air can be with every breath you take. Treat yourself and your loved ones to a 24/7 wellness treatment – for the sake of your health.
What are the effects of too dry indoor air on our well-being?
Whether we feel comfortable in our skin, are concentrated and productive at work or sleep through the night depends to a large extent on the room air surrounding us. One of the most decisive factors for our physical well-being is the relative humidity. Excessively dry room air, which we usually breathe in during autumn or winter when the heating is turned up, can promote irritation of the mucous membranes and respiratory diseases such as coughs and colds. The skin dries out, the hair becomes brittle.
On the other hand, optimally humidified air – in the range from 40 to 60 % – raises our spirits. The oxygen uptake is increased, the mucous membranes, which are important for the immune defence, remain moist and the body's own defence system is strengthened to fight off pathogenic viruses, bacteria and other germs.
This is exactly where the matt black design humidifier B 2 E comes in, offering combined room air improvement through humidification, air purification (carbon air filter) and aromatization while at the same time impressing with its modern shape as a visually appealing eyecatcher in the room.
Breathe healthier room air for 13 hours – with only 4 litres of clear tap water
And this is how it works: Ultrasound turns the tap water filled into the 4-litre water tank into a refreshing spray mist, which is distributed throughout the room by the mist nozzle. Three adjustable atomization levels including a hygrostat-controlled automatic operation mode permit continuous humidification for up to 13 hours. With its powerful atomization performance of up to 7.2 litres per day, the design humidifier B 2 E is recommended to be used all year long in modern living environments, offices, medical practices, therapy facilities, daycare centres and other comparable environments with rooms sized up to 30 m² or 75 m³.
Coloured LED feel-good indication
A visually appealing LED illumination in the front filling level indicator of the water tank, which changes depending on the current room humidity, makes the otherwise invisible humidity visible.
Orange: Low humidity (< 40 %)
Purple: Optimum humidity (40–65 %)
Blue: High humidity (< 65 %)
Increasing the humidity level to 50 % reduces the risk of transmission of viruses
Medical specialists have evaluated research findings relating to the resistance of viruses (e.g. SARS-CoV, MERS-CoV or SARS-CoV-2 (Covid-19), influenza) to air humidity. These findings have revealed that the humidity level has a crucial impact on the infectivity of germ droplets. Dry room air with a relative humidity content of less than 40 % lets tiny droplets infected with influenza or cold viruses dry up. This preserves pathogens so that they remain infectious for a very long time. In the optimum relative humidity range between 40 and 60 % aerosols only shrink so far that the salt concentration in the aerosol core increases, causing the germs and microorganisms contained to be killed. This minimizes the risk of an infection with influenza and cold viruses.
Medical specialists emphasize that we are able to reduce the risk of infection by increasing the humidity level in buildings. In this way, increasing the humidity level to approx. 50 % by humidification will reduce the risk of transmission. Moreover, the humidified air improves the body's defence situation by more efficient cleaning of the air passages and an improved immune defence. In modern buildings with a watertight building envelope, central heating and ventilation systems, these limit values can often not be complied with in everyday life without active humidification. This is where devices with a humidification function come in to provide assistance.

Healthy breathing air – optionally with beneficial fragrances
The B 2 E is equipped with a removable scented oil diffuser for the additional aromatization of the room air. A few drops of essential oil are enough to create a calm, tranquil room climate. Applied in the bedroom the ultra-silent B 2 E can facilitate a healthy night's sleep. In everyday life these scents, mobilizing the body's defences, help to relieve stress and to reduce our inner restlessness.
Providing everything to boost your daily well-being
We spend almost 90 percent of our time indoors, most of it at home or at work. Therefore, we should pay special attention to the air quality in these environments. The humidifier B 2 E helps you to do so. With its triple air improvement and a large number of practical comfort functions, it ensures a healthier living and working atmosphere.
Automatic mode and three nebulizer intensities with LED illumination: When the B 2 E is set to hygrostat-controlled automatic mode, it fully automatically and almost noiselessly controls the nebulizer intensity and thus the humidity level to a feel-good range of 40 to 65 %. The brightness of the LED illumination adjusts to the humidification performance. While the LED illumination pulses pleasantly in automatic mode, the brightness increases or decreases depending on the humidification performance when the device is set to levels 1 to 3. If required, the LED illumination can be disabled using the on/off switch.
Integrated room air filter: To reduce air pollutants (pollen, dust, allergens) and unpleasant odours, the B 2 E comes equipped with an integrated carbon air filter. This way, the room air is not only pleasantly humidified and optionally aromatized, but also permanently purified. Clean air for a healthier life.
Scented oil tank: By adding essential oils, you can create you very own oasis of well-being. The right aromas increase your ability to concentrate at the workplace or make you get into your after-work mood at home in an even more relaxed way. Discover the variety of scents to create the right atmosphere for each occasion.
Automatic switch-off when water tank is empty: A warning LED in the display informs you of a low water level in due time so that you have enough time to add water. Once the water in the water tank is used up, the humidifier B 2 E switches off automatically.
B 2 E – special equipment features
Optimally purified humidity – anywhere you need it
All Ultrasonic humidifiers in direct comparison:
To find the Ultrasonic humidifier which exactly meets your requirements, please consult the concise overview of all Ultrasonic humidifiers from Trotec, which we're providing to you here so that you can compare them directly to each other.
Models which you do not wish to include in your comparison can be easily dismissed with only one click.
A few practical benefits:
3-in1 humidifier with aroma diffuser and carbon air filter
Ultrasound technology for a pleasant room climate and air quality improvement
Integrated scented oil diffuser for an optional room air aromatization
Improvement of the room air thanks to the carbon air filter
Coloured LED feel-good indication of the current room humidity level
Four nebulizer intensity levels with LED illumination
Runtime of up to 13 hours thanks to a large water tank
Hygrostat-controlled automatic operation with pulsing LED illumination
Automatic switch-off when the water tank is empty
Low-maintenance and uncomplicated – easy disassembly and cleaning
Can be used with normal tap water – no distilled water required
Low-noise and energy-saving
Optimally humidified room air protects against viruses and pathogenic germs
Scientific studies prove the double protective effect of an optimally regulated indoor air quality in infection prevention. Pathogenic viruses such as the influenza or SARS-CoV-2 virus are released via so-called aerosols when we breathe or speak, and can remain suspended in the room for up to several hours if there is insufficient ventilation. Invisible, but still highly infectious.
At an ideal humidity level between 40 and 60 percent, airborne viruses are inactivated within seconds
The infectivity of virus-infected aerosols depends decisively on the prevailing humidity level. If the room air is too dry, aerosols shrink and float in the room air for a longer time due to their low weight – before being inhaled unnoticed. Optimally humidified air, on the other hand, changes the salt concentration of the aerosol particles so that the contained pathogen becomes harmless immediately after contact with the air.
Optimally moistened mucous membranes are the best and most natural infection protection against pathogenic germs in the air
The body is not defenceless against the dangers of viruses and bacteria. It has its own defence mechanisms to protect itself against pathogens in the air. The mucous membranes of the mouth, nose and throat of our airways are a central component of our body's own immune defence and, when optimally moistened, provide highly effective protection against pathogens in the air. Too dry room air, on the other hand, withdraws the necessary water from the mucus layer, so that the previously protective mucus layer becomes hard and infectious pathogens can penetrate the body almost unhindered.
Therefore, increasing the room air humidity to around 50 % minimises the risk of infection by airborne pathogens in multiple ways in the private and professional environment.
SecoSan – always the best water quality for refreshingly humidified room air
Continuous fresh water supply to ensure a healthy air quality.
To keep the water storage tank automatically as clean as on the first day, we recommend using a SecoSan stick which keeps the water permanently clean, clear and free from germs or unpleasant odours. The unique feature of SecoSan is its antimicrobial surface with mobile silver ions, which inhibit bacteria and germs upon contact and thus prevent their reproduction. The entirely self-dosing SecoSan ion reservoir keeps the water demonstrably free from germs. The stick thus guarantees clean water for up to 6 months even if the water is changed or consumed daily.
standard equipment
optionally available
not available
Buy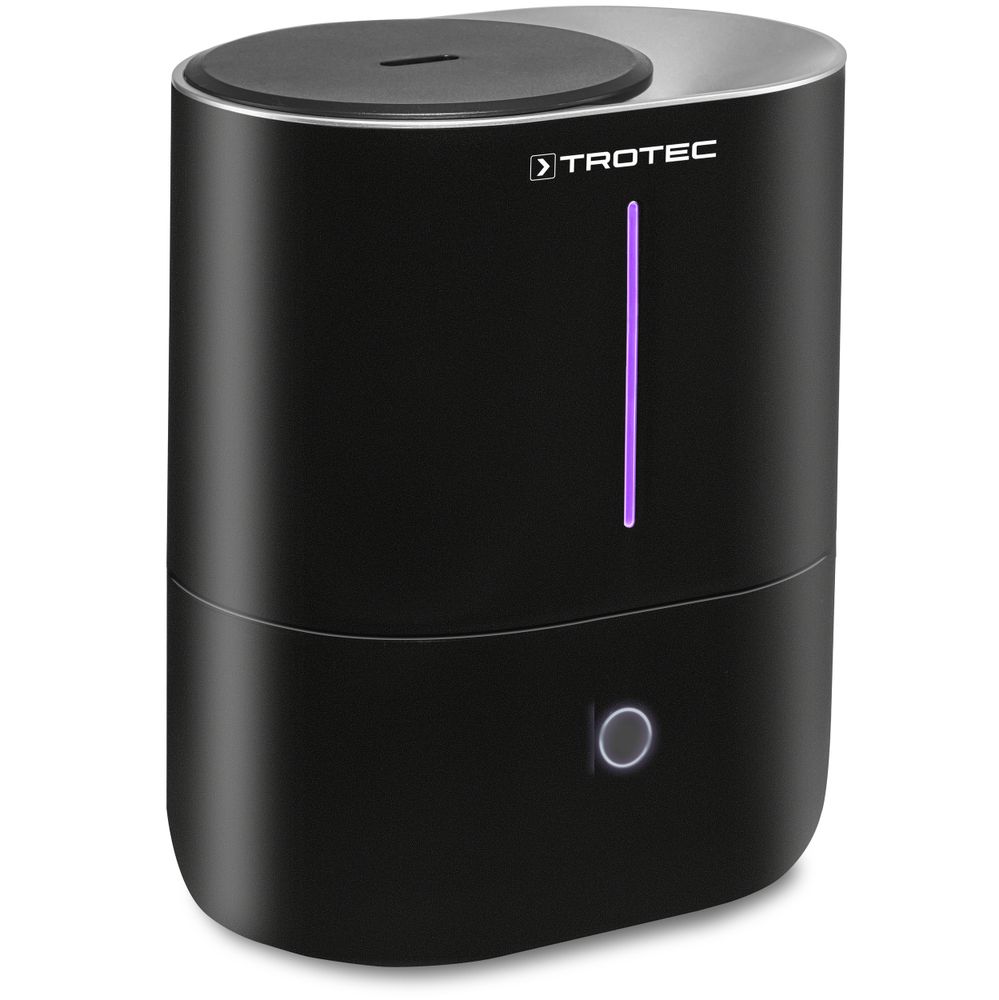 Technical data
Technical data
General information
Article number
1.160.000.051
Nebulizer performance
Nebulizer performance [ml/h]
300
Max. atomization performance (l/24h) [l/24h]
7.2
Runtime
13 h max.
Room size
Suitable for rooms sized up to [m²]
30
Suitable for rooms sized up to [m³]
75
Electrical values
Mains connection
100 - 240 V, 50/60 Hz
Nominal current consumption [A]
0.6
Power input | Humidification [kW]
0.023
Electric connection
Connection plug
CEE 7/16
Cable length [m]
1.45
Sound values
Distance 1 m [dB(A)]
38
Safety feature
Protection class
II
IP type of protection
IPX0
Water tank
Contents in [l]
4
Water filling level indicator
On-demand LED illumination of the water tank.
Warning signal to indicate a low water level
indication (indicates whether or not the water tank is installed correctly)
Automatic switch-off when there is no water left
Fan stages
Number of fan stages
3
RH control
Humidity sensor, internal
Hygrostat, internal
Control panel
Bedienknöpfe
Housing design
Plastics
Dimensions
Length (packaging excluded) [mm]
230
Width (packaging excluded) [mm]
162
Height (packaging excluded) [mm]
295
Weight
(packaging excluded) [kg]
1.5
Equipment, features and functions
Mobility
Feet
Functions and features
Integrated scented oil tank and diffuser for an optional room air aromatization
Automatic operation
LED display
Carbon filter
Humidification method
Ultrasound technology
Atomization intensity
4-stage
Timer function
Switch-on time preselectable
Switch-off time can be preselected
standard equipment
optionally available
not available
Alternative products
Loading...