Submerged clear water pump TWP 4005 E, near-ground suction
Wipe-dry with a minimal residual water level due to near-ground suction
Impressive 400 watts of power for pumping up to 7,000 litres per hour
The compact submerged clear water pump TWP 4005 E wows homeowners and passionate amateur gardeners alike with its high capacity and the user-friendly handling characteristics. The maximum feed rate of 7,000 litres per hour recommends the TWP 4005 E as much as the extraordinary pump height of 7.5 metres. An integrated check valve prevents the return flow upon switch-off.
With its powerful and maintenance-free 400 W motor the submerged clear water pump TWP 4005 E conveys clear or only slightly contaminated water with particle sizes of up to 5 millimetres. The submerged pump drains flooded basements and laundry facilities at a remarkable speed. It can be used to empty swimming pools in a trice and further leaves a good impression when pumping over the water in cisterns and rain barrels that are full to the brim. An integrated backflow preventer keeps the hose from running dry after shutdown and so reduces the time to restart suction.
A residual water level of no more than 3 mm – simply mop it up and you're done!
Moreover, the clear water pump is ideally suited for drying shallowly flooded surfaces f.i. in basements or swimming pools quickly and thoroughly. For the near-ground suction of the TWP 4005 E needs a water level of no more than 80 mm to start the internal pump wheel. Then the device pumps level ground "wipe-dry", i.e. to a residual water level of only 3 mm.
The watertight (encapsulation) and impact-resistant plastic housing of the device is suitable for underwater application to an immersion depth of 7 metres. With the integrated thermal protection circuit activated by overheating of the device the pump is also perfectly equipped for time-consuming applications. The high-quality ceramic face seal and a low-wear shaft further ensure extreme durability.
Easy-to-handle TWP 4005 E – compelling
Thanks to the steplessly lockable float switch it is conceivably easy to operate the TWP 4005 E. The device will be switched on and off automatically depending on the specified height of the water level. An increased flexibility during automatic operation is ensured by the dry run protection. Manual operation is also possible with a low water level by locking the float switch horizontally in the position for continuous operation.
The practical integrated float switch controls the water level in the container to be drained. When set to automatic operation, the pump switches on and off automatically according to the height of the float switch. In continuous operation the pump permits near-ground suction to a residual water level of 3 mm.
The sturdy ergonomic carrying handle facilitates easy transporting in the garden or to any other application site and optimizes the handling of this compact device. It can further be used as pump suspension option using the supplied nylon cord, e.g. for lowering the pump down into a swimming pool. With universal connections at the elbow for inner diameters of 25 mm and 32 mm as well as with threaded connectors of 1'' and 1½'' further hose connections can be established without further ado. The elbow's position can be freely adjusted, as a result it is possible for hoses and pipes to run parallel to the ground. The power cable of 10 m length offers flexibility and a wide operating range.
Special equipment features of the TWP 4005 E
The TWP 4005 E is extremely versatile
All submerged pumps in direct comparison:
To find the submerged pump which exactly meets your requirements, please consult the concise overview of all submerged pumps from Trotec, which we're providing to you here so that you can compare them directly to each other.
Models which you do not wish to include in your comparison can be easily dismissed with only one click.
A few practical benefits:
Impressive 400 watts of power for pumping up to 7,000 litres per hour
Maximum pump height: 7.5 m
Ideally suited for draining flat surfaces and for the recirculation and suction of water e.g. from swimming pools and basements or after a washing machine has sprung a leak
For effortless pumping of clear water with suspended particles sized up to 5mm
Extremely durable due to ceramic face seal
Maintenance-free motor with integrated thermal protection circuit activated by overheating of the device
Automatic switch-on/-off due to steplessly adjustable float switch
Dry run protection during automatic operation
Fixing option for the float switch during automatic operation
Near-ground suction to a level of 3mm resulting in a wipe-dry floor
IPX8 type of protection – protected against the ingress of water upon immersion
Universal connection for flexible coupling
Backflow preventer barring a return flow
Large ergonomic carrying handle – suitable for fastening the lowering cable
Submerged pump of TÜV-tested quality
All important features at a glance
With the TWP 4005 E you are always on the safe side, for this submerged clear water pump is supplied in TÜV-tested quality, thus guaranteeing high value, safety and functionality.
Brand quality plus cost-efficiency
Reliable, powerful and suited for the most diverse clear water applications: Those are some of the quality features of Trotec's submerged clear water pumps. No matter the demands, owing to their high capacity these pumps are never out of their depth. HighPerformance in every respect – after all, Trotec stands for brand quality and professional solutions with an excellent value-for-money ratio!
standard equipment
optionally available
not available
Shop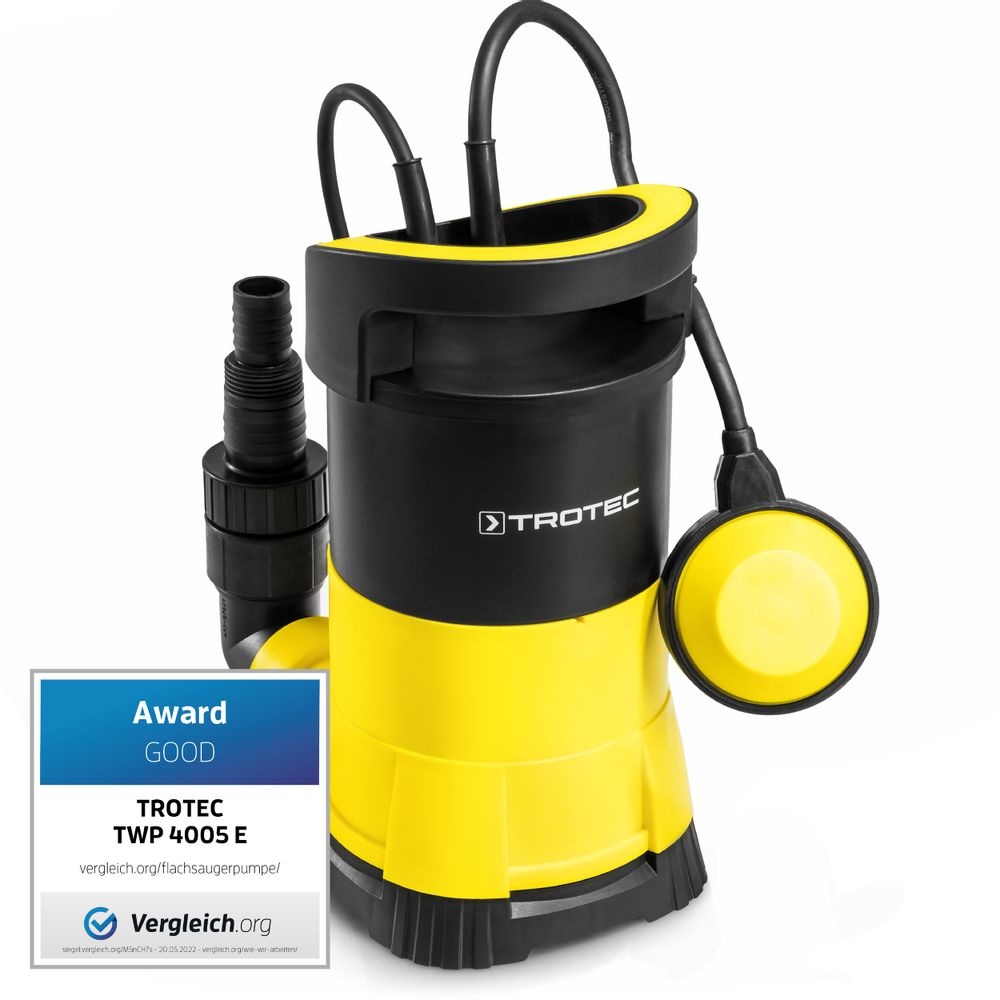 Technical data
Technical data
General information
Article number
4.610.000.005
Electrical values
Mains connection
230 - 240 V, 50 Hz
Power input [kW]
0.4
Electric connection
Connection plug
CEE 7/4 (Schuko plug type F)
Cable length [m]
10
Performance data
Max. conveying capacity [l/h]
7,000
Grit of pump [mm]
5
Max. delivery head [m]
7.5
Max. submersion depth [m]
7
Minimum operating depth [mm]
80
Max. water level after suction [mm]
3
Max. water temperature [°C]
35
Safety feature
Type of protection
IPX8
Protection class
I
Functions and features
On/off switch (float switch)
Automatic
Switch-on point float switch [mm]
420
Switch-off point float switch [mm]
180
Thermal overload protection
Backflow preventer
Stainless steel screws
Suitable for both permanent operation (>10h) or salt-water operation
Housing design
Plastics
Aluminium
Stainless steel
Steel
Accessories scope of delivery
Adapter
Hose connection (inner diameter)
25 / 32 mm
Threaded connection
1" , 1 ½"
Backflow preventer
Dimensions
Length (packaging excluded) [mm]
220
Width (packaging excluded) [mm]
160
Height (packaging excluded) [mm]
290
Weight
(packaging excluded) [kg]
3.6
standard equipment
optionally available
not available
Alternative products
Loading...