Cordless angle grinder PAGS 21‑115
Clean cutting, powerful severing – with a great deal of power, but without a cable
Ideal for cutting, grinding and brushing metal as well as for cutting tiles and concrete blocks
With Trotec's cordless angle grinder PAGS 21‑115 you can complete grinding, cutting and polishing work effectively – whenever and, especially, wherever you like. For due to its particularly powerful 20 V Flexpower multi-device battery with a capacity of 4 Ah the search for a socket is finally over. Only you and the PAGS 21‑115, that's all it takes.
The impressive performance of this versatile cordless angle grinder is attributable to its extremely powerful Flexpower multi-device battery. Unlike conventional 18 V solutions, the 20 V battery of the PAGS 21-115 comes with the decisive portion of extra power, which is provided without limitations even over larger periods of times thanks to the high charging capacity of no less than 4 Ah.
This high-quality premium branded NMC battery can not only be flexibly combined with other cordless Trotec tools, it also always provides its full power until the end even as the charge decreases. This is why the cordless angle grinder PAGS 21-115 allows you to benefit from high motor power at a constantly high speed even during longer operation.
Quality tool aspiring to professional
The PAGS 21-115 impresses with high-quality workmanship, first-class components and carefully considered functional solutions. Its durable die-cast aluminium gearhead guarantees high stability and smooth running as well as a constant speed of 10,000 revolutions per minute even under load.
Various discs with a diameter of 115 mm can be used. If you want to change the application, e.g. from cutting to grinding, or process different materials such as ceramics, stone or metal, simply install the appropriate disc on the PAGS 21-115. This can be done easily and quickly thanks to the integrated spindle lock.
The standard scope of delivery already includes a cutting disc for processing metal, so you can get started with your PAGS 21-115 right away. Further possible applications are open to your cordless angle grinder when combined with our multi-part diamond cutting disc set – these accessories, too, are provided in the best Trotec brand quality.
One job done, the next is just waiting around the corner
Once the job has been done, you can store your angle grinder perfectly neat and tidy for a suitable transport case is already included in the standards scope of delivery. Also, the case houses both the angle grinder and the mounted disc without having to worry about the tool starting to slip which renders the unnecessary disassembly of the disc a thing of the past. This robust case comprises the PAGS 21-115 including accessories, e.g. battery charger and battery, cutting disc, guard, additional handle, face spanner and clamping nut. That way, device and accessories are stored in an orderly manner – ready for the next application – and protected from dust and damage during transport.
Typically Trotec – easy to get a grip on
Ideal grip and secure guiding in two-hand operation – these are the decisive handling criteria for a practice-optimized angle grinder. In this regard, you will make a good catch with the PAGS 21-115 at all levels.
With its perfectly balanced centre of gravity, its slim design and a total weight of barely 2.5 kg incl. the disc and battery, this tool sits comfortably in the hand even during longer working periods. There will certainly be no slip hazard, for the main and additional handle are fitted with rubber grip areas for non-slip grip.
The additional handle can be variably mounted on the top, left- or right-hand side of the angle grinder if required, and thus allows for operation with both hands during all kinds of applications. Inside the additional handle, you can store the supplied face spanner to have it handy at all times.
PAGS 21‑115 – a good choice, it is safe to say
Safety is guaranteed with this brand tool, since the PAGS 21‑115 comes with numerous protective functions increasing safety at work.
The operating switch, for instance, is equipped with an additional start lock preventing unintentional start-up, and after switch-on, the motor's soft start function prevents the disc from abruptly accelerating to full speed.
Furthermore, an integrated overload protection switches the device off automatically when there is a risk of temporary motor or battery overload. In the latter case or after a battery change, the integrated restart protection prevents an immediate restart of the cordless angle grinder, and only makes the motor start after the device has been switched on once again.
Last but not least, the guard of the PAGS 21‑115, which can be adjusted without tools, functions as a reliable shield against dust and sparks during grinding and cutting operations.
Flexpower – the innovative multi-device battery system from Trotec
Even the standard scope of delivery of this power tool from Trotec already includes an extremely powerful 20 V multi-device battery from the Trotec Flexpower portfolio with an impressively high charging capacity of 4 Ah. You can check the current charging status via the three-stage battery level indication that is integrated in the battery housing and clearly visible at one glance.
This power pack that can be fully charged in only about 90 minutes not only enables device runtimes extended by up to 166 % – i.e. a more than one and a half times longer device life as compared to standard batteries with only 1.5 Ah – moreover, this Flexpower multi-device battery can also be flexibly combined with different Trotec tools, including i.a. the cordless angle grinder PAGS 20‑115, the work light PWLS 10‑20V, the cordless rotary hammer PRDS 20‑20V, the cordless planer PPLS 10‑20V, the cordless tacker PTNS 10‑20V, the cordless glue gun PGGS 10‑20V, the cordless polisher PPOS 10‑20V, the mini cordless portable circular saw PCSS 05‑20V, the cordless portable circular saw PCSS 10‑20V, the cordless grass and shrub shears PGSS 10-20V and the cordless impact wrench PIWS 10-20V.
Thanks to Flexpower you can do without unnecessary batteries and chargers – and the search for a suitable battery has also come to an end. Simply change the device, not the battery. Flexpower puts a stop to the unnecessary amount of various exchangeable batteries; the combination option with an ever increasing number of tools allows you flexibility at all times so you can carry on your projects energetically!
Premium branded battery for constantly full power
By now, lithium-ion batteries are widely distributed, after all they come without memory effect and self-discharge. Plus these batteries can be disconnected from the charger and used right away without it affecting the battery's lifetime. But "lithium ions" is a generic term used for batteries of various qualities and made of diverse electrode materials; including those with a perceptibly weakening performance once the battery charge decreases.
Lithium-ion batteries supplied by Trotec are high-quality premium branded NMC batteries with a high energy density and charging voltage lasting until the end without exceptions – guaranteed! Compared to conventional lithium-ion batteries the performance of our premium branded batteries does not decrease even as the discharge increases.
Consequently, you benefit from lasting maximum power even with an almost empty battery. During longer operation only the battery charge decreases, never their performance – that is the added value of Trotec's premium branded batteries!
The key equipment features of the PAGS 21‑115 at a glance
The PAGS 21‑115 offers cordless freedom for severing, cutting and grinding
All Angle grinders in direct comparison:
To find the Angle grinder which exactly meets your requirements, please consult the concise overview of all Angle grinders from Trotec, which we're providing to you here so that you can compare them directly to each other.
Models which you do not wish to include in your comparison can be easily dismissed with only one click.
A few practical benefits:
Branded high-performance angle grinder in TÜV-tested quality
Flexpower multi-device battery system – can be flexibly combined also with other cordless tools from Trotec
Powerful 20 V lithium-ion battery without memory effect and self-discharge
Powerful motor with constantly high performance even under load
Ideal for cutting, grinding and brushing metal as well as for cutting tiles and concrete blocks
Durable, slim die-cast aluminium gearhead
Comfortable working due to low vibrations
Spindle lock allowing simple exchange of discs
Quick and tool-free adjustment of the guard
Safety switch preventing unintentional switch-on
Main and additional handle with rubber grip areas for non-slip grip
Additional handle can be variably mounted in threepositions
Quick charger with automatic charge termination: only 90minutes of charging required
3-stage battery level indication
Angle grinder can be stored in the case without having to disassemble the disc
All important features at a glance
Brand quality plus cost-efficiency
So far, you basically only had two options when choosing a cordless angle grinder: either good but expensive, or mainly cheap.
Trotec's PowerTools now offer a smart choice: good and cheap at the same time. For we do not only stand for measuring devices and air conditioners, but also for power toolsof brand quality: professional Trotec solutions with an excellent value-for-money ratio!
Which type of disc is to be used for the angle grinder?
Also, the following accessories are available for angle grinders:
Sanding pads for removing old coats of paint or derusting metal
Serrated washers for grinding or polishing
Fur polishing discs (reduced speed)
Wire brushes for derusting and to prepare soldering and welding work
Abrasive wheels and cutting discs are available with diameters of 115, 125 and 230 mm. Depending on the selected grinding, cutting or roughing disc you can use the angle grinder for various tasks at home, in the garden or for the craft sector.
Large-sized discs are primarily intended for coarse work and only used for the bimanually guided angle grinder. For applications that require a greater level of precision, the combination of smaller discs and a one-hand angle grinder is better suited.
All the discs for angle grinders supplied by Trotec can be ordered individually and as practical special offer package.
standard equipment
optionally available
not available
Buy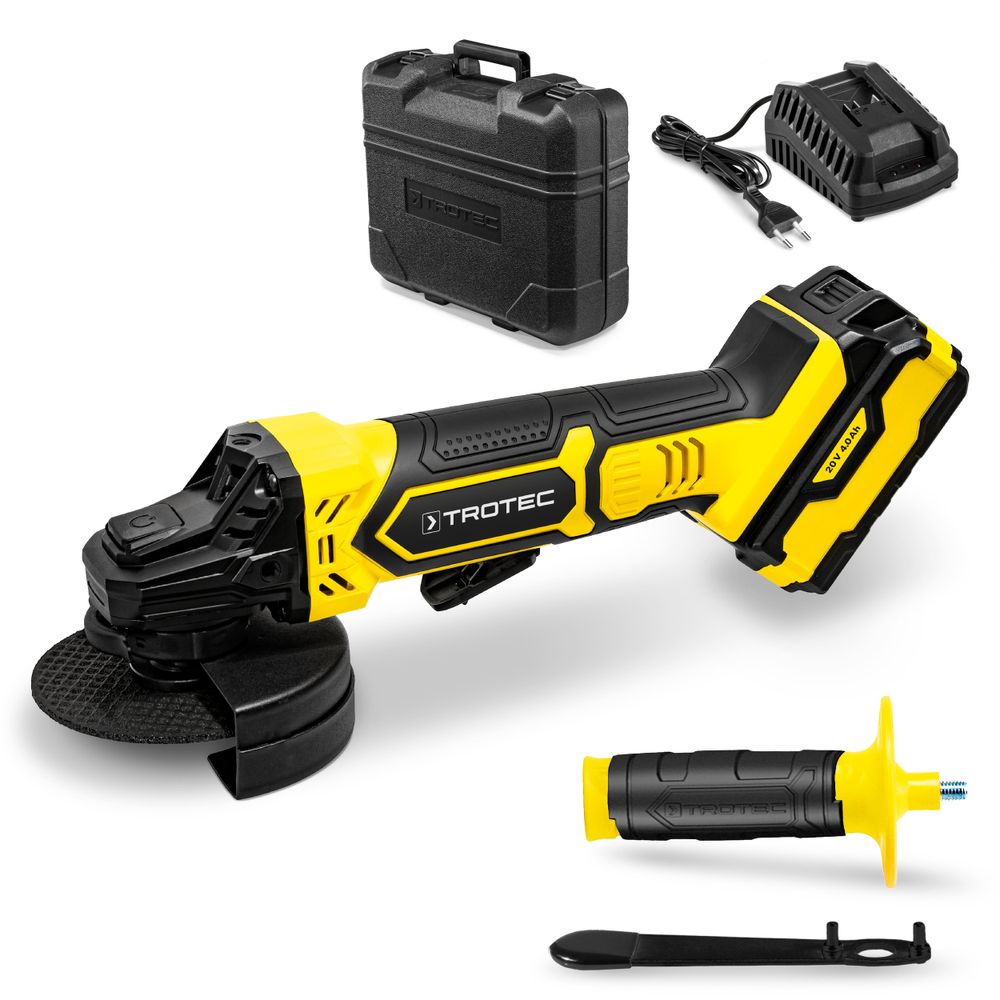 Technical data
Technical data
General information
Article number
4.440.000.205
Technical data
Rated speed [min-1]
10,000
Spindle thread
M14
Sound values according to EN 60745
Sound pressure level [dB(A)]
89
Sound power level [dB]
100
Uncertainty K
3
Vibration information according to EN 60745
Vibration emission value (ah) Main handle [m/s²]
5.3
Uncertainty (K) Main handle [m/s²]
1.5
Vibration emission value (ah) Additional handle [m/s²]
7.7
Uncertainty (K) Additional handle [m/s²]
1.5
Data cutting disc
Idle speed [min-1]
13,300
Max. disc speed [m/s]
80
Cutting disc diameter [mm]
115
Bore diameter [mm]
22.23
Cutting disc thickness [mm]
3
Functions and features
On/off switch with safety switch
Soft start
Spindle lock
Additional handle 3 mounting options
Infinitely variable speed control
Softgrip
Accessories scope of delivery
Cutting disc
Wrench
Pin-type face wrench
Protective cover
Additional handle
Transport case
Electrical values battery
Battery nominal voltage [V]
20
Battery capacity [Ah]
4
Capacity indication
3-stage
Battery type
Li-ion
Battery charging time [h]
1.5
Charger
Mains connection
230 - 240 V, 50 Hz
Output voltage [V]
21.5
Power input [W]
94
Nominal current consumption [mA]
3,500
Connection plug
CEE 7/16
Cable length [m]
1.5
Protection class
II
Dimensions
Length (packaging excluded) [mm]
128
Width (packaging excluded) [mm]
325
Height (packaging excluded) [mm]
128
Weight
(packaging excluded) [kg]
2.55
standard equipment
optionally available
not available
Alternative products
Loading...