CABLE DRUM PVD1EU
Flexible power distribution to go – ideally suited for indoors and outdoors. Whether at home, in the garden or in the workshop.
All-round perfect control of the power connection
Mobile cable drums solve a seemingly simple problem: whenever the way to the nearest socket is too far away or there are fewer sockets available than electrical appliances planned to be used at the operating site, using a cable drum such as the PVD1EU is simply the best choice – whether in the workshop or garage, when performing DIY tasks or working on your construction site at home, in the garden or for leisure activities.
High-quality cable drum with functional design
When it comes to the power connection, it's always best to play it safe and therefore to opt for the robust cable drum PVD1EU in proven Trotec quality. The cable drum, which is equipped with European-compliant type C/F sockets (CEE system 7/4, 7/7, 7/16, 7/17) and a mains plug (hybrid plug) of type CEE 7/7, can be used in most European countries without any problems.
With a maximum power input of 3.2 kW on a total of four safety sockets, the PVD1EU with IP44 protection (protection against the ingress of foreign bodies (>1 mm) and splash water) not only offers you safe application options indoors as well as in roofed outdoor areas, but also a very large operating range thanks to the 20-metre connection cable. In addition, the cable drums are also provided with numerous equipment details which allow for an even greater application comfort and reliability.
Optimum electricity distribution from the reel
Even over long distances, the ideal handle position facilitates transporting to the operating site where the cable drums can be safely positioned thanks to the broad support points. If a change of location is to take place or for the warehouse, the cable holder provides for additional storage of the plugs, and together with the variably adjustable brake holder for fixing the drum, trip hazards caused by unwinding cables are a thing of the past.
And because the cable drum is equipped with an especially stable crank to ensure optimum handling, the connecting cable with its length of 20 metres can be quickly and easily wound and unwound at the site of operation.
In the wound off state, four individually exchangeable safety sockets offer you the possibility of connecting electrical devices with an overall power of max. 3.2 kW. Each of the sockets, which are protected against splash water as well as the ingress of foreign particles larger than 1 millimetre, is equipped with a sealing edge and self-closing spring-loaded hinged cover.
Together with the thermal circuit breaker, increased protection against accidental contact and a flexible braking system that slows down the rotation of the drum, the PVD1EU cable drum offers you maximum safety.
Consistent design according to EU standard
The European-compliant PVD1EU with type C/F sockets (CEE system 7/4, 7/7, 7/16, 7/17) and hybrid type CEE 7/7 plug has been specially developed for applications in harsher working environments, such as in professional or private workshops, on construction sites or in the garden. Jamming sockets or sluggish plugging in and unplugging are out of place here and are a thing of the past with this functional cable drum.
Cable drum PVD1EU – safely equipped
A variety of possible indoor and outdoor applications
A few practical benefits:
Convenient carrying characteristics due to ergonomic handle
Additional safety due to thermal circuit breaker
Stable IP44 frame with ergonomically shaped carrying handle
Four IP44 safety sockets with sealing edge and self-closing hinged covers 16 A, 230 V
Drum with 20 m cable H05RR-F 3G1.5, 230 V, 16 A, cable cross-section 1.5 mm²
Output: rolled up 1,100 W, unrolled 3,200 W
Thermal circuit breaker and increased protection against contact providing additional safety
Variable braking system slowing down the rotation of the unrolling drum
Buy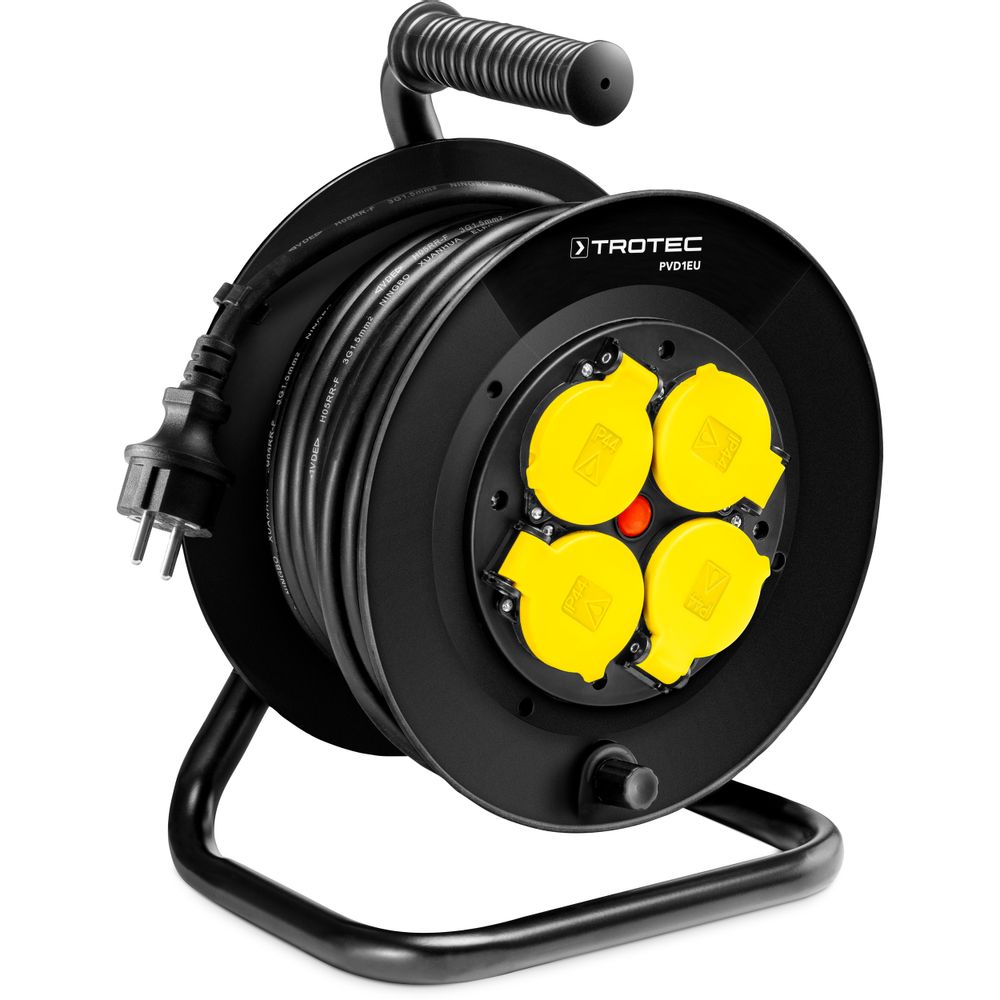 Technical data
Technical data
General information
Article number
7.333.000.365
Electric connection
Connection plug
CEE 7/7
Number of safety sockets
4
Cable length [m]
20
Cable cross-section [mm²]
1.5
Max. power, rolled up [W]
1,100
Max. power, unreeled [W]
3,200
Rated voltage [V]
230
Nominal current consumption [A]
16
Ambient conditions
Operation - min. temperature [°C]
-5
Operation - max. temperature [°C]
35
Storage - min. temperature [°C]
-5
Storage - max. temperature [°C]
40
Functions and features
Thermal circuit breaker
Berührungsschutz
Crank
Braking system
Mobility
Handle
Foot
Housing design
Plastics
Dimensions
Length (packaging excluded) [mm]
175
Width (packaging excluded) [mm]
230
Height (packaging excluded) [mm]
320
Weight
(packaging excluded) [kg]
3
standard equipment
optionally available
not available
Alternative products
Loading...