Designer convector TCH 1510 E
Ultra-flat 1,500-watts convector that can be used either as a wall-mounted device or positioned on the floor. It comes with open-window detection, room temperature indication, weekly timer, child lock and intelligent automatic heating function
Powerful heating capacity for fast, cosy feel-good warmth
When the days get colder in the transitional period to autumn/winter but the stationary heating system is still switched off for financial reasons, the ultra-flat TCH 1510 E design convector with its infinitely variable heating output of 1,500 watts, adjustable via thermostat, provides quick and odourless heat without creating noise. Enjoy well-tempered rooms, whether you use the device as a wall-mounted or floor-standing device.
Powerful heating element in stylish shape
A highly efficient aluminium heating element with a large area and approx. 55 cm length as well as aerodynamically shaped air outlets on top of the device provide for an unrivalled fast heat distribution in rooms up to 20 m² or 50 m³. Whether in modern living environments, office environments, bathrooms or unheated conservatories, garages or holiday homes: Where fast and/or additional heat is required, the TCH 1510 E design convector, which is splash-proof to IP24 and approved for wet rooms, shows its superiority over stationary heating solutions.
Even convection heat
The air inside the convectors of the TCH series is warmed up by electrically heated wires and thus rises as warm air, which creates a natural suction that makes cold room air flow into the device. This leads to a permanent circulation of warm air reaching all corners of the entire room. The heat distributes evenly and an excessive or insufficient heating of individual areas is prevented. Once the preset degree of heat has been reached, the device reduces its output while maintaining the desired temperature.
Innovative open window detection prevents wasting energy
Regular ventilation is essential for a good and healthy indoor climate. To ensure that no unnecessary energy is wasted due to open windows, the smart TCH 1510 E is equipped with an energy-saving open window detection. If a window is opened and the convector is in thermostat-controlled automatic mode, the device reduces the heating output until the window is closed again. An automatic room temperature control and a smart automatic heating system further reduce the already economical energy consumption of the TCH 1510 E. Once the preset desired temperature is reached (in the range of 0 and 50 °C), the heating element switches off fully automatically and only switches on again when reheating is required. Pretty smart! This way, the energy consumption of the convector remains agreeably low and no money for expensive energy costs is thrown down the drain.
Smart equipment for warm feel-good times
The comfort equipment of the design convector is topped off by a room temperature and time indication, two operating modes (automatic and weekly mode), stable adjustable feet for flexible use in different locations, a wall holder, an operating hours display and an extra-long power cable for maximum freedom of movement.
Cosy and warm interior spaces with comfort
Just like all devices of the TCH series, the TCH 1510 E uses the effect of even convection heat for operation. The device can be used in almost any place in your private home or office, anywhere heat is needed: E.g. as a quick replacement when the main heating system has failed, as a reliable transitional heating system before the start of the heating season or for heating conservatories, garages, hobby rooms or basements that are not connected to a central heating system.
Operating hours display – allows you to keep an eye on the consumption
Whether you are a tenant or a landlord, it is occasionally helpful to know how much heating costs have been incurred in a certain period. The convenient operating hours display allows you to check and record the consumption of the TCH 1510 E with hourly precision.
Weekly mode – individual heating times and temperatures for every day
Every day is different! At the weekend, we usually spend more time at home which increases our need for heat. A programmable weekly timer allows you to programme individual heating times and room temperatures for each day of the week. Want more heat at the weekend and less heat during the week when leaving the house in the morning? No problem! In week mode, individual room temperatures and heating times can be assigned to each day of the week. How convenient!
Child lock – for safe operation in the children's room 
The child lock protects the convector's device settings from curious children's hands. Once activated, the device settings can no longer be changed via the control panel.
Quick warmth on cold days – nothing could be easier. The designer convectors TCH 1510 E and TCH 2510 E convince with intelligent heating technology and uncompromisingly powerful heating performance.
TCH 1510 E – special equipment features
Cosy warmth wherever it is needed ...
All Convectors TCH-E series in direct comparison:
To find the Convector of the TCH-E series which exactly meets your requirements, please consult the concise overview of all Convectors TCH-E series from Trotec, which we're providing to you here so that you can compare them directly to each other.
Models which you do not wish to include in your comparison can be easily dismissed with only one click.
A few practical benefits:
Heating capacity of up to 1,500 W for clean, non-condensing and odourless heat
Large heating element of approx. 55 cm length
Temperatures ranging from 0-50 °C selectable
Infinitely variable thermal control
Innovative open window detection
Automatic temperature control / Intelligent automatic heating function
Frost monitor function
Energy-efficient operation thanks to automatic switch-off upon reaching the set value
Current room temperature indication
Timer function
Weekly timer
Operating hours display
LCD display
Child lock
Overheating protection
Can be used as wall-mounted or floor-standing device
You need even more power?
Discover the more powerful convector TCH 2510 E in an equally stylish and slim design.
The TCH 2510 E comes with a heating capacity of a particularly powerful 2,500 watts. Its high-quality and rich aluminium heating element has a fabulous length of approx. 110 cm. The optimally used heating surface rapidly provides a pleasant heating ambience in living and business areas of up to 30 m².
The TCH 2510 E design convector can also be used as a wall-mounted or floor-standing device.
standard equipment
optionally available
not available
Buy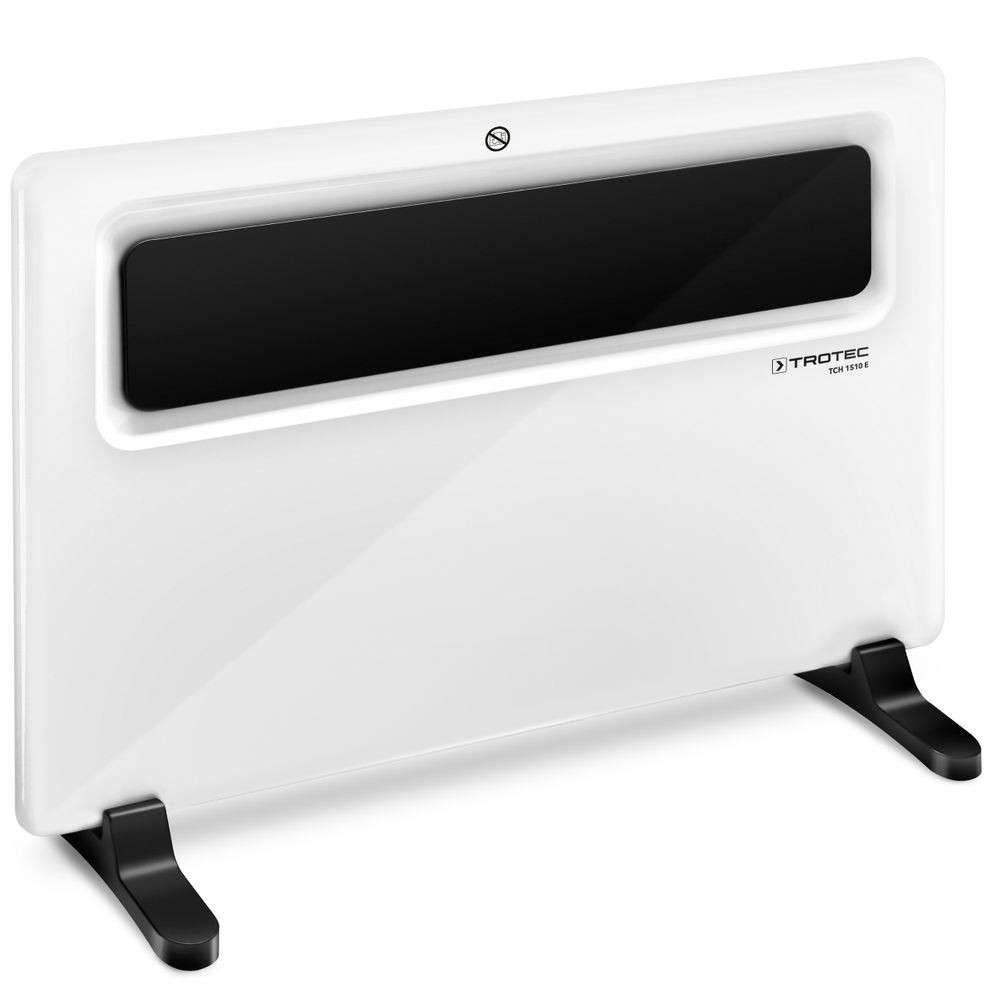 Technical data
Technical data
General information
Article number
1.410.000.529
Heating capacity
Level 1 [kW]
1.5
Level Max. [kW]
1.5
Electrical values
Mains connection
220 - 240 V, 50 Hz
Max. power input [W]
1,500
Nominal current consumption [A]
6.5
Safety feature
IP type of protection
IP24
Protection class
I
Overheating protection
Available
Electric connection
Connection plug
CEE 7/7
Cable length [m]
1.8
Mobility
Feet
Dimensions
Length (feet included) [mm]
260
Width (feet included) [mm]
690
Height (feet included) [mm]
480
Weight
(packaging excluded) [kg]
6
Equipment, features and functions
Functions and features
On / off switch
LED display
Screensaver
Indication of temperature/heating-up phase
Frost monitor function
Operating control lamp
Thermostat-controlled automatic operation
Automatic switch-off upon reaching the set value
Child lock
Timer function
Weekly schedule
Weekday display
Open window detection
Energy consumption monitoring
Energy saving mode
Tilt protection
Operation
Membrane keys
Housing design
Metal
standard equipment
optionally available
not available
Alternative products
Loading...