Ceramic fan heater TFC 21 E
Visually outstanding quick-response heater for cold days – with carrying handle, remote control, power-saving thermostat control and two heating levels (1,300 W/2,000 W)
Simply warms faster, nicer and more energy-efficiently
May we present? Quick warmth in its most beautiful form! The powerful TFC 21 E design fan heater with PTC ceramic heating element and practical remote control provides cosy warmth on cold days and looks outrageously good at the same time. Slim and slender in a noble look, with integrated carrying handle, membrane key control panel and stable foot, the device presents itself as a perfectly shaped modern fan heater. Just looking at it makes you look forward to cosy heat in a comfortable atmosphere.
Power-saving thermostat control with adapted heating capacity
This ceramic heater with its integrated thermostat control displays a sensitive and energy-efficient manner while supplying living spaces, offices, holiday homes, garages, storage facilities or workshops with a constant warm air flow in the temperature range from 15 °C to 35 °C. Adjusted accurately to the degree, thanks to convenient target value preselection. When the preset temperature level has been reached, the fan heater shows distinguished restraint and switches itself off, saving power, until reheating becomes necessary. With its attentive manner and two heating levels (1,300 W and 2,000 W), the TFC 21 E adjusts the room temperature on request fully independently – always keeping a close eye on the energy costs. The room temperature or target temperature selected or the timer preselection can be read off conveniently as LED indication on the control panel. In the ECO mode, which is especially power-saving, the fan heater adapts the heating levels fully automatically to the room temperature to make sure that only as much heat as necessary is emitted to the room, ensuring that as little energy as possible is consumed. This saves hard cash and makes TFC 21 E the power-saving champion in its device class. Thanks to its memory function, in the standby mode the ceramic fan heater saves the target temperature set most recently.
Room-filling warmth, optimally distributed
The pleasant warmth of the TFC 21 E can be sensed by everyone in the room. An on-demand 80°oscillation function transports the warm air flow of the powerful fan right into the farthest corner of the room, even overcoming obstacles like desks or seating furniture. With its slim tower design, the TFC 21 E is a true space-saver. Whether you install it at the desk, at the sofa, in the centre of the room or unobtrusively in the corner – it finds its place anywhere and can be repositioned quickly and easily thanks to its integrated carrying handle. In this way, everyone can enjoy the fan heater's benefits, as shared pleasure is double pleasure.
A stylish combination of design and living comfort
In its modern design housing, this elegant fan heater combines a variety of comfort functions making it an indispensable partner for everyday life. Equipped with a frost monitor function it protects unheated rooms such as conservatories, cellars or garages from excessive cooling – and spares you from expensive frost damage. A 24-hour timer allows for time-controlled switch-on/switch-off of the heating device and programming of fixed heating times. Even without the set timer, the device switches off automatically after an operating time of 12 hours. This is not only extremely convenient, it will also prove beneficial to your wallet. Unnecessary heating is prevented.
An all-round clean affair: Emission-free heat for breathing unpolluted air
Allergies are omnipresent and are among the most common widespread diseases. Every fourth person suffers from polluted air and subsequently from an allergic disease. Therefore, indoor air should be protected from further contaminations in the best possible way – naturally, this is also true during the application of an electric heater. PTC ceramic heating elements have key advantages over fan heaters with heating wire: The ceramic heating elements heat up very quickly but do not become hot enough to burn house dust, animal hair or insects. Consequently, there will be no disagreeable smells of burning and the room air remeains pleasantly clean which is particularly noticeable for allergy sufferers and people with sensitive respiratory tracts.
Definitely the most beautiful way to provide for warm temperatures
The TFC 21 E is provided with a stable foot – literally down to earth. Should the fan heater at some point be close to toppling over, an integrated tilt protection immediately switches the device off. An intelligent overheating protection promises additional safety. The overheating protection deactivates the ceramic heating element of the TFC 21 E fully automatically if, for example, the heating element overheats due to clothes carelessly placed on the device and threatens to burn out. Better safe than sorry.
Quick and flexible heat for all rooms
When it gets cold, rapid action is needed. Otherwise it will impair our well-being and a low mood sinks in. Therefore, the TFC 21 E does not waste any time during heating. Just switch it on and enjoy an immediate warm air flow of the heating device. And if you don't want to say goodbye to this soothing warmth, you can just take the ceramic heater with you. A recessed transport handle makes changing the site of the compact heating device very easy.
The ceramic fan heater TFC 21 E impresses with practice-oriented details:
Cosy warmth wherever it is needed ...
All TFC-E heating devices in direct comparison:
To find the electric heating device which exactly meets your requirements, please consult the concise overview of all electric heaters of the TFC-E series from Trotec, which we're providing to you here so that you can compare them directly to each other.
Models which you do not wish to include in your comparison can be easily dismissed with only one click.
A few practical benefits:
Fast and pleasant heat – 100 % free of emissions
Silent and compact fan heater with PTC ceramic heating element
Two heating levels (1,300 W/2,000 W)
Thermostat-controlled automatic operation with target value preselection between 15 and 30 °C
Indication of the preselected room temperature or the set timer
24-hour timer for time-controlled switch-on and switch-off
Suitable for rooms sized up to 24 m² / 60 m³
Frost monitor function
On-demand 80° oscillation for a faster air distribution
Energy-efficient operation thanks to automatic switch-off when reaching the target value
Intelligent overheating protection
Tilt protection switch integrated into the device
Fan rundown function
IR remote control
Memory function
Intuitive control panel with LED display – illumination can be switched off
Suited for allergy sufferers
Integrated carrying handle for maximum versatility
Secure footing
Energy-efficient
Faster air heating – more agreeable feel-good climate
Compared to the conventional heating coil technology (B) the shorter heat-up times are not the only distinguishing feature of Trotec fan heaters with PTC ceramic heating elements (A). There are also substantial process-related differences in the response behaviour of the heating elements.
Although both devices maintain the preselected target temperature (orange) in a similar manner by means of thermostat control, the respective temperature adaptation takes place at a significantly reduced speed and with greater deviations from the desired target temperature in case of devices with heating wires. The reason for this is the different conductivity behaviour of the heating elements: if current flows through the heating coils or wires, they will always retain the same temperature once they have heated up. For controlling the desired room temperature, the power supply is first interrupted, causing the coil/wire to cool down, and then re-activated by the thermostat so that the coil/wire heats up again completely before it is switched back off upon reaching the set target temperature.
This "on/off process" causes greater temperature fluctuations than with ceramic heating elements, for the material of the latter provides an integrated temperature self-regulation. The hotter PTCs get, the higher is their electrical resistivity, resulting in less current flowing through the heating element and in a reduced heating capacity, and thus in significantly lower temperature fluctuations and less switch-on and switch-off processes in thermostat-controlled operation. For this reason, ceramic fan heaters are able to create more even room temperatures for a pleasant indoor climate.
Buy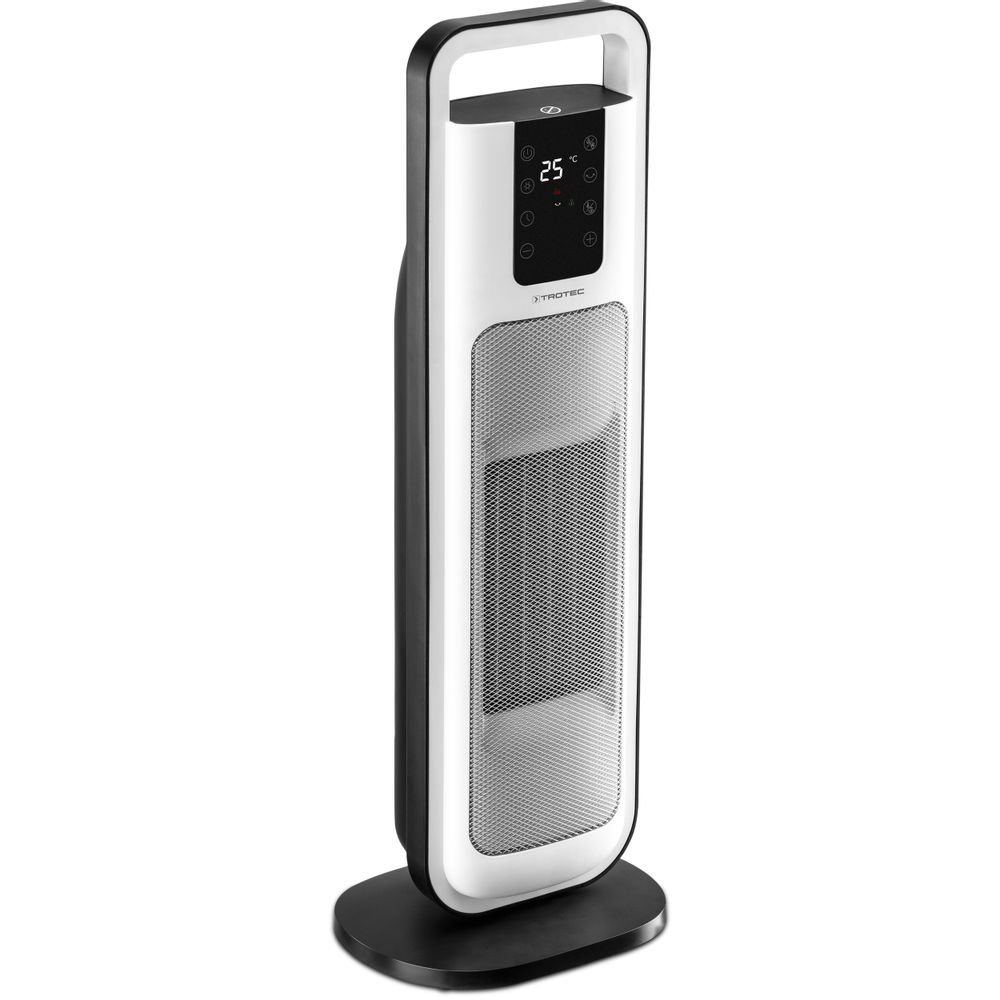 Technical data
Technical data
General information
Article number
1.410.000.671
Heating capacity
Suitable for rooms sized up to [m²]
24
Suitable for rooms sized up to [m³]
60
Level 1 [kW]
1.3
Level 2 [kW]
2
Operating range
Min. temperature [°C]
-20
Max. temperature [°C]
35
Fans
axial
Number of fan stages
1
Electrical values
Mains connection
220 - 240 V, 50/60 Hz
Nominal current consumption [A]
8.7
Recommended fusing [A]
10
Power input [kW]
2
Electric connection
Connection plug
CEE 7/17
Cable length [m]
1.6
Functions and features
On / off switch
Timer function
Energy saving mode
Dimmable display
Display switch-off function
Frost monitor function
Fan rundown function
Thermostat-controlled automatic operation
Automatic switch-off upon reaching the set value
Automatic switch-off after 12 h of operation
Memory function
Air filter
Tilt protection switch
Internal oscillation (°)
80°
Sound values
Distance 1 m [dB(A)]
50
Safety feature
Overheating protection [°C]
55
Protection class
II
Dimensions
Length (packaging excluded) [mm]
178
Width (packaging excluded) [mm]
230
Height (packaging excluded) [mm]
660
Weight
(packaging excluded) [kg]
3
Equipment, features and functions
Operation
Multi-stage thermostat
Mobility
Feet
Carry/transport handle(s)
Housing design
Plastics
standard equipment
optionally available
not available
Alternative products
Loading...