Infrared heating panel TIH 900 S
Elegant, efficient, flexible – and way more than just a heating alternative
Efficient heating procedure with environmentally friendly IR-C radiation
Branded heating panel of the size 1,205 x 755 mm with a power of 900 W
The infrared heating panel TIH 900 S supplied in TÜV-tested quality comes with all the references to be expected of a branded heating panel. This includes i.a. the efficient heating procedure with environmentally sound IR-C radiation, where 100 % of the electrical energy input is converted into heat output.
Moreover, the TIH 900 S generates a cosy and clean warmth – without noises, smells, condensate or the unpleasant circulation of dust. For like the sun the heating panel generates direct heat by means of infrared radiation, which does not heat the ambient air, but rather all the items in the room (besides persons also walls, ceiling, floor and furniture) which then gradually emit the stored heat into the room.
For its heating operation the versatile flat heating panel requires nothing more than a power outlet and is perfectly easy to handle: Whether it is intended to be used for additional selective heating in the living area, as sole heat source in rooms so far without a heating system such as the hobby room in the basement, or for commercial use, e.g. in the catering trade, at cool workplaces in the storage room or even in the area of construction drying and renovation – the infrared heating panel TIH 900 S impresses in every conceivable application scenario.
Amongst other things the infrared heating panel TIH 900 S is perfectly qualified …
… as a heat source in living spaces
The equally elegant and effective infrared flat heating panel TIH 900 S is the perfect solution for additional spot heating. It can be mounted to the wall to save space and creates direct warmth where the residents need it – whether that is in the living area, the camper van, holiday home, conservatory or bathroom.
In addition, the infrared heating panel can be a cost-effective heating alternative when rooms so far without a heating system are to be used for other purposes or as alternative heating solution in old buildings with night storage heaters.
… for heating workplaces e.g. in storage facilities or workshops
Also when used in draughty or cool workplaces, for example in storage facilities, behind refrigerated counters, in the kiosk, during trade fairs or exhibitions, in church, in workshops, hobby rooms or large halls – whether wall-mounted or positioned on the floor – the infrared spot heating of the TIH 900 S offers great advantages in terms of both heating and finances:
Owing to fibre optics technology, 100 % of the heat reach the workplace, the ambient air does not have any effect on the heating capacity and unmanned halls do not have to be heated in a costly manner.
… as a heating device to be used in the catering trade
The infrared heating panel TIH 900 S is much more effective than conventional radiant gas heaters – whether wall-mounted or positioned on the floor – it is an ideal solution for selectively heating stalls and terrace areas or even outdoor smoking areas.
… for the quick drying of wall surfaces
In the area of construction drying and renovation, heating of suitable wall building material by infrared radiation causes a capillary water transport towards the heated wall surface due to the temperature drop. In contrast to diffusion, this process transports distinctly more moisture out of the wall in less time. As soon as the moisture emerges into the room, it diffuses. This is why the drying process can be additionally accelerated by the combined use with Trotec condenser dryers, which maintain the room humidity at an optimal level in a controlled manner.
A few practical benefits:
Up to 900W of pure heating capacity
Efficient heating procedure with environmentally friendly IR-C radiation
Heat transport via light waves – direct object heating without convective loss
Maximum efficiency: 100 % of the electrical energy input is converted into heat output
Clean warmth – no noise, no odour, no condensate, no oxygen consumption, no unpleasant dust circulation
Integrated suspension device for mounting on a wall or on assembly supports
Can also be positioned on the floor
Ready for immediate use – no additional installations or expensive modifications required
TIH 900 S – effective warmth due to sunlike infrared radiation power
Behind the timelessly elegant heating side with a white, powder-coated metal surface in an anodized aluminium frame, there is a sophisticated construction allowing for multiple set-up variants.
A suspension device integrated on the rear makes horizontal and vertical wall mounting mere child's play, optional feet [1] allow for ground installation, and the fastening clamps [2] available as accessories enable mounting on customary assembly supports.
Calculation of power requirements for rooms with ceiling heights of up to 2.5 m
Insulation quality of the rooms
good to very good
medium
not insulated/old building
1 outer wall
50 W/m²
70 W/m²
90 W/m²
for each additional outer wall
+10 W/m²
+10 W/m²
+10 W/m²
The required infrared heating power is calculated as follows: room size in m² x W/m² = required heating power in watts. Sample calculation: For a room of 10 m² with very good insulation quality and two outer walls (50 W/m² + 10 W/m²), the recommended power requirements are 10 m² x 60 W/m² = 600 W.
Optimum room temperature control with the socket thermostat BN30
Just install it in the socket and connect it to the heating or cooling device on the socket thermostat BN30, and you can have your heating or cooling unit automatically switched on and off by the BN30 depending on the temperature. The socket thermostat available as an accessory is individually adjustable within a temperature range from 5 °C to 30 °C.
Radio thermostat BN35 with timer switch for the socket
With the radio thermostat BN35 you can easily determine at which room temperature your heating or cooling unit will switch on or off using the remote control. The BN35 set consists of a radio-controlled socket and a radio thermostat. Simply plug the radio-controlled socket in between a wall outlet and your heating or cooling unit. Place the radio thermostat within approx. 20 metres in the place where the room temperature is to be measured. As an alternative, time-controlled regulation can also be carried out.
This is how infrared heating works in interior spaces
Infrared rays cannot heat up the room air directly but they heat up all objects inside the room, which will then permanently emit the stored thermal energy into the room, similar to a tiled stove.
In contrast to classical convection heatings, this indirect heating method thus warms up objects instead of directly warming up the room air. The latter cannot, in principle, store the warmth itself, but can only transport them to objects, which entails high energy losses on the one hand and, on the other hand, causes dust circulation which can be completely avoided when using an infrared heating.
All infrared heating panels in direct comparison:
In order to find exactly the right infrared heating panel for you, you have the possibility here to clearly compare all heating panels of the TIH-S series from Trotec.
Models which you do not wish to include in your comparison can be easily dismissed with only one click.
EU Regulation
This product complies with EU Regulation 2015/1188 Art. 3 II in combination with a thermostat and achieves an efficiency of 98%. Only use the device with a thermostat, such as the Trotec BN35 recommended by us. You can find more information about this in our operating instructions.
This product is only suitable for well-insulated rooms or for occasional use.
(EU Regulation 2015/1188 Article 3, Annex II b) II (2))
Shop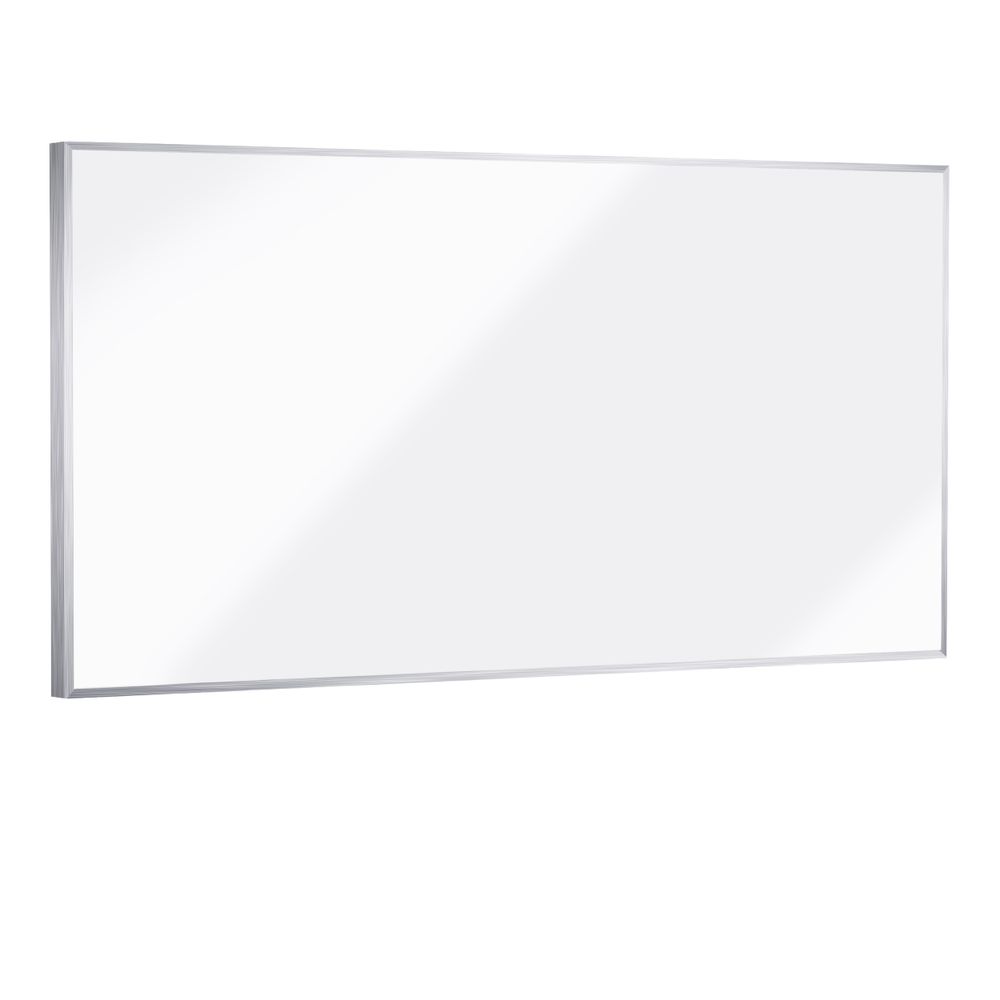 Technical data
Technical data
General information
Article number
1.410.003.016
Heating capacity
in [W]
900
Effective range
in [m²]
0.91
Electrical values
Mains connection
230 V, 50 Hz
Nominal current consumption [A]
3.9
Power input [kW]
0.9
Electric connection
Connection plug
CEE 7/7
Cable length [m]
1.9
Operating range
Min. temperature [°C]
0
Max. temperature [°C]
60
Housing design
Aluminium
Safety feature
IP type of protection
IP54
Overheating protection
Available
Dimensions
Length (packaging excluded) [mm]
22
Width (packaging excluded) [mm]
1,205
Height (packaging excluded) [mm]
755
Weight
(packaging excluded) [kg]
7.5
Equipment, features and functions
Mobility
Feet
standard equipment
optionally available
not available
Alternative products
Loading...