TTW 25000 S Wind machine
Economic drum fan for mobile air circulation
Whether for odour venting in agriculture and production, marquee ventilation, auxiliary air circulation in warehouses or temporary assistance in cooling or heating systems – there are many standard ventilation tasks, where the sound technology with ideal value-for-money ratio and high air flow rate is called for.
Our response: The wind machine TTW 25000 S
This plug-in air circulation device impresses during indoor and outdoor applications with its high air flow rate, which can be regulated in two stages. The robust, galvanized steel housing is designed as carriage, so that the wind machine TTW 25000 S can easily be transported and positioned at the operating site. As safety equipment the inclinable fan drum is further provided with protective grids on both sides.
A few practical benefits:
A cost-saving option for semi-professional ventilation applications
Air circulation capacity of up to 27,600 m³/h
Plug-in device easy to handle
Adjustable inclination angle of the flow direction from horizontal to vertical position
Flexible change of location by means of carriage construction
All wind machines of the TTW-S series in direct comparison:
To find the wind machine of the TTW-S series which exactly meets your requirements, please consult the concise overview of all devices which we're providing to you here so that you can compare them directly to each other.
Models which you do not wish to include in your comparison can be easily dismissed with only one click.
Shop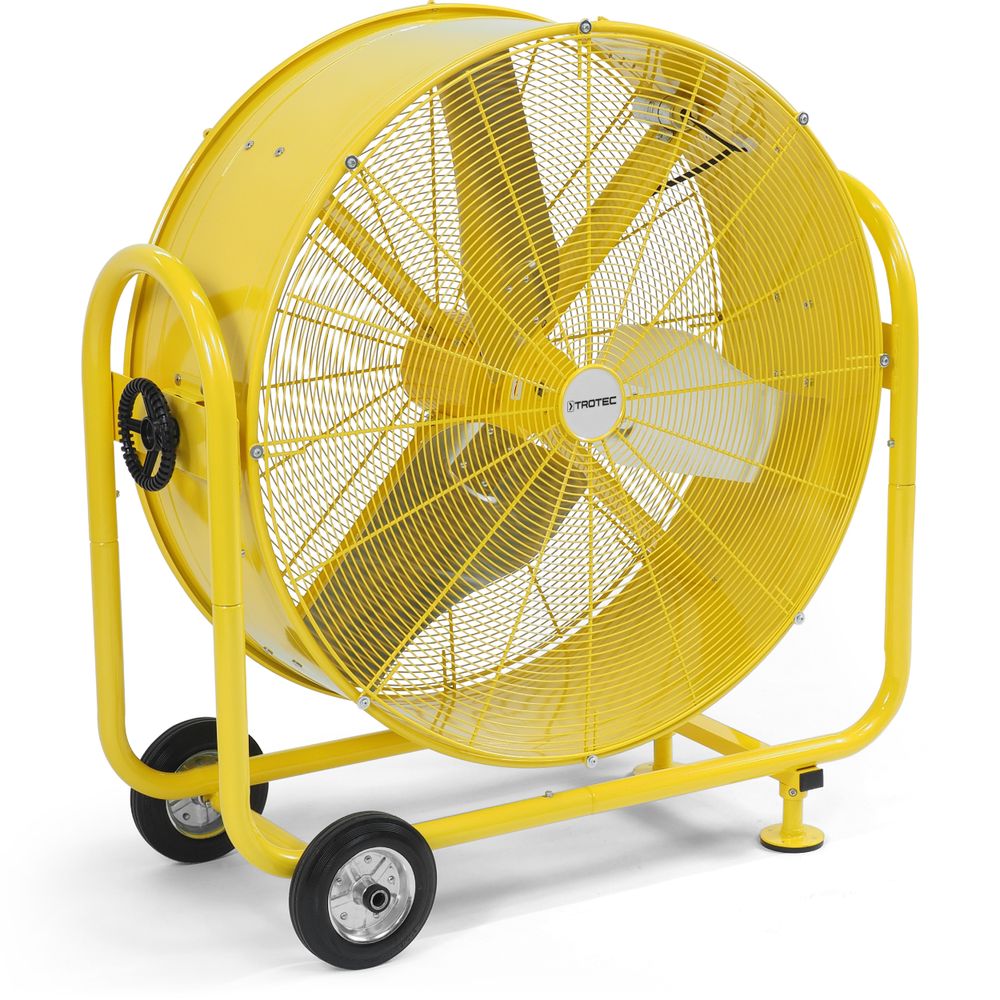 Technical data
Technical data
General information
Article number
1.510.004.020
Air flow rate
Air volume Level Max. - Freely blowing [m³/h]
27,600
Air current
Blowing out
Sucking in
Discharge distance
outside [m]
Inside [m]
8
Air pressure
Level Max. [Pa]
160
Fan
axial
Radial
stages
2
Transport medium temperature
max. [°C]
40
Electrical values
Mains connection
230 V, 50 Hz
Power input [kW]
0.65
Recommended preliminary fuse [A]
16
Nominal current consumption [A]
2.8
Electric connection
Connection plug
CEE 7/7
Sound values
Level 1 [dB(A)]
65
Level 2 [dB(A)]
75
Dimensions
Length (packaging excluded) [mm]
525
Width (packaging excluded) [mm]
1,060
Height (packaging excluded) [mm]
1,140
Weight
(packaging excluded) [kg]
44
Equipment, features and functions
Mobility
Rubber-tyred metal wheels
Forklift
Wheeled
Crane
Plastic wheels
Non-marking full-rubber wheels
Carry/transport handle(s)
standard equipment
optionally available
not available
Alternative products
Loading...