Oil heater fan IDX 31 D
The economic solution for continuous heating applications on construction sites, in well-ventilated rooms and storage facilities.
Black and strong
Storage facilities and production halls, agricultural businesses and construction sites pose special demands to a heating system. Due to the continuous supply of cold air, for example through open doors as well as missing windows in a building envelope, it is not possible to provide for a well-tempered working climate with a conventional heating.
Heating economically with the directly fired oil heater fan IDX 31 D
Designed for the robust industry application, in the building trade and the agricultural sector, the thermostat-controlled direct oil heater fan IDX 31 D is an especially economic solution – even in continuous operation. With a maximum consumption of only 3 litres of oil per hour, the 30 kW power pack generates a volume of up to 750 m³/h of hot air. No other heating solution supplies direct warmth more efficiently and budget-friendly into open or constantly ventilated rooms.
Mobile and robust
Owing to its practical carriage construction with an integrated 38 litre fuel tank, the strikingly black direct oil heater is prepared for a quick change of location at any time. To allow for easy temperature control, the oil heater fan IDX 31 D comes equipped with a steplessly variable thermostat with a digital actual value indication. A second digital display supplies information about the respective current room temperature. The easy-to-read filling level indication reliably informs you about the remaining fuel quantity. Thanks to the electronic flame trap and the integrated overheating protection, maximum operational reliability is ensured at all times.
VIDEOS: Trotec oil heater blowers live in action
In our Youtube playlist we have compiled exciting projects that users have realised with Trotec oil heater blowers. The application possibilities are manifold and the tinkerers have implemented their personal vision of a warm working environment with a lot of ingenuity and commitment. Very inspiring!
Working in the warmth – and preventing work stoppage
Whether you're working in the workshop, in the stable, in well-ventilated storage facilities or in roofed outdoor areas – in all the places where no heating is available or where an effective additional heating is required, the oil heater fan IDX 31 D convinces. For example, to prevent you from having to interrupt or even stop work on the construction site in cold temperatures, we recommend heating the shell construction rooms. Building materials such as screed or plaster require a specific minimum temperature to remain well processible. Use the directly fired oil heater fan IDX 30 D to provide for adequate temperatures in well-ventilated rooms to complete your work on schedule.
Thermostat-controlled temperature setting
The uncomplicated temperature selection (in the range from 5 - 45 °C) is carried out via a steplessly adjustable thermostat with an additional setpoint and actual value dual display. When the desired temperature is reached, the IDX 31 D is switched off fully automatically and is also switched on again automatically when this temperature is undercut.
Quick start-up,low-maintenance operation, easy handling
Concentrate on your work and leave everything else to the direct oil heater fan IDX 31 D. Unattended heating operation can be implemented without any problems. The compact heating device is delivered in a partly pre-assembled state – in the final assembly process you just have to mount the wheels, the frame and the handle.
With the direct oil heater fan IDX 31 D you rely on an effective and economic heating concept – to ensure that chilliness no longer stands a chance.
Special equipment features of the IDX 31 D
Direct, strong warmth, everywhere it is needed!
A few practical benefits:
All IDX-D oil heater fans in direct comparison:
To find the oil heater fan which exactly meets your requirements, please consult the concise overview of all oil heater fans of the IDX-D series from Trotec, which we're providing to you here so that you can compare them directly to each other.
Models which you do not wish to include in your comparison can be easily dismissed with only one click.
Practical knowledge guidebook – heating know-how for professional users
Benefit from first-hand manufacturer know-how: On our guidebook pages we're providing you with some detailed information regarding the different types of heaters including a functional description, focuses of application and lots more.
Continue to the practical knowledge guidebook for professional heating
Heat requirement calculation
In a few steps to the matching heating capacity. Calculate the heat demand required for heating our rooms – with our practical online calculator.
Buy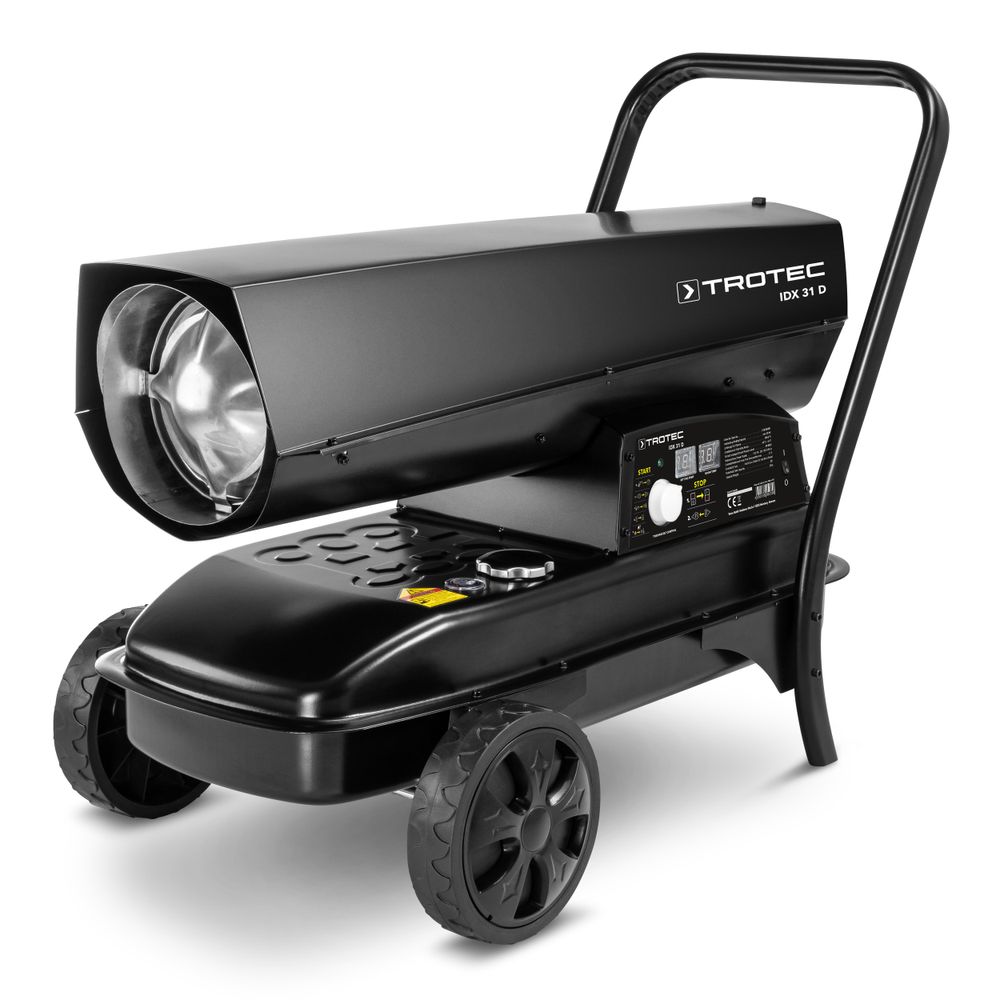 Technical data
Technical data
General information
Article number
1.430.000.067
Functional principle
Oil
Air flow rate
Level Max. [m³/h]
750
Fan
axial
Radial
Nominal heat output
Level Max. [kW]
30
Level Max. [kcal]
25,800
Temperature increase
Level Max. [°C]
70
Electrical values
Mains connection
220 - 240 V, 50 Hz
Current consumption [A]
1.27
Power input [kW]
0.29
Heating capacity [kW]
30
Electric connection
Connection plug
CEE 7/7
Cable length [m]
1.4
Operation
Main switch
Steplessly adjustable thermostat
Temperature indication
Fuel feed
Fuel feed
Fuel pump
Oil consumption
Level Max. [l/h]
3
Tank contents
Content [l]
38
Sound values
Distance 1 m [dB(A)]
84
Suitable fuels
EL fuel oil
Diesel
Low-sulphur EL fuel oil
Dimensions
Length (packaging excluded) [mm]
935
Width (packaging excluded) [mm]
514
Height (packaging excluded) [mm]
702
Weight
(packaging excluded) [kg]
23
Equipment, features and functions
Mobility
Wheels
Feet
Housing design
Steel
standard equipment
optionally available
not available
Alternative products
Loading...