Plasma field ionizer AirgoPro® 8
The professional solution for the efficient neutralization of unpleasant odours
Odour neutralization directly at the source
Odours can be an inconvenience not to be underestimated. However, there are causes of odour nuisance that cannot be removed by "standard cleaning" just like that, since in these processes only the surfaces are reached, but not the odour-generating microparticles, which have settled everywhere into material, surfaces, etc.
With the AirgoPro® 8, every party only leaves good memories behind instead of foul odours
Where people are partying, the room air and furniture are penetrated hour by hour with a large variety of different odours. Whether there is alcohol, tobacco smoke, food smells or body odours, overnight everything combines to an especially overpowering olfactory cocktail. Effective relief is provided by the AirgoPro® 8 : installed and switched off immediately while the event is on, or at the end of the event, and the next morning you won't smell any remains from your late-night party. Everything smells pleasantly fresh, as if nothing had happened.
Efficient overnight refreshing – perfect for the catering or hotel business
From the hotel bar to the breakfast room, including the lobby — no-one wants to be greeted by the unwelcome odours of the past night in the morning. With the AirgoPro® 8 you'll give your guests a fresh start to the day, since this odour neutralizer reliably removes all odours of the night before, ensuring that everything smells fresh again in the morning.
Flexible odour neutralization for many professional applications
Professional service providers and craftspersons also face unpleasant odours from various sources in their everyday work: Whether these are odours from lacquer, glue or paint caused by reconstruction or renovation measures, odours of decay from small animals or birds that have lost their way in cavities, animal or tobacco smells where the preparation of used vehicles is concerned, mouldy and musty smells caused by standing water, dried-in food remains, run down rooms and at collection points for kitchen scraps or waste.
Switch on the AirgoPro® 8, eliminate the source of the odour
The AirgoPro® 8 is exactly the right solution for a wide variety of such odour issues, as this professional odour neutralizer can be used flexibly and convinces by effective odour elimination on a performance level required by professional applications in practice – the AirgoPro® 8 has been specially designed for this purpose.
With its timer switch, operating hours counter and application-specific preselection option for three ventilation stages and five intensity levels, the AirgoPro® 8 is provided with all equipment features that you can expect from a professional odour neutralizer. Yet the device is agreeably lightweight, extremely compact and designed very robustly from the controller to the housing – perfect conditions for frequent changes of users and sites.


Effective functional principle for odour neutralization
Odour neutralizers of the AirgoPro®series are plasma field ionizers the operating principle of which, its basis being provided by dielectric barrier discharges, can be compared with the one of ozone generators, though they work with a lower energy input.
The air passed through is subjected to electric glow discharge (ionization) in the device, fission products only being generated as reactive oxygen species within the stationary plasma: singlet oxygen and its modifications as well as atomic oxygen as a free radical, which, among other things, is also a pre-stage product for the generation of oxygen here.
These free oxygen radicals are characterized by a high oxidation potential, the odour particles, pollutants, bacteria and microorganisms, like for example mould spores, which are present in the drawn-in air in this process are subjected to an oxidative degradation, which is yet supported by the presence of hydroxyl radicals. During operation in ventilated rooms and with a distance of approx. 2 m to the ion source, plasma field ionizers also admit the presence of persons.
The use of the AirgoPro® 8 is very easy and offers a multitude of benefits, especially compared to conventional cleaning methods:
Automated treatment process, no personnel needs to be hired
Very time-saving procedure
Also suitable for sudden and unscheduled operations
Even works in places that are difficult to access and cannot be reached by means of mechanical procedures
Virtually usable at any desired application site – all it takes is a power socket
Odour elimination without leaving residues and without the use of chemicals
Examples of possible uses for the AirgoPro® 8:
Overnight refreshing of hotel bars, dining rooms or breakfast rooms
Odour neutralization in party venues after events, company festivities, etc.
Elimination of musty or mouldy smells and odours of decay
Odour neutralization after house clearances
Elimination of lacquer, glue or paint odours after renovation work
Easy handling, robust design – special features of the AirgoPro® 8
All odour neutralisers in direct comparison:
To find the odour neutraliser which exactly meets your requirements, please consult the concise overview of all devices which we're providing to you here so that you can compare them directly to each other.
Models which you do not wish to include in your comparison can be easily dismissed with only one click.
A few practical benefits:
Development, design, production: 100 % Trotec
Flexibly applicable professional solution for effective odour neutralization
Robust design, easy to transport
Buy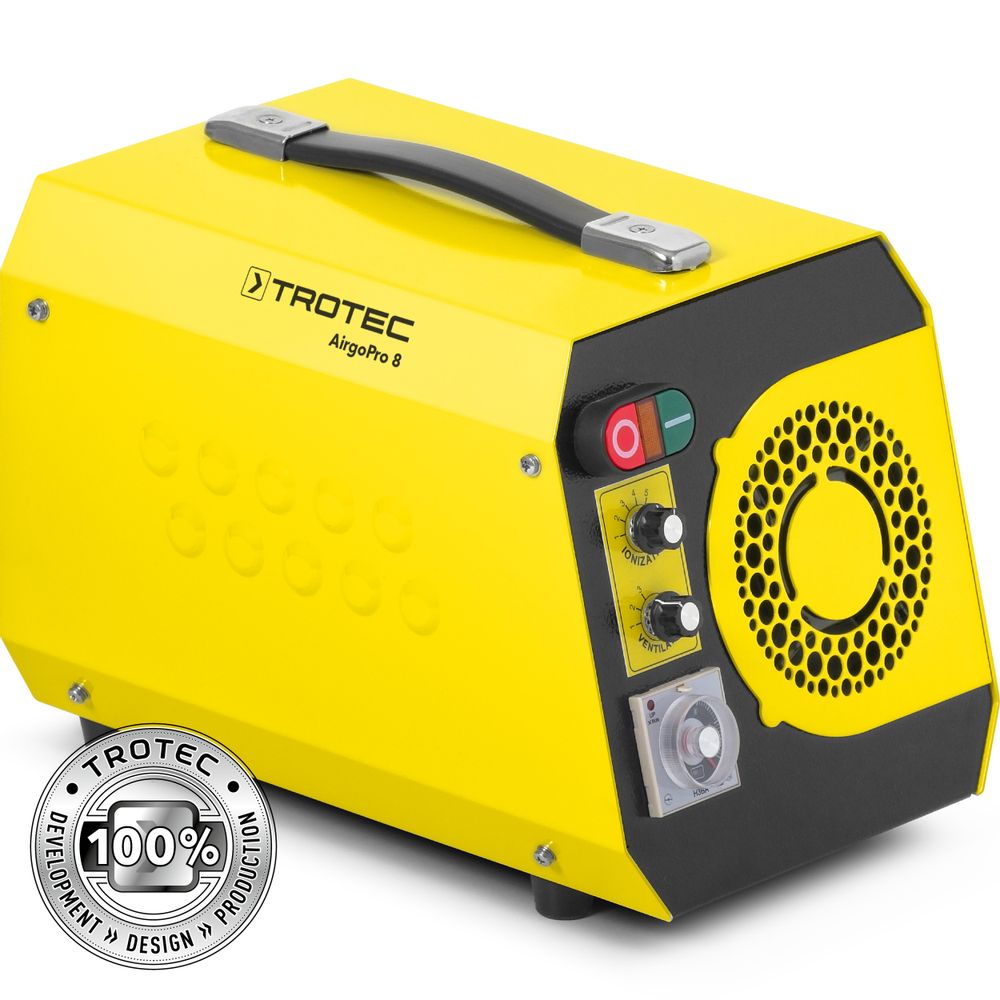 Daily rent:
11.90 € incl. VAT per day
Daily rent:
10.00 € plus VAT per day
Technical data
Technical data
General information
Article number
1.180.000.020
Air flow rate
Max. air volume flow [m³/h]
120
Ozone output
Ozonabgabe
Max. ozone output [mg/h]
Electrical values
Mains connection
230 V, 50 Hz
Max. power input [W]
20
Nominal current consumption [A]
0.1
Recommended fusing [A]
10
Electric connection
Connection plug
CEE 7/7
Cable length [m]
1.7
Dimensions
Length (packaging excluded) [mm]
350
Width (packaging excluded) [mm]
230
Height (packaging excluded) [mm]
250
Weight
(packaging excluded) [kg]
4
Equipment, features and functions
Regeneration mode
Oxygen regeneration mode
Functions and features
Timer
Operating hours counter
integrated
standard equipment
optionally available
not available
Alternative products
Loading...