Industrial condenser dryer DH 65 S
The compact industrial dehumidifier DH 65 S dries up to 80 liters per day
Reliable dryer with high dehumidification capacity
This condenser dryer is an equally powerful and economic dehumidification solution for various dry keeping applications during industrial processes or product storage.
In addition to the hot gas automatic defrost system, the DH 65 S comes with an aluminium tube evaporator without fins which permits an effective dehumidification performance even at a low humidity level. Moreover, the modular refinement of the electrical system and the water-bearing components of this industrial dryer was realized according to European standard.
Hence, with the DH 65 S you have a particularly economic dehumidifier for reliable permanent drying applications. Owing to its sturdy swivel casters with RollStop catch, this drying unit can easily be transported from one application site to another.
For the dry keeping operation the humidity control can optionally be effected moisture-dependent via target value specification at the internal hygrostat or in moisture-independent continuous operation. And with the practical timer function of the DH 65 S you can also programme the period of dehumidifier application via time control if required.
Investment protection for your drying devices
Particularly during construction drying operations in summer or when drying water damages, it is very likely that climate conditions arise which may significantly shorten the lifetime of condenser dryers – regardless of the make. We as manufacturer care about the fact that for process-related reasons your condenser dryers often have to be replaced much too soon, hence we have prepared a valuable practical recommendation relating to the investment protection of your drying devices. Click here to find out more ...
Tetrafluoropropene (R-1234yf) as climate-friendly refrigerant in dehumidifiers
Every year, several million tonnes of environmentally harmful CO2 emissions (greenhouse gases) are released into the air by conventional refrigerants. Therefore, the use of alternative refrigerants is one of our most important goals. By using tetrafluoropropene (R-1234yf) as a refrigerant, this dehumidifier makes a valuable contribution to climate protection.
The refrigerant tetrafluoropropene (R-1234yf) is a chemical compound from the hydrofluoroolefin group of substances. Unlike other refrigerants, climate-friendly tetrafluoropropene (R-1234yf) has neither ozone depletion potential (ODP=0) nor a significant greenhouse effect (GWP=4).
A permanent air dehumidification with the DH 65 S offers the following advantages:
Prevention of damages caused by mould as well as corrosion
Prevention of condensation formation
Protection against damages on building structure, production facilities and inventory caused by moisture
Increased reliability of electrical equipment
Dehumidification for process optimization in the industry
Protection and preservation of valuable goods
Reduction of unpleasant odours
Reduced heating costs due to optimized humidity
Noiseless and effective dry keeping
DH 65 S - Special equipment features
Application examples from practical experience:
All Industrial dryers of the DH-S series in direct comparison:
To find the industrial dryer which exactly meets your requirements, please consult the concise overview of all Industrial dryers of the DH-S series from Trotec, which we're providing to you here so that you can compare them directly to each other.
Models which you do not wish to include in your comparison can be easily dismissed with only one click.
A few practical benefits:
Reliable dryer with high dehumidification capacity
Particularly economical solution for typical dry keeping in production facilities and storerooms
Aluminium tube evaporator for an effective dehumidification performance even at a low humidity level
Timer function
Optimum value-for-money ratio
Make use of our best practice industrial services
You can count on our experts
In order to precisely calculate the demand in the industry and to develop tailor-made concepts for climate conditioning experienced climate specialists are needed. Rely on our team of experts as well as the industrial services: We analyse the individual requirement situation with you present on site, determine the specific demand for devices and develop a tailor-made project solution right up to the exact positioning of the devices.
Before the planned stationary units are installed, our service team first works with mobile versions of the drying units as part of a trial run. These can be put up without any difficulty or the need for structural changes.
During this validation phase we document all relevant climate parameters such as air temperature, relative humidity, dew point or flow rate for a final optimization of the requirement calculation.
Trotec is the only provider of this advantage:
Thanks to the unique option of non-binding trial operation you will invest solely in solutions which have verifiably proven their worth in everyday operation meeting your individual on-site requirements. The stationary units will not be ordered until you are fully satisfied with our concept. The only costs incurred consist of an inexpensive hiring flat rate for the time of test operation.
Just give us a call at +49 2452 962-777 – our industry consultants will be pleased to help you personally and provide information regarding our best practice industrial services. Or send a request indicating your personal requirements directly to our industry experts. We will answer promptly!

Since every industrial undertaking has characteristic process flows, installations and facilities, every air treatment solution demands case-specific device configurations. All in all, the combined effects of air currents, humidity conditions and temperature fluctuations are often hard to calculate on a purely theoretical basis, e.g. in airlock areas or on conveying paths. The consequence: Unnecessary additional costs due to an overestimated demand or – even worse – solutions not working sufficiently in real life.
standard equipment
optionally available
not available
Shop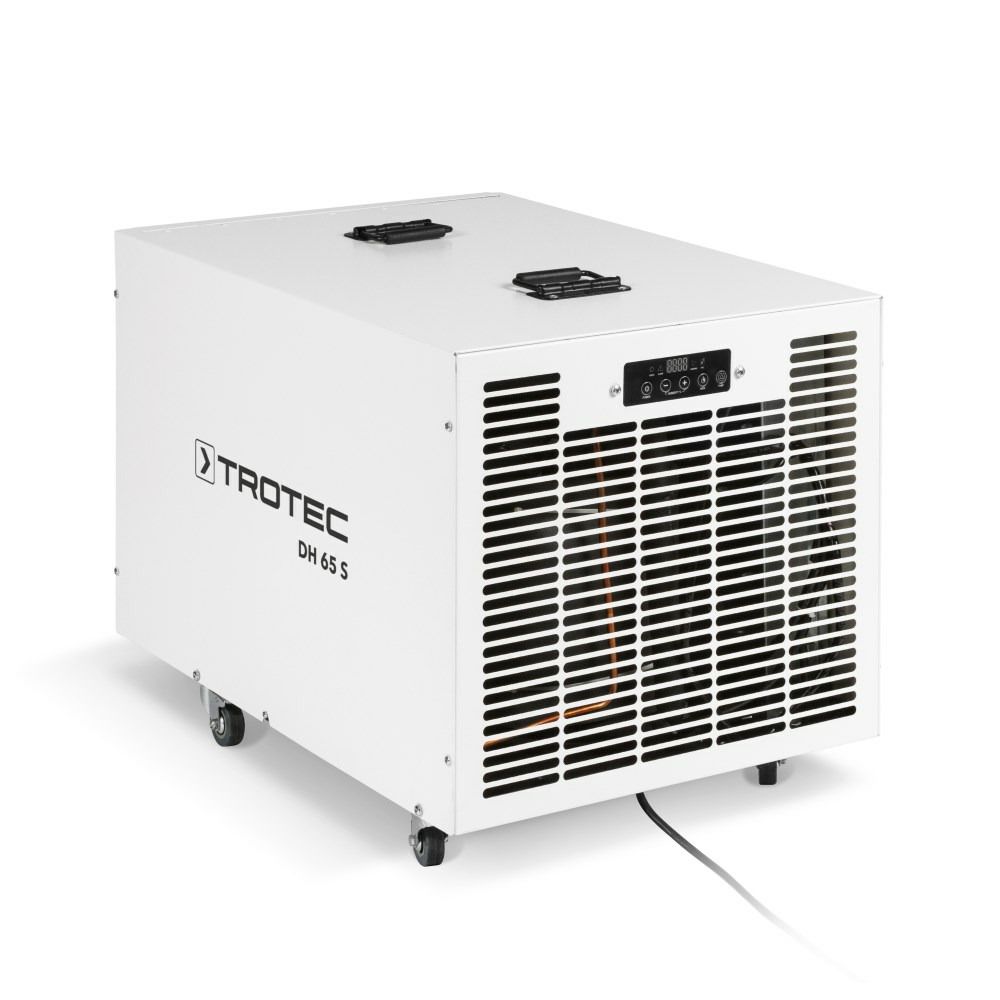 Technical data
Technical data
General information
Article number
1.125.000.207
Dehumidification performance
At 20 °C / 60 % RH [l/24h]
30
At 30 °C / 80 % RH [l/24h]
80
Air flow rate
Level Max. [m³/h]
1,100
Operating range
Min. temperature [°C]
1
Max. temperature [°C]
35
Min. humidity [% RH]
35
Max. humidity [% RH]
98
Electrical values
Mains connection
220 - 240 V, 50 Hz
Nominal current consumption [A]
7.6
Power input [kW]
1.48
Required current starting phase [A]
Recommended fusing [A]
16
Electric connection
Connection plug
CEE 7/7
Cable length [m]
5
Compressor
refrigerant
R1234yf
Amount of refrigerant [g]
750
GWP factor
4
CO2 equivalent
0.003
Pressure outlet side [MPa]
2.5
Pressure suction side [MPa]
0.6
Sound values
Distance 3 m [dB(A)]
56
Dimensions
Length (packaging excluded) [mm]
580
Width (packaging excluded) [mm]
730
Height (packaging excluded) [mm]
580
Equipment, features and functions
Mobility
Forklift
Carry/transport handle(s)
Wheels
Automatic dehumidification
Non-stop dehumidification
Electronic hygrostat
Hygrostat-controlled
Analogue hygrostat
Automatic defrost system
Hot gas
Hygrostat
Internal
Condensate drain
Hose connection possible
Hose included in the scope of delivery
Condensate pump
Recommended hose size [mm]
Condensate pump
Pump height [m]
Max. conveying capacity [l/h]
Integrated condensate pump
Residual water draining function
standard equipment
optionally available
not available
Alternative products
Loading...