Oil heater fan IDS 30 D
Robust direct oil heater fan for quick, uncomplicated heating applications
IDS 30 D – mobile heating power for the construction industry and the agricultural sector
As a direct heater, the oil heater fan IDS 30 D offers mobile heating power with a 100 % efficiency directly on the spot. It is suited both for heating well-ventilated stables or construction sites in winter and for defrosting machines, vehicles or pipes. Thanks to the integrated oil burner with high-quality Danfoss® pump, the desired temperature is soon reached.
The IDS 30 D combines reliable operation including very low maintenance costs with an attractive value-for-money ratio and a high safety level. Therefore, the robust design comes equipped with an electronic flame trap, safety thermostat for overheating protection and fully automatic after-cooling. The double-walled housing with its protective coating offers effective sound insulation and at the same time minimises the surface temperature of the outer casing and thus the risk of injury for the user.
The oil heater fan IDS 30 D stands for quality "Made in Europe", circulates 605 m³ of air per hour and achieves a rated heat output of 38.4 kW. Its carriage with the large wheels allows for easy transport and quick change of application.
IDS direct oil heater fans – 100 % heating power for outdoor areas
The direct oil heater fans of the IDS series are optimally suited for outdoor use, e.g. for heating outdoor construction sites and agricultural areas, or for the use inside well-ventilated interior spaces, for they emit 100 % of the heat they produce. That's why direct oil heater fans have no chimney. Or in other words, this process yields a heating power efficiency of 100 %.
In a directly heated system the fan blowing out the heated air also brings along combustion air.
A pump draws the fuel from the tank, brings it to operating pressure and, in a final step, guides it into the combustion chamber via an atomiser nozzle. There, the air-fuel mixture is burnt and the hot air generated is then mixed with the main air flow of the blower with exact dosage.
In addition to heat, direct heaters thus also emit combustion gases directly into the room. For this reason, they are unsuitable for poorly ventilated, closed rooms used by people or animals.
Since plenty of moisture is released during combustion, direct oil heater fans should never be used for construction drying.
The IDS 30 D offers a wide range of applications
The combination of easy handling, a carriage design with mobile use and a maximum rated heat output of 38.4 kW makes the direct oil heater fan IDS 30 D a versatile heating solution for a large variety of applications, for instance:
Heating of well-ventilated stables
Air heating on winter construction sites
Defrosting of and keeping machines, vehicles or pipes free of ice
Drying of agricultural goods like hay or grains
Heating of construction materials
Heating of well-ventilated interior spaces and roofed-over outdoor areas
VIDEOS: Trotec oil heater blowers live in action
In our Youtube playlist we have compiled exciting projects that users have realised with Trotec oil heater blowers. The application possibilities are manifold and the tinkerers have implemented their personal vision of a warm working environment with a lot of ingenuity and commitment. Very inspiring!
Special equipment features of the oil heater fan IDS 30 D
Heat requirement calculation
In a few steps to the matching heating capacity. Calculate the heat demand required for heating our rooms – with our practical online calculator.
Practical knowledge guidebook – heating know-how for professional users
Benefit from first-hand manufacturer know-how: On our guidebook pages we're providing you with some detailed information regarding the different types of heaters including a functional description, focuses of application and lots more.
Continue to the practical knowledge guidebook for professional heating
All oil heater fans of the IDS series by direct comparison:
To find the IDS oil heater fan which exactly meets your requirements, please consult the concise overview of all devices from the Trotec IDS series, which we're providing to you here so that you can compare them directly to each other.
Models which you do not wish to include in your comparison can be easily dismissed with only one click.
Buy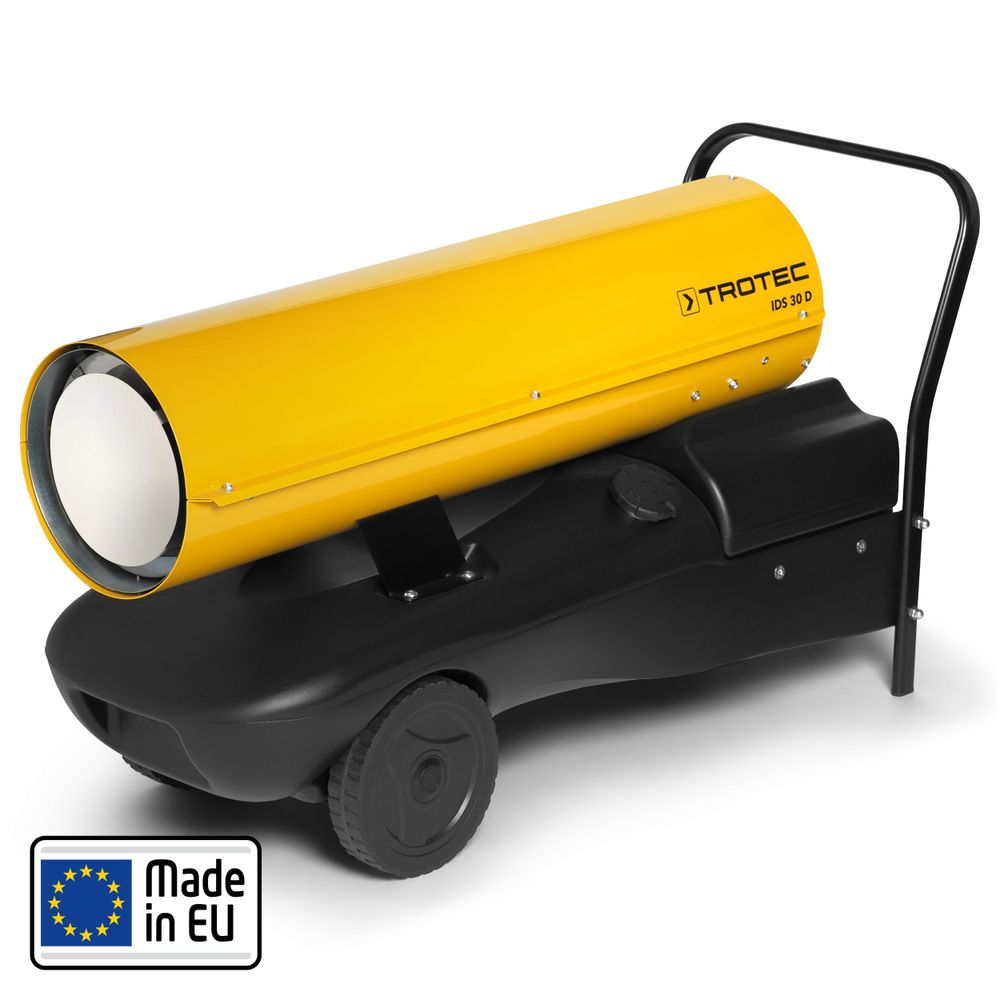 Technical data
Technical data
General information
Article number
1.430.000.025
Functional principle
Method of heating direct
Oil
Method of heating indirect
Air flow rate
Level Max. [m³/h]
605
Fan
axial
Radial
Nominal heat input
Level Max. [kW]
38.4
Nominal heat output
Level Max. [kW]
38.4
Level Max. [kcal]
33,020
Temperature increase
Level Max. [°C]
75
Electrical values
Mains connection
230 V, 50 Hz
Current consumption [A]
1.25
Power input [kW]
0.272
Heating capacity [kW]
38.4
Electric connection
Connection plug
CEE 7/7 (plug type F + E)
Cable length [m]
1.2
Operation
Overheating protection
Connection for external thermostat
Internal thermostat
Fuel feed
Fuel feed
Danfoss pump
Fuel filter
Available
Oil consumption
Level Max. [l/h]
3.66
Tank contents
Content in [l]
42
Hose connection
Diameter | Hose connection [mm]
Chimney connection
Diameter [mm]
Sound values
Distance 1 m [dB(A)]
69
Suitable fuels
Kerosene
Diesel
EL fuel oil
Low-sulphur EL fuel oil
Dimensions
Length (packaging excluded) [mm]
1,050
Width (packaging excluded) [mm]
400
Height (packaging excluded) [mm]
520
Weight
(packaging excluded) [kg]
20
Equipment, features and functions
Mobility
Carry/transport handle(s)
Plastic wheels
Rubber-tyred metal wheels
Forklift
Crane
Non-marking full-rubber wheels
Housing design
Steel
Stainless steel
standard equipment
optionally available
not available
Alternative products
Loading...