TAC XT – application area thermal disinfestation
The TAC XT as a mobile solution for thermal pest control and vermin elimination
Powerful thermal disinfector for professional pest control
Our world is characterised by increasing mobility which enables "stowaways" – undesirable parasites – to spread with the same speed. A constant coming and going in hotels, restaurants, hospitals, barracks, prisons or warehouses does not only enclose guests, inhabitants and goods, but unfortunately harmful insects, too.
Bedbugs, mites, meal beetles, cockroaches, clothes and food moths or other arthropods harmful for stock and furniture – as quickly as they're there, as harder it is to get rid of them.
The TAC XT serves as your pest exterminator 2.0
Instead of eliminating undesirable parasites with traditional pest control and toxic and environmentally hazardous substances, let the TAC XT get the job done for you. More effective than conventional procedures while 100 % environmentally friendly, without any chemicals or insecticides!
Thanks to the high heating capacity of the mobile TAC XT, time-consuming separation measures of the infested areas or complicated reconstruction and dismantling work will be unnecessary. Moreover, complex approval procedures or restrictions are no longer required when using the TAC XT. Set up, select programme automation and disinsectise efficiently – too easy with the TAC XT!
Effective technology for harming the harmful
Heat treatment is a highly efficient procedure for pest control since insects only have very limited options to regulate their body temperature as they cannot sweat. At temperatures from 45 °C onwards, the proteins in their bodies will start to coagulate and enzymes will be destroyed.
With a conventional heating device alone, these vermin can no longer be handled. The parasites would recognise a sudden increase in heat as danger and immediately escape.
Integrated automatic control system for thermal disinfestation
The multi air handler TAC XT can be controlled via touchscreen and is equipped with different automatic programmes, which can be adapted to your needs (e.g. to the respective room size). A smart automatic control system then initiates the thermal disinfestation process during which the room air temperature will slowly be increased step by step.
Afterwards, the disinfestation cycle will be launched: Both room air temperature and contact surfaces of the inventory will be heated to a temperature that can be preset up to ≤ 75 °C. Any kind of vermin within the treatment radius will then be killed. In a last step, the programme automatically starts the cooling phase.
If required, the treatment duration can be set from one hour to 80 hours. Besides, room and surface target temperatures can be individually configured.
Wide range of applications in the area of thermal pest control
18 kW heating capacity (27 kW optional), a ventilation performance of up to 2,500 m³ that can be adjusted in seven stages and an outlet temperature that can be set to 95 °C max. make the TAC XT a brilliant technological solution for many specific tasks.

The standard version with DualDecon blowing-out tower allows you to benefit from a multi air handler for thermal pest control that is suitable for the most diverse locations and applications:
Hotels and holiday resorts
Youth hostels and residential accommodations
Army barracks and correctional facilities
Commercial kitchens and bakeries
Museum depots and archives
Warehouses and silos
Ships
Suitable for organic farms
Designed to function as a flexible combined solution, the TAC XT can also be used for thermal decontamination, for HEPA room air purification or for mobile room heating, providing all-round warmth. This broad range of applications is the perfect base for short payback times.
Application area thermal disinfestation – practical benefits:
360° pest control with efficient programme automation: Incrementally increasing heating-up phase, effective disinfestation cycle with air temperatures of up to ≤ 70 °C and automatic cooling phase
100 % environmentally friendly, no chemicals, no insecticides
Suitable for organic farms
Highly effective against all types of pest species in their development stages (egg, larva, pupa, imago)
100 % odourless and free from allergenic substances
No complex approval procedures or restrictions
No reconstruction and dismantling works required
Room/surface target temperature, adjustable up to 75 °C
Rooms can be used immediately after disinfestation
Buy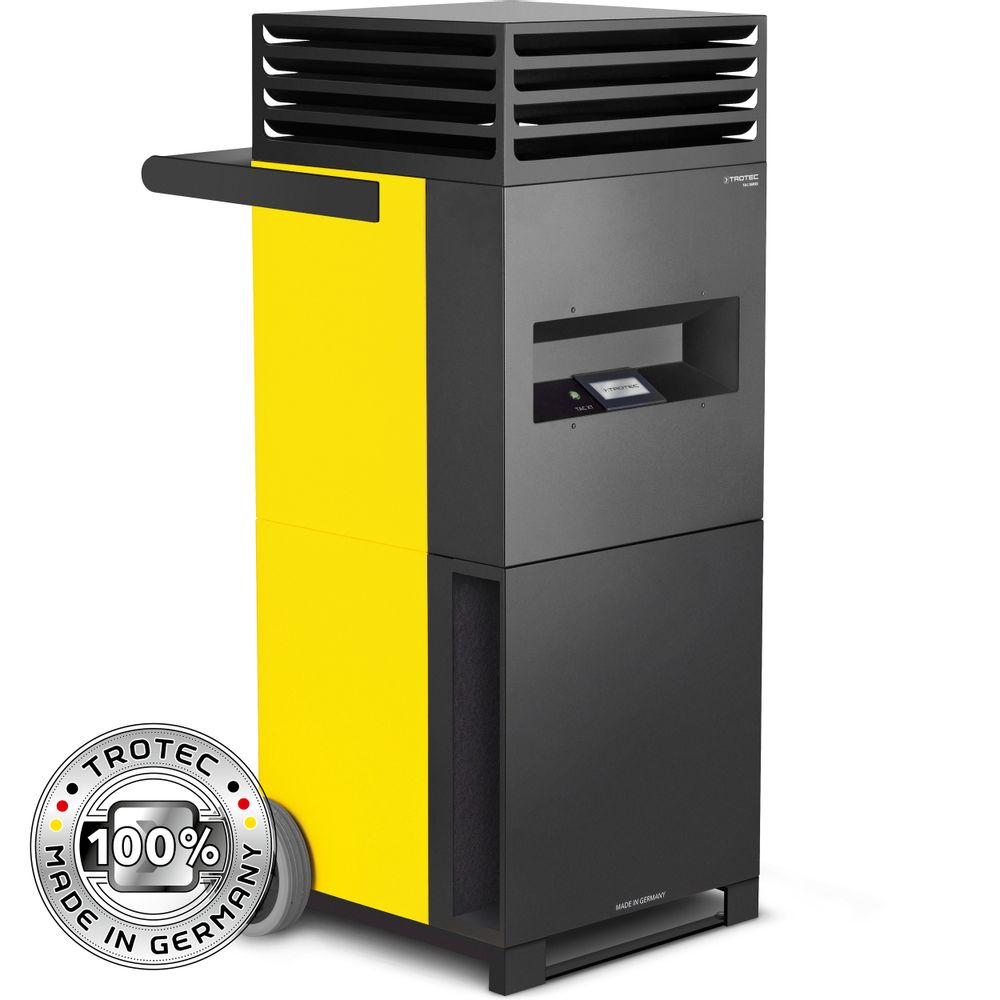 Technical data TAC XT 18
Technical data
General information
Article number
1.410.000.183
Dust class
as per DIN EN 1822 (ISO 45H filter ISO 29463)
H14
as per DIN EN 779:2002
F7
Air flow rate
Max. air volume flow [m³/h]
2,100
Recommended amount of air for HighFlow filter with filter class H14 ≤ [m³/h]
1,200
Recommended amount of air for HighFlow filter with filter class H13 ≤ [m³/h]
2,100
Heating capacity
Level Max. [kW]
18
Temperature data
Max. air outlet temperature [°C]
95
Room / surface target temperature [°C]
75
Electrical values
Mains connection
2 x 380 - 480 V/50 - 60 Hz
Power input [kW]
18
Nominal current consumption [A]
15.9
Recommended fusing [A]
32
Electric connection
Connection plug
2 x CEE 16 A
Sound values
Sound level in compliance with ISO 11203
35 – 59 dB
Fan
Radial
axial
stages
2
Dimensions
Length (with wheels and handle) [mm]
690
Width (with wheels and handle) [mm]
630
Height (with wheels and handle) [mm]
1,300
Length Depending on the configuration (FlowExtender) [mm]
690
Width Depending on the configuration (FlowExtender) [mm]
630
Height Depending on the configuration (FlowExtender) [mm]
2,300
Weight
(without packaging) - without HEPA filter [kg]
93.1
Equipment, features and functions
Equipment
Thermal filter decontamination
Thermal filter regeneration
FlowMatic control
Operating hours counter
Temperature adjustment/target value setting
Temperature measurement of other rooms when connected to a ventilation system
Automatic switch-off upon reaching the set value
Self-regeneration function HEPA filter
Filter change indication
Timer function
Frost monitor function
Fan rundown function
Setting the room dimensions
Touchscreen
Screensaver
Steplessly adjustable thermostat
Overheating protection
Protective bar
Filter change indication
Pre-filter
Main filter
Mobility
Carriage design
Carry/transport handle(s)
Wheels
Feet
Cable winder
standard equipment
optionally available
not available
Alternative products
Loading...