gas heater fan TGH 11 E
The LBD (little black device) – small but mighty
Heating effectively and economically

The gas-fired direct heater TGH 11 E is a real hottie that can only be recommended to all users looking for affordable instant heating in well-ventilated interior spaces. Gas is a low-priced energy source – and combined with the inexpensive gas heater fan TGH 11 E it makes for one of the most economic and simultaneously effective instant heating solutions.
Utilize the gas heater fan TGH 11 E with its capacity of 10 kW for mobile spot heating of well-ventilated construction sites, workshops, storage spaces, garages, stables, greenhouses or else roofed outdoor areas, tents and marquees. Rough operating conditions hardly matter to this heating device, as it comes with a hard-wearing, robust metal construction including space heater in powder-coated corrugated sheet metal design.
Warmth where it is needed
Since connection hose and pressure reducer for connecting the gas cylinder are already included in the scope of delivery of this gas heating device, nothing more than a socket and a propane cylinder is required for the heating operation. The long connection cable increases your flexibility in selecting the installation site.
Once in operation, agreeable warmth begins to spread immediately, seeing as the integrated turbo blower of the TGH 11 E ensures an effective air flow made up of sucked in ambient air and blown out warm air. Even larger rooms can quickly be heated in this manner.
Quick and safe heating with gas
The robust branded gas heater fan TGH 11 E not only impresses with its outstanding value-for-money ratio, it goes without saying that safety is also a major priority with this propane heater:
An integrated temperature sensor serves as flame failure protection and prevents the emission of unburnt gas. Moreover, the standard equipment includes a safety thermostat for overheating protection which automatically interrupts the gas supply in case of overheating while the fan continues to run to ensure the necessary cooling. The specially shaped discharge grille of the TGH 11 E prevents direct contact with the flame whilst ensuring an optimally swirled, high-volume current of warm air.
Last but not least, the thermally insulated transport handle permits the safe and simple transportation to the next operating site where – thanks to additionally fitted slip-proof rubber feet – the gas heater fan TGH 11 E can be set up safely. Owing to its extremely compact design, the heating device can easily be transported even in the smallest of car boots.
Important information about direct gas heaters
Gas heaters are recommended for use in well-ventilated indoor and covered outdoor areas, where all the heat developed is actually available (100 % output).
Important:
In addition to heat, gas fan heaters also emit combustion exhaust gases directly into the room. They are therefore unsuitable for closed rooms without good ventilation if people or animals are present in them.
In addition, approx. 1.6 kg of water vapour is produced per litre of fuel during combustion. Direct gas heaters are therefore not suitable for drying buildings. If gas heaters were used to dry out buildings, the worst that could happen would be that the building would be damper than before!
Gas heaters must also not be used in rooms at risk of fire, e.g. due to the storage of flammable materials.
Good to know: Gas heater fans …
are suited for the use in well-ventilated interior spaces and roofed outdoor areas
generate a heating capacity of 100%
emit combustion waste gases directly into the room along with the heated air
are not suitable for the use in closed rooms
cannot be used for construction drying, since the combustion generates approx. 1.6 kg of water vapour per litre of fuel
must not be used in rooms with a fire hazard due to the storage of flammable substances
SPECIAL EQUIPMENT FEATURES of the TGH 11 E
Mobile propane heater fan with a heating capacity of 10 kW
Thermostatic and sensor-controlled safety devices for maximum protection
Individual buttons for gas flow and piezo ignition to prevent unintentional activation
Hard-wearing, robust metal construction
Thermally insulated carrying handle
All gas heater fans in direct comparison:
To find the gas heater fan which exactly meets your requirements, please consult the concise overview of all gas heaters of the TGH-E series from Trotec, which we're providing to you here so that you can compare them directly to each other.
Models which you do not wish to include in your comparison can be easily dismissed with only one click.
Practical knowledge guidebook – heating know-how for professional users
Benefit from first-hand manufacturer know-how: On our guidebook pages we're providing you with some detailed information regarding the different types of heaters including a functional description, focuses of application and lots more.
Continue to the practical knowledge guidebook for professional heating
Heat requirement calculation
In a few steps to the matching heating capacity. Calculate the heat demand required for heating our rooms – with our practical online calculator.
Buy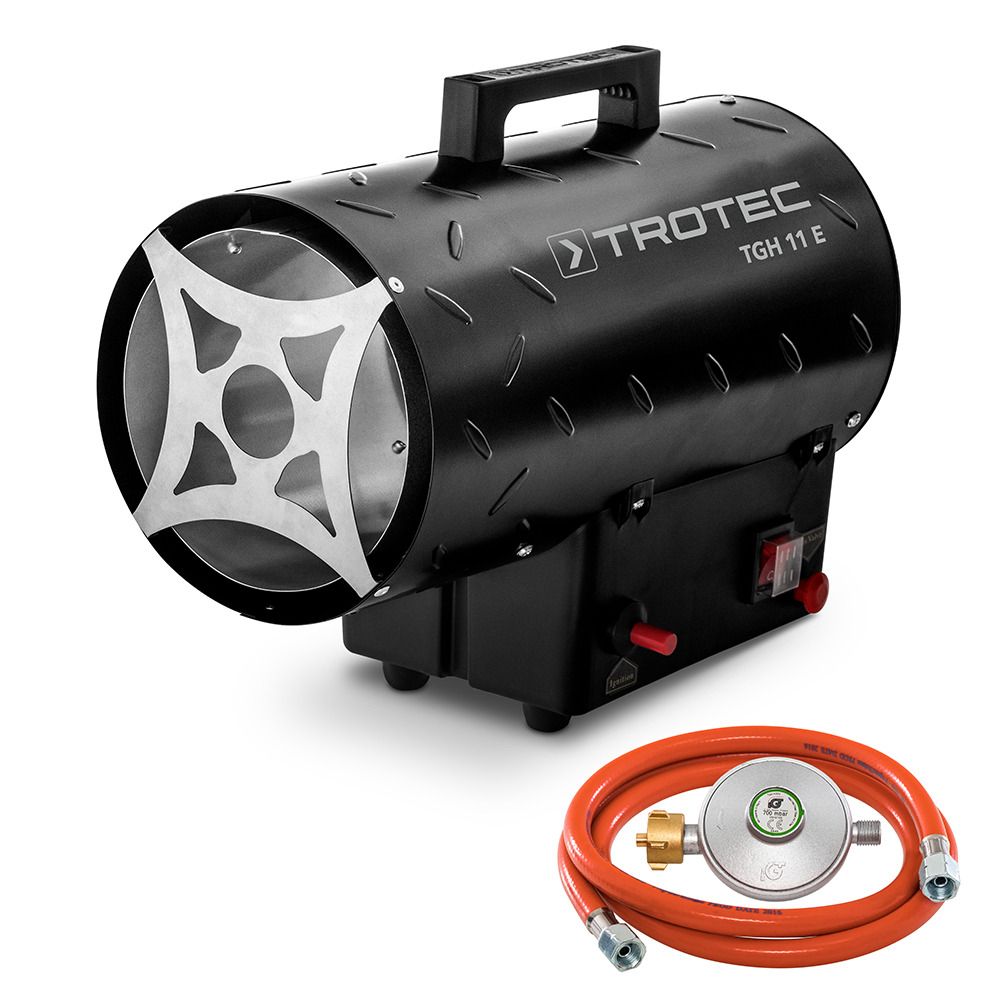 Technical data
Technical data
General information
Article number
1.420.000.011
Functional principle
Gas
Operating pressure [bar]
0.7
Air flow rate
Air volume [m³/h]
580
Air outlet temperature
(1.5m distance) [°C]
84.5
Room size
Min. room size [m³]
100
Ventilation cross-section
Min. ventilation cross-section [cm³]
250
Fan
axial
Radial
stages
1
Heating capacity
Level 1 [kW]
10
Operating range
Min. temperature [°C]
-15
Max. temperature [°C]
30
Electrical values
Mains connection
220 - 240 V, 50 Hz
Max. power input [kW]
0.07
Nominal current consumption [A]
0.33
Electric connection
Connection plug
CEE 7/4 (Schuko plug type F)
Cable length [m]
1.3
Sound values
Distance 1 m [dB(A)]
48
Safety feature
Overheating protection [°C]
95
Protection class
I
Housing design
Sheet steel – coated
Dimensions
Length (packaging excluded) [mm]
380
Width (packaging excluded) [mm]
190
Height (packaging excluded) [mm]
305
Weight
(packaging excluded) [kg]
4
Equipment, features and functions
Functions and features
Operating control lamp
Flame failure protection
Start-up button
Piezo ignition
standard equipment
optionally available
not available
Alternative products
Loading...